What is Highball Bouldering?
Highball bouldering is a sub-discipline of bouldering in which climbers seek out tall, imposing lines to climb ropeless above crash pads. In some cases, the line between highball bouldering and free soloing can be a bit blurry. At what height does a highball become a free solo? There is not really a definitive answer to this question.
Some may say if you throw down a pad, it's a highball; if you don't it's a free solo. Others may say it's when the risk turns from injury to death. Perhaps it hinges on the rock formation itself – does it look like a boulder or a cliff? Well, Half Dome is a boulder if you zoom out far enough…
At the end of the day, a highball is recognized as a highball through collective consensus and agreement within the community. Both highballing and free soloing are arbitrary names given to the act of climbing high above the ground without a rope.
What's the Appeal?
Climbing highballs requires an entirely different level of focus than standard bouldering. Even some of the best boulderers in the world haven't climbed highballs. It's a completely different way of approaching a boulder.
Being high off the ground in a difficult situation demands complete presence and commitment to the task at hand. This can be an extremely rewarding and empowering sensation that may be accompanied by a greater sense of accomplishment upon topping out.
There is also something to be said about the aesthetics of a beautiful, tall, boulder. Many find themselves inspired by the tall, striking lines of Bishop or Hueco Tanks – an effect smaller blocks just might not have. Climbing is a game of inspiration, and oftentimes, you have no choice but to follow what calls your name.
All this being said, it's not for everyone. Many will decide the risk is not worth the reward. Others will determine it's just plain scary and there's nothing fun about it for them – there's nothing wrong with this. Climbing is a creative act and we can all choose to express ourselves through it in whatever medium we enjoy. For some that may be highball bouldering and for others it may be working shorter powerful problems close to the ground.
How to Minimize Highball Bouldering Falls
Although highballing implies some amount of risk simply through the definition, there are certainly ways to minimize this danger and keep it as safe as possible. Here are some tips on how to highball wisely.
1) Maximize Foam
Get pads – lots of pads. The more foam you can have at the base of the boulder, the safer and softer the fall will be should you blow it near the top. Climbing with big groups is usually ideal as everyone can contribute their pads to the landing zone.
2) Rehearse the Top
Whenever possible, if the boulder is challenging for you, it's a good idea to set up a rope to practice the top moves securely. Rehearse the moves and then rehearse them some more. You wouldn't want to have any doubts about your beta or confidence when you get up there on the redpoint.
3) Have Spotters
Competent spotters will also significantly reduce your risk of injury in the case of a fall. Have a few that you trust will keep you on your feet. This will also help your mental game and ability to commit.
4) Use Judgement
This is by far the most important tip on this list. Generally, it's not a good idea to pick a highball that's at your limit or that you don't feel confident about. Assess your abilities and motivations before questing up into the danger zone.
Highball Bouldering Destinations
Although most bouldering areas will have tall boulders here and there, there are a few destinations that stick out and offer a variety of tall, dramatic lines. Here we'll check out a handful of these areas and give credit to some of their classic test pieces.
1) The Buttermilks – Bishop, California
The Buttermilks is the most iconic highball destination in the world – and for good reason. Nowhere else can you find such a high concentration of huge monolithic granite boulders begging to be climbed. The Milks are perched in the foothills of the Eastern Sierras above the small town of Bishop. Climbers have flocked here for years to test themselves on the awe-inspiring boulders. Here are a few of the most fabled and gut-wrenching lines the Buttermilks have to offer.
Ambrosia V11 X
When you first park at the Buttermilks the first boulders you see are the Grandma and Grandpa Peabody boulders. These boulders, once conjoined as one, are two of the largest freestanding boulders in the world and are home to some of Bishop's most iconic lines.
Ambrosia is a striking line that makes its way up the Grandpa, FA'd by Kevin Jorgeson in 2009. The climbing breaks down as V11 to the halfway point, followed by a smaller V7 crux, and then 5.12a climbing to the top. It is roughly 55 feet tall.
Watch Nina Williams take on this mammoth highball.
Evilution V12/13 R
Around the corner from Ambrosia is another famously hard and intimidating line. Evilution was established by highball legend Jason Kehl in 2002. The original line climbs through steep V11 moves through the first half. After this the boulder changes angle and the style changes to a steep and insecure 5.11 slab climbing to the top.
There is also the option of Evilution Direct which takes an easier route up the slab and Evilution to the Lip as a drop-off option.
Too Big to Flail V10 X
Too Big to Flail was FA'd by none other than Alex Honnold himself. Watching any of the videos of the line will induce sweaty palms in even the most stoic viewer. The 50-foot boulder has consistent delicate, insecure movement all the way up the vertical face. It's not over until you reach the top, and it is certainly too big to flail.
2) Yosemite Valley – California
Although Yosemite is best known as a multi-pitch and big-wall climbing area, it is also a premier bouldering destination with a wide assortment of highballs. It would probably be better known for this if the valley didn't have the most iconic walls like Lurking Fear and The Nose as the focal point of attention. Here are a couple of the classic, hard highballs the valley offers.
King Air V10 R
King Air is a proud, tall line up the Le Conte/Housekeeping Boulder in Yosemite. Dean Potter snagged the first ascent in 2010 after working on the problem in secrecy for years. Potter gave the problem extremely high praise:
'This is the proudest highball boulder problem I know of in the Valley. The business scales over 30 feet to the final bucket. It's on the verge of being a free solo. When I fell my feet traveled 20 feet before impacting the pads. I was lucky not to shatter bones. My quads were very sore and I limped around for the next few days. King Air is the most beautiful boulder problem I've ever done. You would be hard-pressed to find any line, more aesthetic.'
Midnight Lightning V8
Midnight Lightning is possibly the most famous boulder problem in the world. It borders the line of tall vs. highball but is definitely worth mentioning here. This boulder is nestled in the hub of Camp 4 and was FA'd by Ron Kauk in 1978.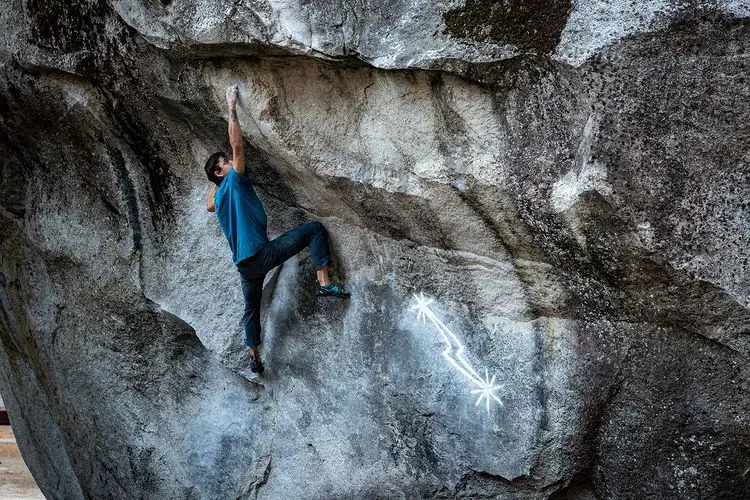 Easily spotted, it features an iconic lightning bolt drawn on the base. It starts with hard moves on polished crimps before an insecure committing mantle to gain the top.
3) Hueco Tanks – Texas
Hueco Tanks is one of the most concentrated bouldering areas in the world, with blocks of all shapes, sizes, and difficulties. This is a great place to venture into the world of highballs, as there are many easier and more moderate tall boulders. Here are a couple of those.
The Maiden – V0 R
This boulder is tall, aesthetic, and easy! Romp up perfect plated, hueco jugs and enjoy the exposure. It is roughly forty feet tall and is a well-known Hueco classic.
See Spot Run – V6 PG -13
Harder than The Maiden but easier than the previously mentioned problems, See Spot Run is a famous highball V6 in Hueco. It is about 25 feet tall with the crux right off the ground. This makes it a great option if V6 is close to your limit, as the tall section is only about V1/V2.
4) Rocklands – South Africa
The Finnish Line V15
The Finnish Line, a world-renowned highball boulder located in Rocklands, South Africa, is a testament to extreme climbing. Devised by Nalle Hukkataival, a Finnish climber of immense repute, this V15 graded challenge embodies a unique confluence of difficulty, aesthetics, and height.
Measuring a staggering 8 meters (25ft), the monolith demands profound technical expertise and a solid mental grit. The Finnish Line, with its clean-cut lines and daunting overhangs, encapsulates the thrilling essence of highball bouldering, offering climbers an unparalleled experience, which has propelled it to international fam
Livin' Large V15
Another highball, another arete. It comes as no surprise that this is another route established yet again by Nalle Hukkataival. Stretching up to an impressive 8 meters in height, Livin Large is the epitome of risk and precision. With its smoothly inclined surface and minimal holds, it exemplifies an extreme highball challenge. This unique boulder problem encompasses a dramatic arete and scarce holds.
Are You The Next Highballer?
This just scratches the surface of what highball bouldering has to offer. For some, highballs offer an inspiring experience, unattainable from other forms of climbing. For others, not so much. If you do choose to seek out tall boulders, like those mentioned above, remember to stay safe and keep your bones intact!