Climbing history doesn't go too far back, but it's rich, interesting, and full of stories and heroes. Our favorite sport has changed and developed throughout the years rapidly. It will keep growing so quickly that we will have to update this list as soon as we've finished it.
That's how it goes. From an anonymous sport to an Olympic one, from unknown-off-the-road athletes (or just strange people) to Oscar winners, worldwide admirers and social media influencers.
This list contains all of those who were as famous as could be at their time, with their impact on the sport the way we know it today. We can say it's an outcome of social media, sponsors, the Olympics, T.V shows, or any other speculation.
But the bottom line is that thanks to these amazing athletes, the sport has become what is it today.
Do The Most Famous Rock Climbers Equate To The Best Rock Climbers All Time?
The answer is no.
Like with any other sport, the massive growth the sport has seen has also allowed unbelievable improvements in its athletes. Just like the first computer wasn't the best of all time, the first rock climber wasn't the best of all time.
While saying that, it's important to state that each famous climber was or is probably one of the best, in one or more disciplines, but it's certain to say they all had the vision and inspiration to break the barriers and take climbing further, one ascent at a time.
The Best Rock Climbers Of All Time
Alex Honnold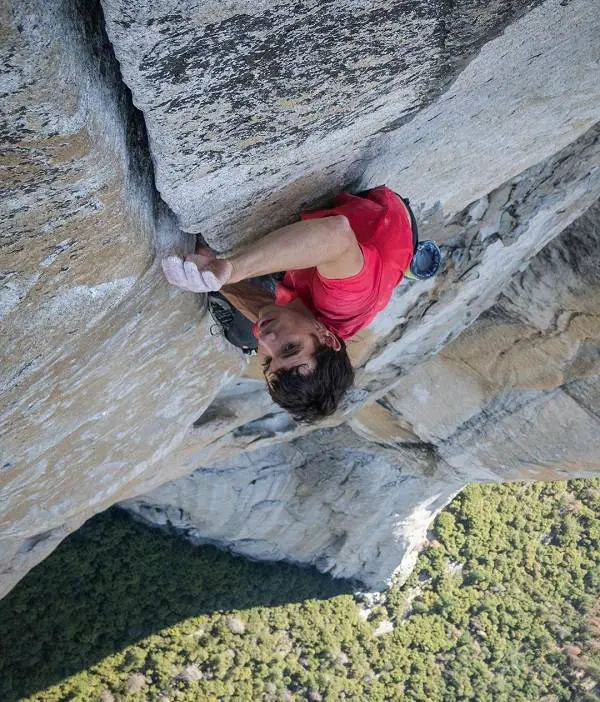 Predictable, yes, but undoubtedly the world's most famous climber. Free solo master, filmmaker, writer, environmental activist, and much more.
What Made Him Famous?
He showed up in the Yosemite climbers scene from a young age but it was around 2007 when Honnold started getting worldwide recognition, primarily thanks to his astonishing free solo ascents. Honnold's free solo achievements and big wall speed records have started to spread worldwide, and he became, without a doubt, one of the most accomplished climbers of all time.
Mainstream media started to get familiar with his mind-blowing climbs when the book, 'Alone on the Wall' came out, documenting his life and biggest achievement at the time, soloing Yosemite's Half Dome. His enormous recognition came after the movie, 'Free Solo', which documented his solo ascent of 'El Capitan'.
It's safe to say Honnold's achievements go beyond climbing and are relevant to humanity's limits and accomplishments.
Biggest Climbing Achievement
Honnold has done so many impressive achievements that it's impossible to count, but the one that will endure his legacy forever – the famous free solo ascent of the route 'Freerider' on 'El Capitan'.
Watch Alex soloing The Pheonix, a 5.13 steep, slippery crack in Yosemite.
Chris Sharma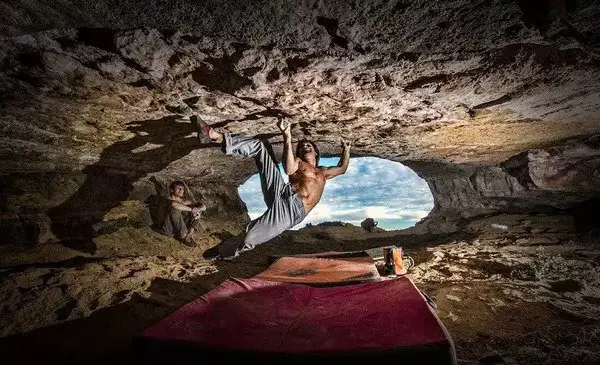 The coolest, most good-looking, limits breaker, visionist, and a true climbing legend of our time. Sharma is definitely a brand by himself and for good reason. His legacy and contribution to the sport cannot be described in words.
What Made Him Famous?
Chris Sharma's phenomenon started to spread worldwide at the age of 14 when he sent the hardest route in the USA at the time. From this moment on, we can say he's famous for being the world's modern grade pusher. The first 9a+ climber (Biographie), and then the first 9b (Jumbo Love), while bolting and climbing the world's newest and hardest routes. These days, Sharma owns a successful chain of climbing gyms in Spain, and a reality T.V show on H.B.O with the name 'The Climb'.
Watch Chris make the first ascent of Es Pontas, Deep Water Solo.
Biggest Climbing Achievement
Not easy to say, but we'd probably choose his ascent of "La Dura Dura", 9b+ in Oliana, Spain. The route was bolted by Sharma and got the first ascent by Adam Ondra, and the second by the bolter himself. This route still remains legendary and is recognized as one of the most important routes in the world. La Dura Dura is yet to see another ascent since Sharma's
Adam Ondra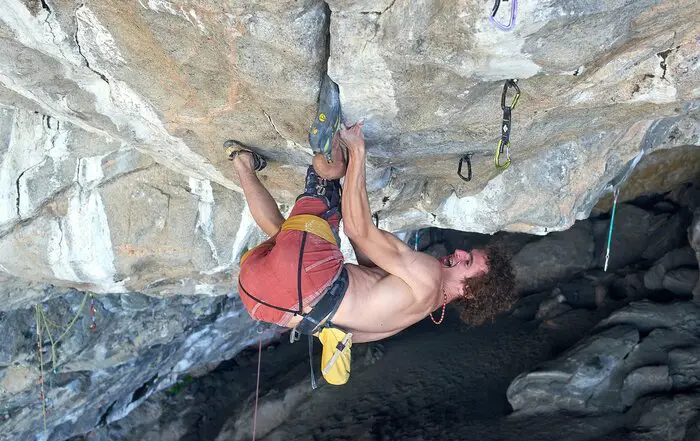 The Czech climbing legend is probably the best sport climber of all time.
What Made Him Famous?
Ondra is, without a doubt, unbelievable. It's hard to state what made him famous. Is it his gold medals both in bouldering or lead, his hard ascension when he was a teenager, or his send of the first 9b+'s and later on the world's first 9c? Or is it just his pure dedication and love for the sport? Overall, Ondra became famous thanks to his unbelievable skills, dedication and climbing achievements.
Biggest Climbing Achievement
Ondra has done some amazing things so it's so hard to pick one achievement. But one achievement we can all agree has stood out is his send of the first ever 9c climb in the world, 'Silence' in Flatanger, Norway. The second would be the 2nd ascent of the 'Dawn Wall' while having almost no big wall climbing experience.
Watch Adam's pure determination with this inspiring video.
Magnus Midtbø
Magnus, although now retired from the competitive field of the sport, is an accomplished competitive climber turned YouTube influencer.
What Made Him Famous?
The Norwegian climber is no stranger to comp walls, bagging his fair share of European and World Youth Championships. But what really helped Magnus boost his profile was his YouTube channel. He was one of the first 'climber influencers' and with over 2 million followers, he can definitely be described as a famous climber. He's not going to be setting any Nose speed records any time soon, but the speed at which he accumulated all these followers is certainly impressive.
Biggest Climbing Achievement
Mangus has climbed some impressive stuff, including doing a 'free solo' with Alex Honnold on his YouTube channel. When it comes to on-wall achievements, Magnus' hardest ascent has to be the Ali Hulk sit start extension in August 2017. Although initially graded a 9b, it was later downgraded to a 9a+/b. Still, a pretty impressive feat from our favorite YouTuber.
Watch Magnus brick himself free soloing with Alex in Las Vegas!
Lynn Hill
Yosemite legend, a women's inspiration and a climbing phenomenon.
What Made Her Famous?
Lynn Hill has pushed the free climbing limits, for all genders, at times when climbing hard was just starting to be a thing, back in the 80s and 90s. These days, she remains an important and active climber, inspiring the youth to step beyond their limits.
Biggest Climbing Achievement
A lot! But the obvious one would be the first free-climbing ascent of 'The Nose' of 'El Capitan', that back then was only climbed successfully using aid.
Tommy Caldwell
A legendary all-arounder, and a big wall-climbing pioneer.
What Made Him Famous?
Caldwell was always a superstar, being a talented and mind-blowing climber from a young age. His big wall achievements as well as his sport climbing ascents put him on the map of the climbing world, and his unbelievable vision and project on the "Dawn Wall" in Yosemite made him one of the biggest climbers of all time. The mainstream audience got familiar with Caldwell after publishing his bio-book, "The Push", and later on the film, "The Dawn Wall".
Biggest Climbing Achievement
Well, it's quite obvious, the free climbing ascent of the "Dawn Wall". But it's not only the actual climbing, it's actually much more. It's the vision, the aspiration, the belief, and yes – the send. This is definitely one of the climbs that have changed the world.
He also broke the Nose speed record with Alex Honnold.
Margo Hayes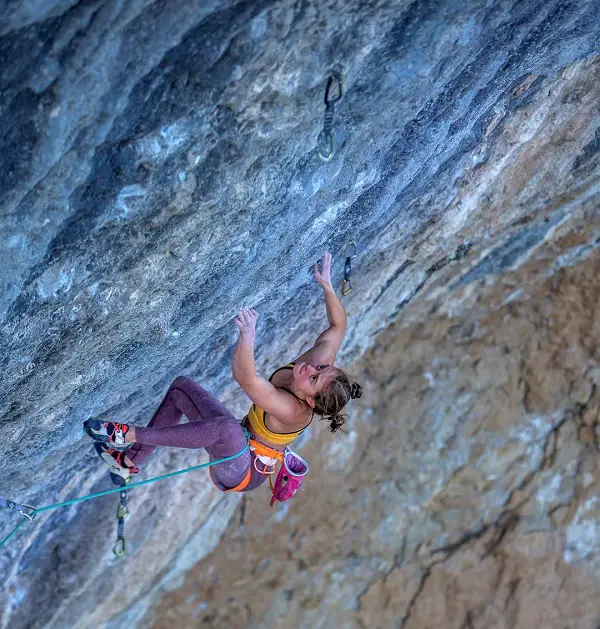 Margo Hayes is at the forefront of breaking the 5.15 female barrier and is an inspiring modern-age climber.
What Made Her Famous?
Hayes is a strong athlete both in and out of the competitive scene. On rocks, Hayes inspired the world by being the first woman to climb 9a+, which opened the window for more female athletes to try their hardest. The amazing capture of her facial expression after sending La Rambla will forever be remembered by enthusiastic climbers around the world.
Biggest Climbing Achievement
First, being the first woman to send a 9a+ route – with the ascent of 'La Rambla' in Siurana. Not too long after that, she made an impressive ascent of 'Biographie' in France and two years later in 2019 she sent her 3rd 9a+, Papichulo.
Janja Garnbret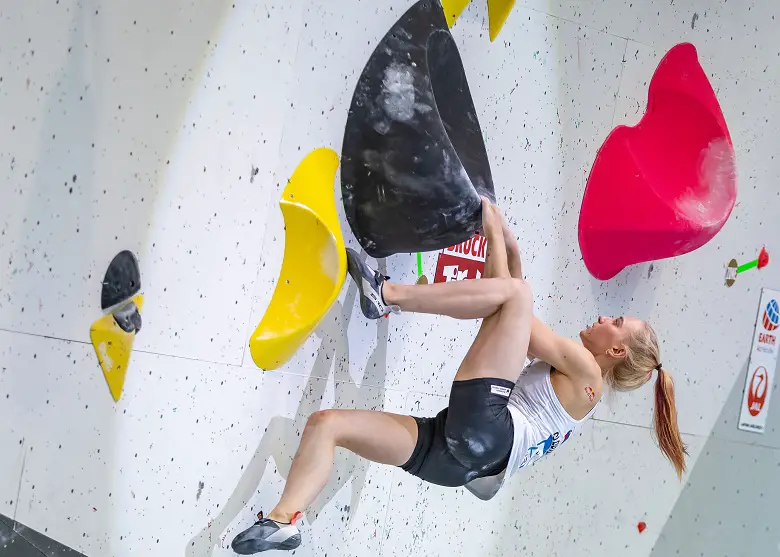 The Slovenian GOAT, wonder woman, competition queen, and the strongest climber who smashes every competition thrown at her.
What Made Her Famous?
Garnbret started being recognized from a young age winning competitions around the world. With her, it's not one event or achievement that got her famous. It's an overall performance, with endless medals in all climbing disciplines, as well as the Gold in Tokyo 2020. Janja was also the first one to win both the bouldering and lead overall championship in one year.
Biggest Climbing Achievement
Her list of gold medals and her incredible performance in the Olympics are her biggest achievements. As of today, she has amassed 40 World Cup gold medals, more than anyone in history. But she is also very impressive on real rock. She's onsighted 8c, sending 9a, and V14 boulder. She is arguably one of the best female comp climbers of our time.
Alberto Gines Lopez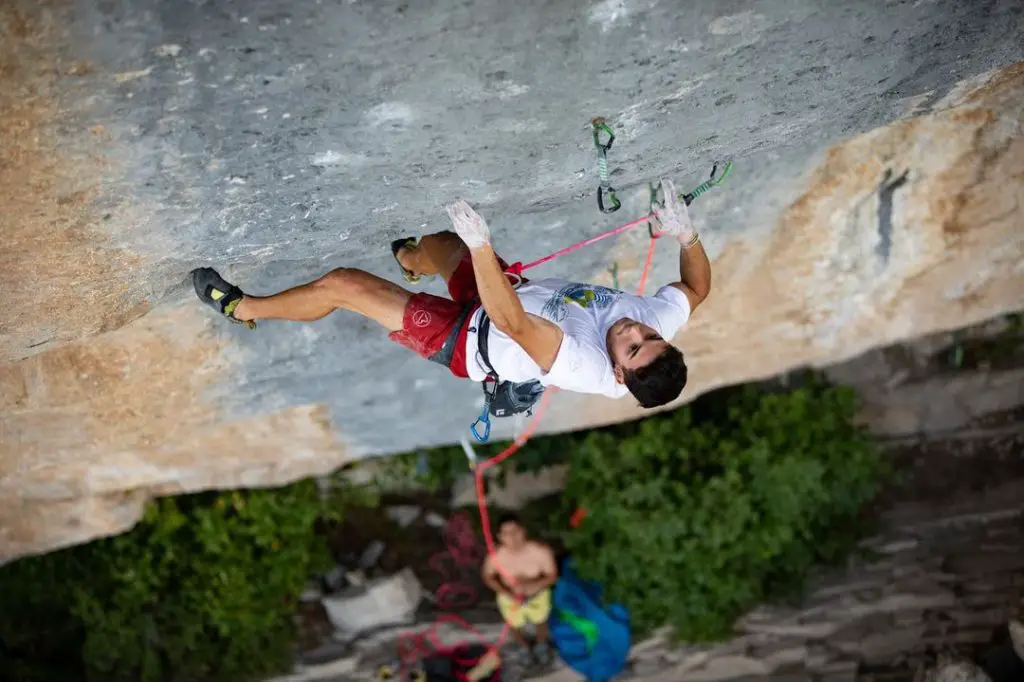 The Spanish climber made history by taking The first-ever Olympic Gold Medal.
What Made Him Famous?
Not a lot of words are needed here. Gines was a strong competition climber prior to the Olympics, mostly in the lead discipline. While he wasn't one of the predicted to win, he amazed the climbing scene by taking the Gold medal in Tokyo 2020.
Biggest Climbing Achievement
Same here, not a lot of words are needed. Gold medalist.
Wolfgang Gullich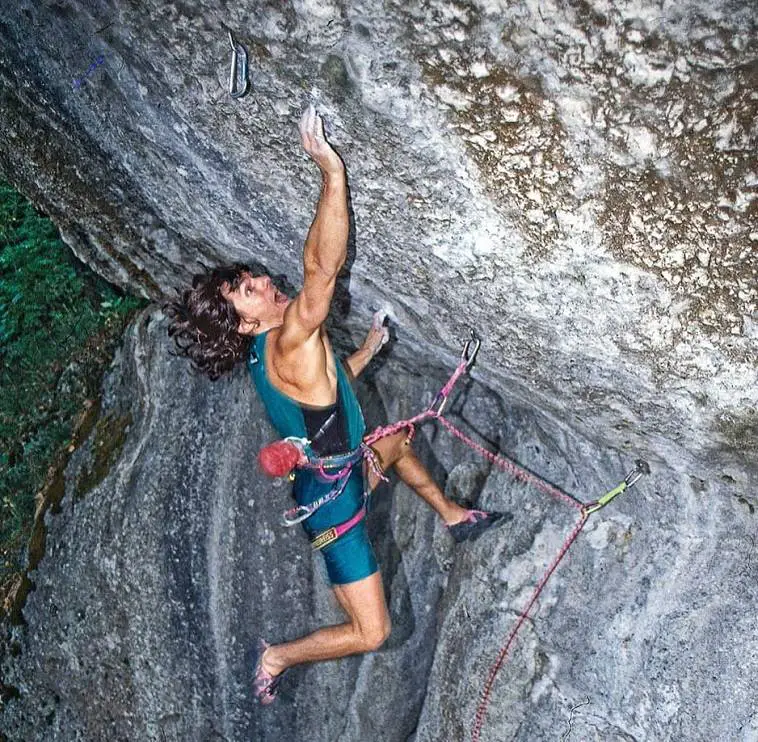 The old-school German climbing and limit breaker. Frankenjura legend, campus board inventor, and the world's hardest routes first ascensionist.
What made him famous?
Wolfgang Gullich was the scene leader of his time. But, his forever-lasting legend and recognition, will for sure be the first ascent of 'Action Directe', the world's first 9a.
Biggest Climbing Achievement
Generally, being the first climber to climb all the way from 8b to 9a. His biggest achievement is definitely on 'Action Directe', but it's more his never-ending influence and limit breaking.
Climbing is Becoming Famous…
Looking at this list and these athletes just reminded us how inspiring these athletes were and are. Each one of them breaks the barrier, stepping into the unknown, and keep blowing the minds of followers around the world.
While climbing is becoming more and more mainstream, and social media keeps evolving, we can just expect more strong athletes, as well as even more famous, mainstream rock stars.