Ascent Log
| Climb | Type | Suggested Grade | Date of Ascent | Notes |
| --- | --- | --- | --- | --- |
| La Dudule | Sport Route | 7a (5.11d) | 1983 | The third-ever female 7a in history. |
| Pichenibule | Sport Route | 7b+ (5.12c) | 1985 | The second-ever female 7b+. |
| Fleur de Rocaille | Sport Route | 7c+/8a | 1985 | The first-ever female 7c+ |
| Rêve de Papillon | Sport Route | 8a (5.13b) | 1988 | The fourth-ever female 8a in history. |
| Elixir de Violence | Sport Route | 8a (5.13b) | 1988 | |
| Samizdat | Sport Route | 8a (5.13b) | 1988 | |
| La Diagonale du Fou | Sport Route | 8a (5.13b) | 1988 | |
| Chouca | Sport Route | 8a+ (5.13c) | 1988 | The first-ever female 8a+ in history. |
| El Puro | Free Solo | | 1985 | |
| Bandiagara Escarpment | Free Solo | | 1987 | Captured in the 1987 climbing film, Seo. |
| Phi Phi Islands | Free Solo | | 1989 | Captured in the 1989 climbing film, Solo Thai. |
| Supercrack | Free Solo | 6a+ (5.10b) | 1992 | Indian Creek, Dead Horse Point State Park in Utah. Captured in the 1992 climbing film, Ballade à Devil's Tower. |
| El Matador | Free Solo | 6b+ (5.10d) | 1992 | Devils Tower in Wyoming. Captured in the 1992 climbing film, Ballade à Devil's Tower. |
| Old Man of Hoy | Free Solo | E1-E6 | 1997 | Catherine free soloed this Scottish sea stack when she was four months pregnant |
| Bonatti Pillar | Alpine Climbing | TD+ (5.9 A1) | Oct 1990 | First-ever female free solo on the southwest face of the Petit Dru. |
| Voie Destivelle | Alpine Climbing | VI (5.11b A5) | Jun 1991 | First free ascent, first female ascent and the first route to be named after a woman. |
| 1938 Heckmair Route | Alpine Climbing | ED2 | Mar 1992 | First-ever female winter free solo on the north face of the Eiger. |
| Walker Spur | Alpine Climbing | ED1 (5.8 A1) | Feb 1993 | First-ever female winter free solo. |
| Bonatti Route | Alpine Climbing | ED2/3 | Feb 1994 | First-ever female winter free solo on the north face of the Matterhorn. |
| Brandler-Hasse Route | Alpine Climbing | ED- (5.10c A0) | Jun 1999 | First-ever female free solo of one of the six great north faces of the Alps. |
| Yugoslav Route | High Altitude Climbing | (VI 5.12a | Sep 1990 | Second free ascent with Jeff Lowe and David Breashears. |
| Losar | High Altitude Climbing | VI, ice grade WI5 | 1994 | First ascent. |
| Loretan-Troillet-Kurtyka Route | High Altitude Climbing | | Sep 1995 | |
| South Face of Peak 4111 | High Altitude Climbing | (TD: V 5.10) | Jan 1996 | She suffered a compound leg fracture after a 20-meter fall on the summit cornice. |

Climbing Career
Learning the Ropes
Born in Oran, French Algeria, to a family of climbing enthusiasts, Catherine Destivelle embarked on her mountaineering journey at a young age. After her family moved to Paris, she joined the Club Alpin français at 12, rapidly honing her skills in Fontainebleau, Burgundy, and the Massif des Écrins. By her late teens, she was already achieving significant alpine ascents. However, between 1980 and 1985, she took a brief hiatus from climbing to earn her physiotherapy degree in Paris, returning to the mountains with renewed vigor.
Competition & Sport Climbing
Beginning her professional climbing career in 1985, Catherine Destivelle's talent was thrust into the limelight through rock climbing films and international competitions, fame she never sought out.
Her rise to prominence began when she starred in the film "E Pericoloso Sporgersi," during which she became the second woman to climb the 7b (5.12b) Pichenibule in Verdon, marking her arrival in the professional climbing scene. She followed this with another first in 1986 by becoming the first woman to ascend an 8a (5.13b) route, Fleur de Rocaille.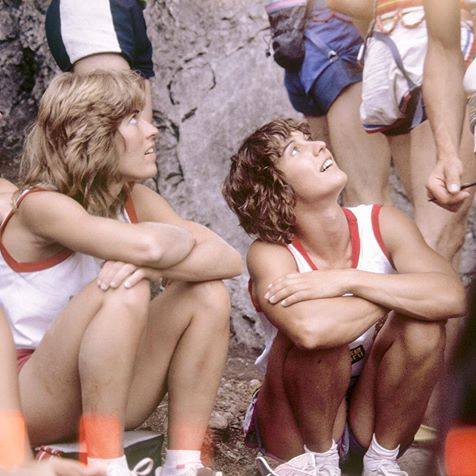 Despite initial reluctance, Destivelle, along with Lynn Hill, dominated prestigious events such as the Sportroccia, Arco, and Bardonecchia championships from 1986 to 1988. The crowning achievement of her competitive career was the 1988 ascent of the historic 13c route, Chouca, in Buoux, France, establishing her as the foremost female climber of her time.
Unexpectedly, after competing in the 1989 Snowbird Cup, she chose to retire from competitive climbing, trading competitions for alpine adventures. This marked her transition to mountaineering, where she pursued new challenges and extreme peaks.
Alpine & High-Altitude Climbing
Catherine carved a niche in alpine climbing history starting in 1990 when she became the first woman to ascend the Bonatti Pillar on the Petit Dru's southwest face, a feat she accomplished in four hours. In 1991, she tackled a new route on the Petit Dru's west face, the Voie Destivelle, which was captured in the acclaimed film "11 Days on the Dru."
Destivelle then set her sights on the winter "North Face Trilogy" in the Alps. She became the first woman to solo climb the Heckmair Route on the Eiger's north face in 1992, followed by the Walker Spur on the Grandes Jorasses in 1993, and the Bonatti Route on the Matterhorn's north face in 1994. In 1999, she achieved the first-ever female solo climb of the Brandler-Hasse Route on the Cima Grande di Lavaredo's north face.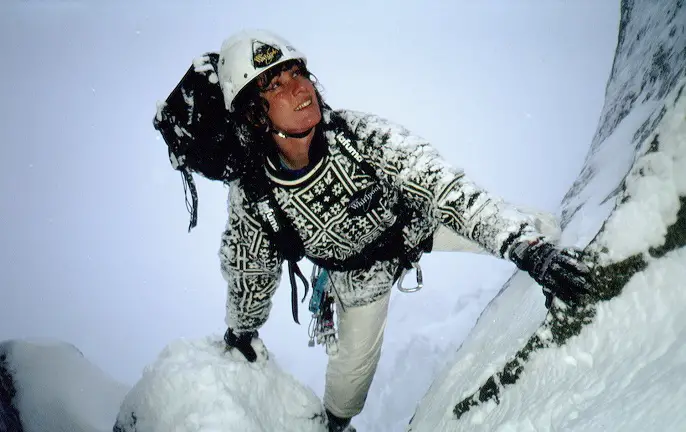 Destivelle's high-altitude expeditions were not without challenges. Her attempt on a new route on the Karakoram's Nameless Tower in 1990 had to be revised due to harsh conditions. Further attempts on the north ridge of Latok I and the west face of Makalu also had to be abandoned due to severe weather.
However, she successfully ascended the Loretan-Troillet-Kurtyka Route on Shishapangma's southwest face in 1995. Her resilience shone through in 1996, when she survived a severe compound leg fracture on Peak 4111 in Antarctica and performed a 15-hour self-rescue.
Free Soloing
Destivelle is renowned for her daring free solo ascents, tackling multi-pitch rock climbs and alpine big wall and mixed climbs. In 1992, she fearlessly free soloed the second half of El Matador 5.10d on Devils Tower in Wyoming and Supercrack 5.10b in Indian Creek, Utah. Notably, while four months pregnant in 1997, she accomplished the remarkable free solo ascent of the Old Man of Hoy sea stack in Scotland.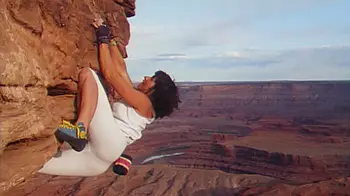 Noteworthy Ascents
1988 – Chouca, Buoux France
In 1988, Catherine achieved a landmark victory, becoming the first woman to conquer Chouca, a challenging 8a+ (5.13c) route in Buoux, France. With its steep inclines and single and double-finger pockets, Chouca represented a new era in sport climbing. This feat not only underscored Destivelle's extraordinary ability and resolve but also positioned her as a pioneer for women in the climbing world.
1990 – Bonatti Pillar
Catherine Destivelle's ascent of the Bonatti Pillar stands as one of her most remarkable achievements in the world of climbing. In 1991, she tackled the challenging Bonatti Pillar on the Dru, a towering peak in the Mont Blanc massif.
The Bonatti Pillar is renowned for its difficult and technical climbing sections, demanding both physical prowess and mental fortitude. With her exceptional skills and unwavering determination, Destivelle navigated the intricate cracks, challenging overhangs, and precarious traverses of the pillar, showcasing her remarkable talent and pushing the boundaries of what was considered possible in alpine climbing.
Her successful ascent of the Bonatti Pillar cemented her reputation as one of the world's most skilled and fearless climbers.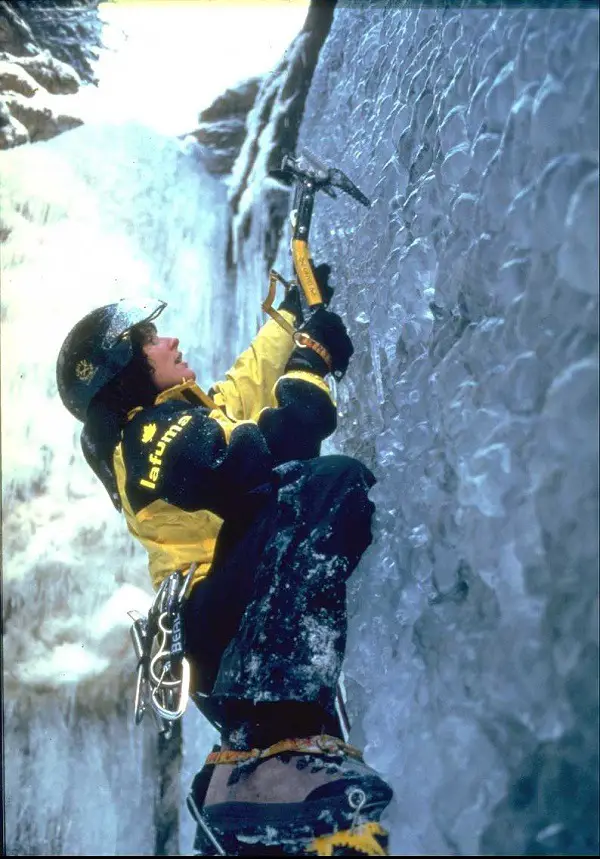 1990 – Yugoslav Route
Destivelle's ascent of the Yugoslav Route, with its VI 5.12a difficulty rating, is another notable accomplishment. The Yugoslav Route, located on the Nameless Tower in the Karakoram mountain range, presents a formidable challenge with its sustained technical climbing and demanding rock features.
In 1990, Destivelle embarked on an expedition with Jeff Lowe and David Breashears to attempt a new route on the Nameless Tower. However, unfavorable conditions forced a change of plans, leading them to make the second free ascent of the Yugoslav Route instead. This decision proved to be a remarkable feat, solidifying Destivelle's reputation as an accomplished free soloist and trad climber.
The VI 5.12a rating of the Yugoslav Route signifies its high level of difficulty. It requires a combination of strength, agility, precise footwork, and mental focus to navigate the challenging sections of the climb. Destivelle's successful ascent demonstrates her mastery of technical climbing skills, as she tackled the demanding pitches and intricate sequences with grace and precision.
1991 – Voie Destivelle
Catherine Destivelle's first ascent of the Voie Destivelle on the Grand Capucin in the Mont Blanc massif in 1988 is an extraordinary milestone in climbing history. The route, with its daunting grade of VI 5.11b A5, demanded an exceptional blend of rock and aid climbing techniques along with superior route-finding skills. Tackling the intricate and exposed terrain, Destivelle's approach was characterized by precise movements, careful gear placement, and resolute focus. The A5 grading underscored the severity of the aid climbing sections, where unreliable placements and significant risks necessitated the utmost skill and courage.
1994 Bonatti Route
The Bonatti Route, characterized by its formidable ED2/3 grading, is renowned for the intricate blend of technical rock climbing and alpine endurance it demands.
Destivelle targeted this legendary route, named after the eminent Italian mountaineer Walter Bonatti. Known for its precarious and towering terrain, erratic weather conditions, and looming hazards, the north face of the Matterhorn presents a serious challenge that requires peak physical capabilities, technical expertise, and resilient mental fortitude.
1997 – Man of Hoy
In 1997, Catherine Destivelle accomplished a remarkable feat by soloing the Old Man of Hoy, a challenging sea stack located in the Orkney Islands, Scotland. This daring ascent was particularly noteworthy because Destivelle climbed it while being four months pregnant. The Old Man of Hoy is known for its formidable vertical cliffs, making it a demanding and audacious endeavor. The ascent was captured in the 1998 film "Rock Queen," documenting her awe-inspiring achievement.
Header image by A. Martin/L'Équipe

Video Library