Ascent Log
Take a search through all of Chris Sharma's hardest climbs. The table contains his hardest sport ascents, boulder problems, and deep water solos.
Climb
Type
Suggested Grade
Date Of Ascent
Notes
Sleeping Lion
Sport Route
9b+
28th Mar 2023
FA. Chris' second 9b+, climbed almost exactly 10 years after La Dura Dura. Instagram Post
La Dura Dura
Sport Route
9b+
23rd Mar 2013
The first confirmed 9b+. Video
Jumbo Love
Sport Route
9b
11th Sep 2008
UKC Interview
Golpe de Estado
Sport Route
9b
17th Dec 2008
FA. Instagram Post
Neanderthal
Sport Route
9b
18th Dec 2009
FA. UKC Interview
First Round, First Minute
Sport Route
9b
19th Apr 2011
FA. Video
Fight or Flight
Sport Route
9b
5th May 2011
FA. On the same day Chris climbed Chaxi (9b).
Video
Stoking the Fire
Sport Route
9b
6th Feb 2013
FA. Video
El Bon Combat
Sport Route
9b
7th Mar 2015
FA. Video
Biographie
Sport Route
9a+
18th Jul 2001
FA. Video
Chaxi
Sport Route
9a+
5th May 2011
Climbing Narc Post
Demencia Senil
Sport Route
9a+
Feb 2009
FA
Pachamama
Sport Route
9a+
29th May 2009
FA. Video
Analógica
Sport Route
9a+
Feb 2010
FA
First Ley
Sport Route
9a+
28th Feb 2010
FA. UKC Post
Papichulo
Sport Route
9a+
May 2008
FA
Gancho Perfecto
Sport Route
9a+
2008
FA. Video
La Rambla Extension
Sport Route
9a+
2006
Third Ascent. Video
La Novena Enmienda
Sport Route
9a+
2007
Video
Joe Mama
Sport Route
9a+
Oct 2016
UKC Post
Dreamcatcher
Sport Route
9a
Sep 2005
FA. Video
Three Degrees of Separation
Sport Route
9a
15th Jul 2007
FA. Planet Mountain
Samfaina
Sport Route
9a
2010
FA
Era Vella
Sport Route
9a
2010
FA
The Fly
Sport Route
9a
30th Oct 2003
Chris dropped the last move on his flash attempt.
La Reina Mora
Sport Route
9a
Dec 2022
Instagram Post
Necessary Evil
Sport Route
8c+
17th Mar 1997
Chris made the FA of the hardest route at the time only 3 years after he started climbing, aged 15.
Es Pontas
Deep Water Solo
9a+
26th Sep 2007
FA. Video
Alasha
Deep Water Solo
9a
Sep 2016
FA. Video
Black Pearl
Deep Water Solo
9a+
7th Nov 2023
One of Sharma's hardest DWS routes Instagram Post
Witness the Fitness
Boulder
8C
Mar 2005
FA. Video
Practice of the Wild
Boulder
8B+
Aug 2004
FA
Catalan Witness the Fitness
Boulder
8B+
2nd Jan 2016
FA
Dreamtime (pre break)
Boulder
8B+

Kit Bag
Chris Sharma's sponsors include some of the biggest names in the outdoor industry, with his two biggest sponsors being Petzl and Tenaya. Below is some of the most important gear Chris is crushing in right now.
Tenaya Indalo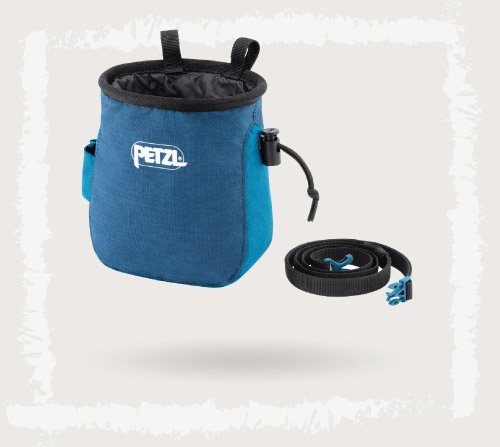 Petzl Saka Chalk Bag
Petzl Hirundos Harness
Petzl Spirit Express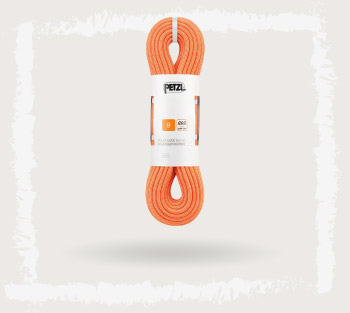 Petzl VOLTA 9mm
Petzl Meteor Helmet

Climbing Career
To many climbers in the early 2000s, Sharma is the definition of a living legend. A prodigy from a young age, it did not take long for him to make his way onto the forefront of the climbing scene. After only three years of climbing at age 15, he was already one of America's top climbers. From there, he never slowed down, spending the next two decades ticking off and establishing the world's hardest climbs. In the modern age, there is certainly some room for debate over who holds the position of the world's best climber. In the Sharma era, there was never any question – he was the king, and arguably still is, in my opinion anyway. Read on to learn all about the living legend of Chris Sharma.
Learning the Ropes
Chris Sharma grew up in Santa Cruz, California, and started climbing in the Pacific Edge gym at twelve years old. Self-described as "one of the first climbing gym generation kids" he was filled with natural talent from his climbing genesis. Only two years into the sport, he won the 1996 Open Bouldering Nationals and beat all of the country's strongest adult competitors. One year later, he climbed the country's hardest sport climb (at the time): Necessary Evil 8c+ (5.14c).
He went on to spend the rest of his teenage years crushing the competition scene, before moving to Bishop at age 18. From here, the rest is history – years and years of groundbreaking achievements and absolute domination.
Competition Climbing
Although Sharma is best known as an outdoor climber, he also has an impressive stack of competitive achievements under his belt. His 1996 national gold put him in the limelight of American climbing. The following year, at age 16, he got a silver medal in the 1997 Paris Lead World Cup and a gold at the Kranj World Cup.
He competed in various competitions throughout the next several years and typically ended them with a medal in his hand. Notably, in 2001 he won the Bouldering World Cup in Munich but was subsequently, and controversially, disqualified after testing positive for marijuana. All these achievements, however, took the sideline to Sharma's true passion; outdoor climbing.
Notable Ascents
It would take an entire book to fully cover Sharma's outdoor climbing career. He broke through every glass ceiling imaginable of his time, establishing the world's first 9a+ (5.15a), America's first 9b (5.15b), and making the second ascent of the first 9b+ (5.15c). Saying he took the sport to the next level would be an understatement. Even today, at the age of 41, he is still crushing.
Sport Climbing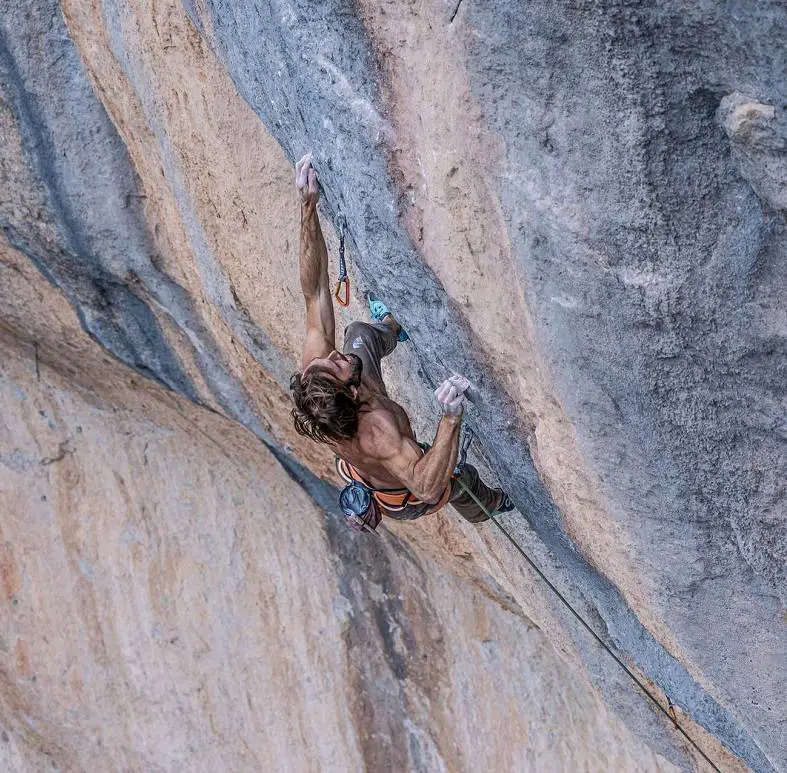 After climbing Necessary Evil just three years into climbing, he never slowed down. In 2001, he made the first ascent of Biographie without proposing a grade. This later became widely considered the world's first 99a+/5.15a). In 2008, he made the first ascent of Jumbo Love, 5.15b, a steep and imposing route on Clark Mountain. This was Chris Sharma's hardest climb at the time and the first consensus (9b/5.15b) for some time. He later bolted and made the second ascent (next to Adam Ondra) one of his two hardest climbs ever done, La Dura Dura (9b+/5.15c).
His second (9b+/5.15c) happened very recently on the 28th of March 2023, where Chris made the first ascent of Sleeping Lion, a line which he'd be working on for 2 years. This climb was not just an incredible achievement, but it was a testament to what can still be accomplished at an age when most athletes would be considered to have passed their prime.
This just scratches the surface of his sport-climbing career though. Sharma also established a huge variety of easier climbs, like the famous Dreamcatcher, 5.14d in Squamish, established or repeated more than ten other routes 5.15a or harder and onsighted several 5.14bs. His name is synonymous with hard sport climbing history.
Bouldering
Sharma was a jack of all trades (a master of all), and although his most impressive achievements are on a rope or over the ocean, he has also established and ticked off an array of difficult bouldering problems throughout his life. He kicked off his bouldering career with a first ascent of the Mandala (V12/8A+) at age 18. This is now recognized worldwide as a gnarly highball testpiece.
Following this, he went on a bouldering rampage and established hundreds of problems across the American West which can be seen in the classic and aptly-named climbing film Rampage. The most notable problems of chairs Sharma's bouldering tick list include Witness the Fitness (V15/8C) in the Ozarks, Arkansas, and Practice of the Wild V15 in Magic Wood, Switzerland.
Deep Water Solo
Later in his career, Sharma discovered his favorite discipline of climbing: Deep Water Solo. This style of climbing involves climbing ropeless above water, a beautifully minimal style of climbing. And in classic Sharma fashion, he brought the discipline global notoriety with his ascent of Es Pontàs 9a+/5.15a in 2007, and nearly a decade later, again in 2016, he established Alasha 9a/5.14c. Both these routes represent some of the hardest Deep Water Solo lines in the world to date.
These ascents are made even more impressive when the nature of the discipline is considered. There is no hang-dogging or working the moves on a deep water solo route. Each attempt either ends with a send or a free fall into the water below.
Business & Personal Life
Gyms
Sharma also has had an impressive career outside of the sport. Currently, there are four Chris Sharma climbing gyms – Sender One is in Santa Ana California, Sharma Climbing BCN in Barcelona, Sharma Climbing Gava, and Sharma Climbing Madrid.
The Climb TV Show
This year (2023) Sharma took a sharp turn in his career from pro climber/gym owner to reality TV host with his HBO series, The Climb. In this series, mid-level climbers with ambitions of going pro compete in various challenges incorporating all disciplines of outdoor climbing for the reward of a cash prize and PrAna sponsorship. Chris currently lives in Barcelona with his wife and two children.
Header image ©Nate Christenson / Red Bull Content Pool

Chris' FAQs

Video Library