Ascent Log
| Climb | Type | Suggested Grade | Date of Ascent | Notes |
| --- | --- | --- | --- | --- |
| Return of the Sleepwalker | Boulder | 9A/V17 | 30th Mar 2021 | Instagram Post Video |
| Hypnotized Minds | Boulder | 8C+/V16 | 21st Oct 2010 | |
| The Ice Knife SDS | Boulder | 8C+/V16 | 2nd Nov 2013 | |
| The Process | Boulder | 8C+/V16 | 18th Jan 2015 | Video |
| Creature from the Black Lagoon | Boulder | 8C+/V16 | 27th Sep 2016 | Instagram Post |
| Box Therapy | Boulder | 8C+/V16 | 29th Oct 2018 | Instagram Post |
| Sleepwalker | Boulder | 8C+/V16 | 21st Jan 2019 | Instagram Post |
| Off the Wagon Low | Boulder | 8C+/V16 | 9th Mar 2020 | Instagram Post |
| Grand Illusion | Boulder | 8C+/V16 | 7th Jun 2021 | Instagram Post |
| Insomniac | Boulder | 8C+/V16 | 1st Sep 2022 | Instagram Post and Video |
| The Game | Boulder | 8C/V15 | 10th Feb 2010 | Daniel initially suggested 8C+ but later revised this to 8C. |
| La Force Tranquille | Boulder | 8C/V15 | 15th Oct 2011 | |
| White Noise | Boulder | 8C/V15 | 18th Sep 2012 | |
| The Nest | Boulder | 8C/V15 | 18th Dec 2013 | Video |
| Noise vs. Beauty | Boulder | 8C/V15 | 18th Jun 2015 | |
| Everything Gneiss | Boulder | 8C/V15 | 23rd Apr 2016 | |
| Defying Gravity | Boulder | 8C/V15 | 2017 | Instagram Post |
| Direct Hit | Boulder | 8C/V15 | Jun 2019 | Instagram Post |
| 4-Low | Boulder | 8C/V15 | Mar 2020 | Instagram Post |
| Death Star | Boulder | 8C/V15 | Apr 2020 | Instagram Post |
| Dicktopia | Boulder | 8C/V15 | 3rd Sep 2020 | Instagram Post |
| Desperanza | Boulder | 8C/V15 | | |
| Terremer | Boulder | 8C/V15 | 30th Jan 2010 | |
| Monkey Wedding | Boulder | 8C/V15 | 13th Aug 2012 | Video |
| Hydrangea (Pre 2016 Break) | Boulder | 8C/V15 | 14th Feb 2013 | |
| The Bridge of Ashes | Boulder | 8C/V15 | 10th Mar 2013 | |
| Delirium | Boulder | 8C/V15 | 18th Sep 2013 | |
| Lucid Dreaming | Boulder | 8C/V15 | 28th Jan 2014 | Video |
| The Finnish Line | Boulder | 8C/V15 | 30th Jun 2018 | Instagram Post |
| Pirate's Code | Boulder | 8C/V15 | Aug 2018 | Instagram Post |
| Black Eagle Assis | Boulder | 8C/V15 | 16th Aug 2018 | Instagram Post |
| Squoze | Boulder | 8C/V15 | 2019-2020 | Instagram Post |
| La Rustica | Boulder | 8C/V15 | 6th May 2019 | Instagram Post |
| Primitivo | Boulder | 8C/V15 | Mar 2020 | Instagram Post |
| Traffic | Boulder | 8C/V15 | 11th May 2020 | |
| Pegasus | Boulder | 8C/V15 | 3rd Apr 2021 | Video |
| The Multiverse | Boulder | 8C/V15 | Nov 2022 | Instagram Post |
| Witness the Fitness | Boulder | 8C/V15 | | Video |
| Echale | Boulder | 8B+/V14 | 2004 | |
| Jade | Boulder | 8B+/V14 | 19th Jun 2007 | Video |
| Sky | Boulder | 8B+/V14 | 2008 | |
| Tron | Boulder | 8B+/V14 | 13th Mar 2017 | Instagram Post |
| Mystic Stylez | Boulder | 8B+/V14 | | |
| Esperanza | Boulder | 8B+/V14 | 2005 | |
| Practice of the Wild | Boulder | 8B+/V14 | 16th Apr 2011 | |
| Entlinge | Boulder | 8B+/V14 | 28th Nov 2011 | UKC Post |
| Oliphant's Dawn | Boulder | 8B+/V14 | 8th Aug 2012 | |
| The Ice Knife | Boulder | 8B+/V14 | 19th May 2013 | |
| The Wheel of Wolvo | Boulder | 8B+/V14 | 9th Sep 2013 | |
| Meadowlark Lemon | Boulder | 8B+/V14 | 5th Dec 2013 | Daniel suggested a soft 8B+ |
| Bhai Bon | Boulder | 8B+/V14 | 2018 | |
| Skadoosh | Boulder | 8B+/V14 | 18th Aug 2018 | Instagram Post |
| Off the Wagon | Boulder | 8B+/V14 | Apr 2019 | Instagram Post |
| The Kingdom | Boulder | 8B+/V14 | 16th Apr 2019 | Instagram Post |
| Compass North | Boulder | 8B+/V14 | 1st Oct 2022 | Instagram Post |
| Evil Backwards | Boulder | 8B/V13 | 28th Jun 2010 | |
| Terre de Sienne | Boulder | 8B/V13 | 5th Jan 2007 | |
| Good Hope | Boulder | 8B/V13 | 1st Aug 2015 | |
| Versace | Boulder | 8B/V13 | 19th May 2020 | |

Kit Bag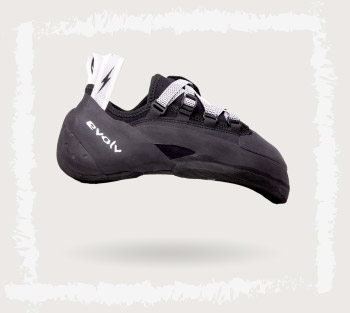 Evolv Phantom
Daniels's signature shoe, created for conquering the world of steep bouldering.
Gorilla Glue
Chunky, high-purity magnesium carbonate chalk with no additives, made in the USA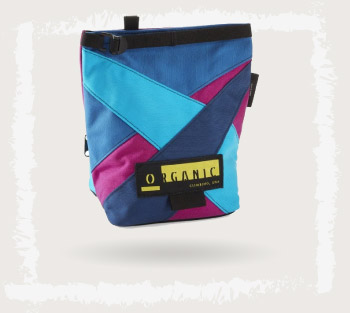 Organic Chalk Bucket
One of a kind chalk buckets, hand made in the USA with upcycled scrap materials.

Climbing Career
Learning the Ropes
Daniel Woods first started climbing as a 5-year-old child with his father on a trip to Texas' Mineral Wells State Park. Although he started to dabble with indoor gyms in Dallas, it was after his family moved from their native Texas to Longmont, Colorado that Woods joined the Boulder Rock Club's junior climbing team.
The team was coached by Justin Sjong and Jimmie Redo, two accomplished climbers and route-setters who also have an impressive rap sheet of transforming young climbers into professional athletes, with former students including Woods and Emily Harrington.
Competition Climbing
Just two years later, at 16 years old, Woods won the American Bouldering Series in 2005. Over the next decade, he would go on to win 8 Bouldering National Championships and 2 Lead National Championships in 2006 and 2013. These wins made Woods one of the most successful American boulderers in history, holding a national record that can only be trumped by Alex Puccio.
On the international stage, Woods competed for over a decade at over 18 IFSC-recognized competitions and became the first American to win a Boulder World Cup after taking gold in Vail in June 2010. Wood's last international competition was in 2017, with a 45th-place finish in the Meiringen, Switzerland World Cup.
Notable Ascents
Throughout his decade long-competition career, Woods was also making a name for himself as a world-class crusher with some repeats of notoriously hard boulder problems. At the age of 14, he made a repeat of Fuck You Finger and claimed his first V11 boulder (8A). A year later, he made the ascent of Echale and awarded it the grade of V14 (8B+). In June 2007, he made the first ascent of Jade, a project in the Rocky National Park that he had been working on with Dave Graham for several years. He awarded the problem the grade of V15, making it the hardest ascent of his career at the time, although it has since been downgraded to a V14.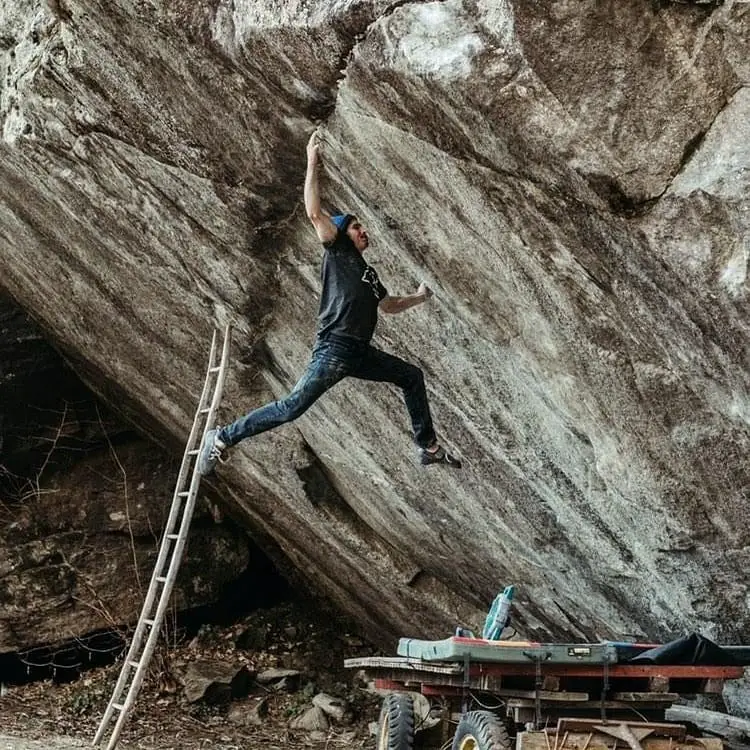 In 2008, Woods moved to Innsbruck, in search of new challenges and to create a climbing documentary Welcome to the Hood with fellow climbers Paul Robinson, Guntram Jörg, and Anthony Gullsten. It was in May of that year he made the first ascent of In Search of Time Lost, an ascent that finally marked his ascension into the V15 realm.
The next big breakthrough for Woods came in 2010, a year that not only saw him top out four V15 boulders but he also made an ascent of Hypnotized Minds, a route widely considered the first V16 in climbing history. 21-year-old Woods began working on the problem in early 2010, although a busy schedule of competitions and climbing trips only allowed him 2 days to work on the problem. He returned in October of the same year, and after 6 more days on the problem, he made his first V16 ascent on the 21st of October 2010. Although Woods originally graded the boulder a V15, the problem was repeated by Rustam Gelmanov 6 years later, who suggested Woods had under-graded the problem. Since this ascent, Woods has gone on to claim several first ascents of iconic V16 boulders, including The Process, Creature From the Black Lagoon and Box Therapy.
Of all his bouldering achievements, it's his ascent of Return of the Sleepwalker that marks the pinnacle of Daniel Wood's climbing career. The sit start, 16 moves extension of Jimmy Webb's Sleepwalker (V16) became a project for Woods in November 2020. After almost 3 months of climbing nothing other than this problem, the line became the longest project of his career, far exceeding his previous longest time on a project of 15 days.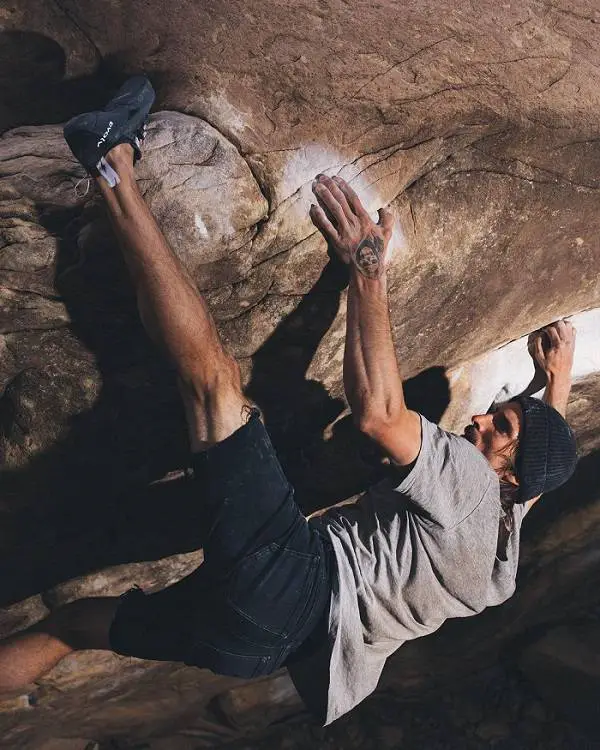 Daniel sent the problem on the 2nd of April 2021, giving the problem the name Return of Sleepwalker and the elusive grade of V17. This, Nalle Hukkataival's Burden of Dreams, Alphane and Megatron are the only problems to receive this grade.
Although Woods is best known for his bouldering achievements, he's also an accomplished sport climber too with ascents of La Capella (5.15b/9b), Papichulo (5.15a/9a+), and Thor's Hammer (5.15a/9a+). He also dabbled with Biographie, but has not managed to clip the chains yet.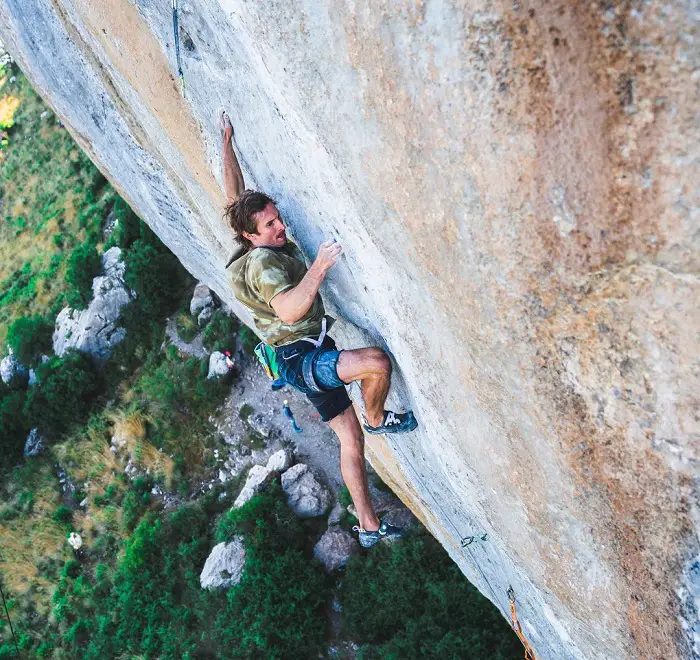 Tattoos
Daniel's unusual collection of tattoos has become a topic of interest for many climbers.
The first to appear was a tribal lion on the right side of his torso in 2014. Although it's unclear what the origins of the tattoo are, it is possibly one he picked up on an early trip to South Africa. The tattoo got touched up and some extra additions in 2017.
Shortly after, a large spider on the left side of his abdomen quickly joined the Woods' tattoo collection. Spiders are clearly a topic of interest to Woods, who has shared some on his Instagram page over the years. The tattoo took 7 hours to complete and was done by artist and fellow climber Hunter Damiani. A year later, Daniel requested Hunter to add a large skull to his collection that would encapsulate the spider tattoo. This took 3 sessions to complete.
Next game his neck tattoo in June 2019. The eye was done by Tyson Taumaoe, an artist out of Las Vegas. Less than 6 months later, Daniel then got a hand tattoo of a grim reaper, which is thought to represent his iconic ascent of Hypnotized Minds.
The latest tattoo was a snake, sitting below the Lion on the right side of his abdomen. It is thought that this is meant to represent the year of the snake, which includes 1989, the year Woods was born.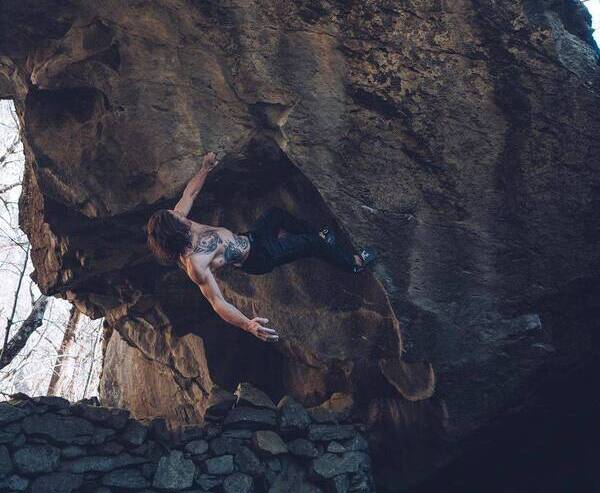 FAQs

Video Library