Ascent Log
| Climb | Type | Suggested Grade | Date of Ascent | Notes |
| --- | --- | --- | --- | --- |
| Es Pontas | Deep Water Solo | 9b | 1st Nov 2016 | Second ascent of the iconic DWS Video |
| Dugi Rat | Sport Route | 9a+ | 31st Dec 2018 | Jernej bolted the route 3 years prior to sending it. He broke off a few holds, making the route a lot harder. Video |
| Massacrate | Sport Route/Boulder | 9a+ | 5th Dec 2015 | FA. This route is an overhung route climbed without a rope, just bouldering pads. Since it has 60+ moves, Jernej chose not to consider it as a boulder, but rather a sport route and graded it as such. UKC Article |
| Sanjski par extension | Sport Route | 9a | 6th Dec 2022 | One of the hardest routes he's ever done. |
| Umetnost | Sport Route | 9a | 24th Aug 2020 | 8a Article |
| Halupca 1979 | Sport Route | 9a | 20th May 2020 | Instagram Post |
| Pescena ura | Sport Route | 9a | 7th May 2020 | 8a Article |
| Vodni svet (Water world) | Sport Route | 9a | 1st May 2018 | Third ascent. Found beta that made the route easier. |
| Bi Herri, Borroka Bat | Sport Route | 9a | 6th Mar 2017 | |
| In time | Sport Route | 9a | 15th June 2014 | |
| Bellavista | Big Wall | 8a+ | 3rd Aug 2022 | Instagram Post |
| Story of Two Worlds | Boulder | V15/8C | 4th Jan 2013 | Sent the boulder after 4 tries on that day. |
| La Rustica | Boulder | V15/8C | 16th Dec 2012 | Video |
| Dreamtime | Boulder | V15/8C | 9th Nov 2019 | His childhood dream boulder finally completed. Planet Mountain |
| Metafizika | Boulder | V15/8C | 26th Sep 2018 | FA. La Crux |
| Catalan Witness the Fitness | Boulder | V15/8C | 7th Mar 2017 | Video |

Kit Bag
Scarpa Instinct VSR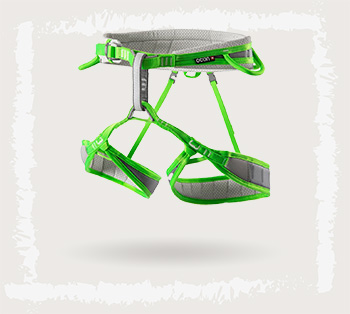 Ocun Neon
Ocun Rattle
Ocun Paddy Dominator
Ocun Hawk QD Zoom

Climbing Career
Learning the Ropes & Competition
Jernej Kruder grew up in Celije, Slovenia's third-largest town. He discovered climbing at a young age, having been introduced to indoor climbing in his hometown when he was seven years old. Jernej joined the Solvenian Youth International team when he was 14 years old, and one year later he became Youth Vice-Champion in Speed while also crossing off his first 8c+ route, Botulin in Kotenik, from his list.
Jernej has been a constant threat on the IFSC Circuit since 2004 when he won his first podium (2nd place in lead) at the European Youth Cup in Geneva. At the age of 15, he won his first World Championship, finishing second in speed climbing in Beijing, and his position on the chart only kept rising.
The peak of Jernej's competitive rock climbing career was in 2018 when he won multiple places on the podium, including first place in bouldering at the World Championships in Meringen, Switzerland. In 2019, Kruder smashed the World Cup Competition in Moscow, winning gold in bouldering, surpassing renowned strongman climber Adam Ondra, who took silver.
Outside the gym, Kruder kept smashing the boulders and big walls having climbed in 2012 alone over 35 boulders graded 8a or above, according to an interview with one of his main sponsors, Scarpa.
Jernej has been on an upward trajectory, which he attributes to his dedication and training, as he believes that becoming an all-around climber is the key to becoming one of the best, if not the best, climbers in the world.
Notable Ascents
The Story of Two Worlds
At the beginning of 2013, during a trip to Switzerland with the Slovenian team, Jernej managed to climb one of the hardest boulders in his career un up until now, The Story of Two Worlds (8c). As he stated on his blog, Jernej didn't go to Switzerland knowing he would solve such a behemoth of a route but rather train and relax with his fellow teammates.
During this trip, he climbed hard boulders such as The Dagger (8b+) and even considered a sit start for this problem. In Chironico he sent another hard route, Delusion of Grandeur (8b), so it's safe to say he was pretty well warmed up for The Story of Two Worlds.
During this trip, he climbed hard boulders like The Dagger (8b+) and even considered a sit start for this problem. Heading in Chironico he sent another hard route, Delusion of Grandeur (8b), quite quickly, so we can say he was pretty warmed up by the time he arrived at The Story of Two Worlds.
As Kruder describes it, his success resulted from a series of fortunate events, such as good weather, as well as his physical and mental fitness, which enabled him to complete the climb in just a few tries.
"I can't describe feelings, but I can say that I'm really happy to climb such a boulder and make a fourth ascent. It definitely changed my view on 8c boulders, but still I know I'll have to do a lot to send more hard stuff." said Jernej oh his blog post.
Es Pontas
One of Jernej's most notable climbs is let's say, a slightly unconventional one, as it's Chris Sharma's deep water solo route, Es Pontas (9a/+).
After ten years since Chris' FA, Kruder went to Mallorca during a 4-week climbing trip and set his goal to second this impressive arch above the sea suggesting a grade around 9a/5.14d, a bit lower than Sharma appreciated.
It took Jernej almost 40 attempts to finish the route, with him facing difficulties at the huge 7-foot dyno right in the middle of the climb.
The struggle was real with this massive overhang, as a friend of Kruder's described in UK Climbing: "Krudi did it! After almost a month of trying Es Pontas together, Jernej made the second ascent! Watching him climb was one of the best go's I ever saw! He cruised through all the hard sequences until he started screaming at the victory jug!"
Bellavista
Remember when we said that Jernej Kruder is an all-around climbing machine? In August 2022, he climbed the most challenging route in Cima Ovest di Lavaredo, Italy. Redpointed in the winter of 2000 by Alex Huber, Bellavista is a real challenge in the world of climbing, standing even today, twenty years later, as one of the hardest multi-pitch routes in the world.
Rising 500 meters above the valley, Bellavista's hardest pitch is a 7b+, a grade that didn't pose many problems for Kruder. But, it wasn't a walk in the park either. He stated in an interview for LaCrux, "I fought all 85 moves and reached the deflector completely exhausted."
Perhaps the toughest challenges for this climb remained the classic ones, such as finding the perfect weather window and, of course, the suitable partners for such an adventure, but things started to "fit together at one point" and Jernej, along with two other rope partners, managed to finish the route despite the long hours of waiting and the sketchy conditions on some sectors.
Jernej Kruder developed an appetite for high climbs after completing this massive multi-pitch, as he stated in the same interview, "I'm getting more and more experience in big wall climbing." So we're looking forward to seeing what he comes up with on his next adventure.

Video Library