Ascent Log
| Climber | Suggested Grade | Date of Ascent | Notes |
| --- | --- | --- | --- |
| Chris Sharma | 9a/4.14d | 23rd Sep 2005 | Dubbed as not a 'real sport route', Chris makes the FA of this bouldery route. Video |
| Sean McColl | 9a/4.14d | 23rd Sep 2009 | Sean made the second ascent in only 8 days. Video |
| Ben Harnden | 9a/4.14d | 5th Oct 2012 | Ben used different beta to Chris and Sean. Video |
| Alex Megos | 9a/4.14d | 27th Aug 2016 | Alex only needed one day to send this Sharma classic. Video |
| Mike Foley | 9a/4.14d | 21st June 2017 | Instagram Post and Video |
| Jimmy Webb | 9a/4.14d | 3rd Sep 2018 | Being a boulderer, he had to train on endurance before climbing Dreamcatcher. Video |
| Nicholas Milburn | 9a/4.14d | 2019 | He spent 3 sessions over 10 weeks working the route. Instagram Post and Video |
| Paige Classen | 9a/4.14d | 3rd Sep 2021 | It took Paige 7 years of training to bag the first female ascent. Instagram Post and Video |
| Michaela Kiersch | 9a/4.14d | 6th Sep 2021 | Three days after Paige, Michaela bagged the second female ascent. Both remain as the only women to climb this route. Video |
| JJ Mah | 9a/4.14d | April 2022 | He spent 15 sessions on the route. Video |
| Lucas Uchida | 9a/4.14d | 4th Sep 2022 | |

Climb Profile
The Route
Dreamcatcher was bolted by Chris Sharma and Sonnie Trotter in 2005, and since then, it's been a constant challenge for the best climbers in the world. This 21-meter pin scar seam, located on the backside of the Cacodemon Boulder below The Chief, features several boulder problems, some of which require "modern" moves in order to be solved.
To climb Dreamcatcher, Ben Spannuth, who made an attempt to redpoint this route, said that it "truly demands a technically well-rounded climber, more so than any other line I've seen". This route requires multiple heel hook moves combined with bad pinches and the famous campusing section that really get those forearms pumped. It's not like any other typical sport route out there.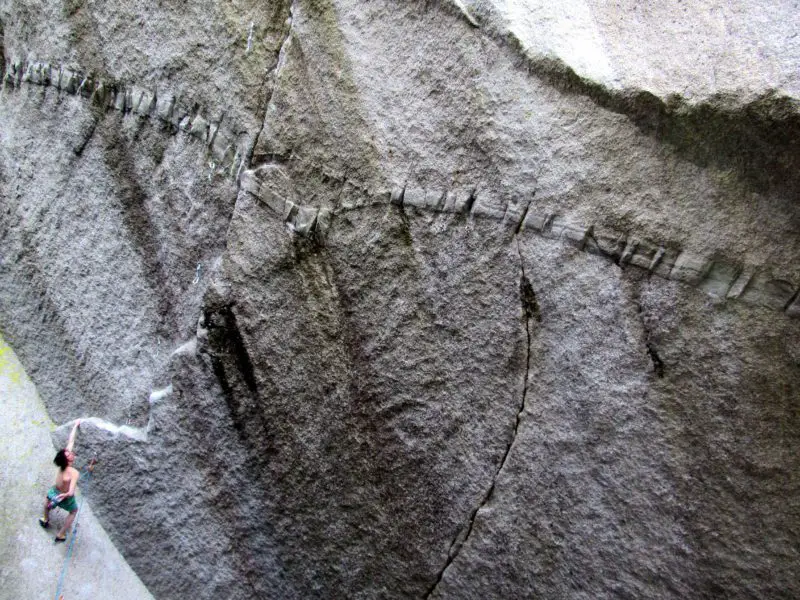 Featured in Dosage Volume 4 movie, Sharma explains the process of climbing the route "You start on a really technical slab, then you're wedged up into the crease where the overhang starts. You get a dyno from that position behind you and stick to the rail. Once you get that, you just start this other boulder problem on these crazy slopers and big reaches. Then it turns into a little crack like pinscars, and the hardest boulder problem is at the very end of that, which finishes with a big like dead point to a jug."
Criticized by some badmouth Redditors as not "a real" sport climb, it comes with no doubt that Dreamcatcher is one of the greatest feats of strength in modern climbing.
First Ascent
23rd Sept 2005: Chris Sharma
Chris Sharma worked on Dreamcatcher for several weeks after bolting and projecting on it since day one. He described reaching for the jug hold after the sequence of pinscars as one of the most challenging parts of the climb.
He sent the route one month later, after returning to it and working on it for another two days.
The struggle and FA of this route have been documented on video in the Dosage Volume 4 film, which was described at the time as one of the hardest routes in North America and represents a significant step forward in the evolution of climbing.
Second Ascent
23rd Sept 2005: Sean McColl
After several attempts by other strong climbers, such as original bolter Sonnie Trotter or Paul Robinson, Canadian IFSC crusher Sean McColl repeated Dreamcatcher exactly four years after Sharma's FA, also establishing his first 9a redpoint.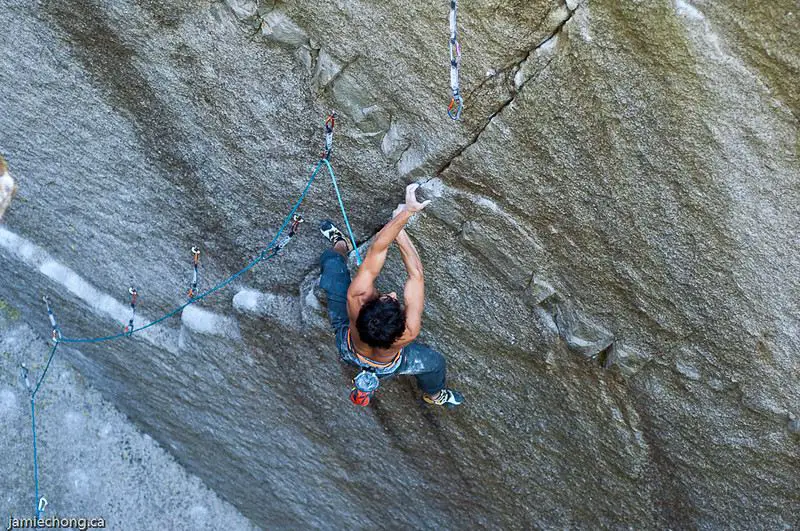 McColl began working on the route one year after Chris' FA. It took Sean four years to clip the chains after returning from the World Cup Circuit that summer. Although it appeared to be a lengthy project, Sean only needed 8 days to complete it. Sean documented his ascent on his blog at the time, which no longer exists. Many other publications, thankfully, extracted information from there, and we discovered this quote about his experience on 8a.nu.
"Although my redpoint burn felt easier than any other time, I do agree that the route deserves the grade of 5.14d. This route took me longer than any other route that I've done. I also feel that I'm the strongest I've ever been in route climbing after competing on the World Cup circuit in Europe this whole summer."
It was such an overwhelming success that Sean could be heard screaming "a victory cry that could be heard all around." With this second ascent, Dreamcatcher had confirmed its grade and would not see another successful climb for another 3 years.
Third Ascent
5th Oct 2012: Ben Harnden
Armed with a new approach on the beta, Ben Harnden went to take on Dreamcatcher. According to his climbing partner, Ben Spannuth, he told Climbing Magazine,"Ben's [Harnden] method for Dreamcatcher, in particular, is incredibly inspiring. He's ridiculously strong and pulls off a few non-holds that Chris and Sean completely skipped".
Although he's been a Squamish regular since 2002, Ben waited until June 2012 to try this route and managed to realize his third ascent five months later. His so-called delay in making the ascent was due to a shoulder injury that limited Harnden to only a few attempts per week.
Ben with his typical Canadian modesty didn't brag about his success, so word got out through the local climbing message board.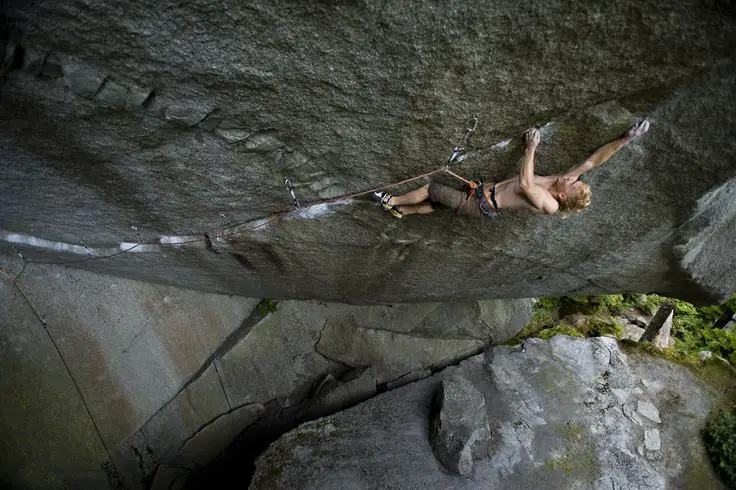 Other Ascents & Attempts
Dreamcatcher did not escape the flash hunter Adam Ondra's keen eye. Ondra attempted a flash climb after sending Silent Menace (8c+) on his second day in Squamish in February 2015. At that point, the route had only seen three ascents. Despite the fact that his effort was nothing short of magnificent, he fell at the pinscar section of the route. One year later, Adam would send his most powerful flash in history, Super Crackinette 9a+.
Alex Megos led the fourth ascent of Dreamcatcher on August 27, 2016. He attempted to flash the route at first, but things didn't go as planned when Alex fell on the first part of the climb. He became the first climber to send Dreamcatcher after only 3 attempts in the same day.
It was the icing on the cake for Alex, who was leaving for Germany the next day. In an interview with Planet Mountain, he stated that redpointing Dreamcatcher was a dream come true, as it was in fact the only route he knew about when he arrived in Canada for his climbing tour.
On September 2, 2021, American climber Paige Classen made the first female ascent of Dreamcatcher. Her first encounter with this "life list route," she claims, was seven years prior to redpointing it. She used this time to become a "different climber" and gain confidence in her ability to commit.
It took her a little more than a week to complete the project, and this is how it all came together:
"My mind was everywhere and nowhere. I climbed well to the final rest, stuck my highpoint, and then made a conscious decision to not let go. I think I tried the hardest I've ever tried in my life.
What a weird day, but so happy to have found my passat on this dream line."
Paige was followed a few days later by Michaela Kiersch, who sent the second female ascent of Dreamcatcher, making them the only women to successfully redpoint this historic route.
Header Image: ©arjandekock

Video Library