Ascent Log
Climber
Suggested Grade
Date of Ascent
Notes
Adam Ondra
V16
10th Nov 2011
"In total, I spent 11 days on it and 1 day last year. The style of climbing fits me perfectly, I know the specific friction-less limestone really well and I am used to it."
Video

Climb Profile
The Route
Tucked away near Ondra's town of Brno in Czechia, lies Moravsky Kras. It's a place famed for its stunning natural rock formations and unique geological properties. With over 1000 bolted lines, it's a sport climbers' paradise.
But for those who enjoy wrestling boulders, there's a handful of tricky problems lurking around the area, the most noticeable of which is Terrnanova. It's a problem that isn't renowned for iconic aesthetics, flowing beta sequence and nerve-shedding exposure. Instead, it is revered as the problem that pushed Ondra to his limits. As Ondra described the line to Planet Mountain:
"This boulder is foremost about it's difficulty. I would like to emphasize that it is not the most beautiful, exposed line in the world. It does not go on top of the stone but it is only a traverse at the beginning of the wall. I always thought that it wouldn't be possible."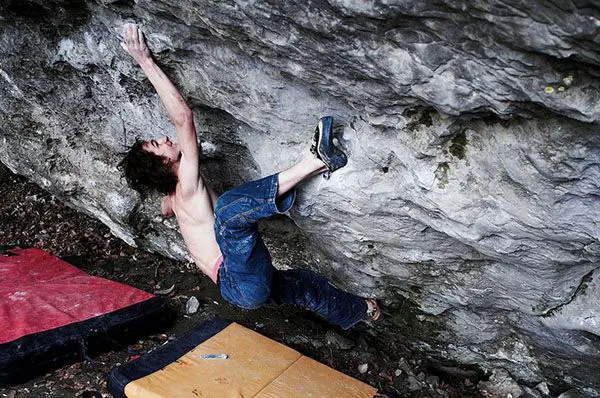 While the entire traverse consists of savage crimps and body tension, its crux is a tricky sequence consisting of a sloping right-hand pinch into a left-hand thumb catch, which is up there as one of the most difficult single moves found on any boulder problem.
It's so difficult in fact, that after making the first ascent, Ondra suggested a grade of V16, making it the hardest boulder in Czechia (now tied with several other Ondra boulders of the same grade) as well as the highest grade established at that time.
First Ascent
10th November 2011: Adam Ondra
It was around 2004 when Adam Ondra first felt the pull of the near-impossible traverse that later would become one of the biggest bouldering achievements of his career. For over 8 years, a young Ondra relentlessly threw himself at the blank rock, taking burns on the problem after school and desperately dreaming of one day being able to send. It became a testpiece for the teenager, who used the near-impossible sequence as a trailing tool to motivate him to become a better climber.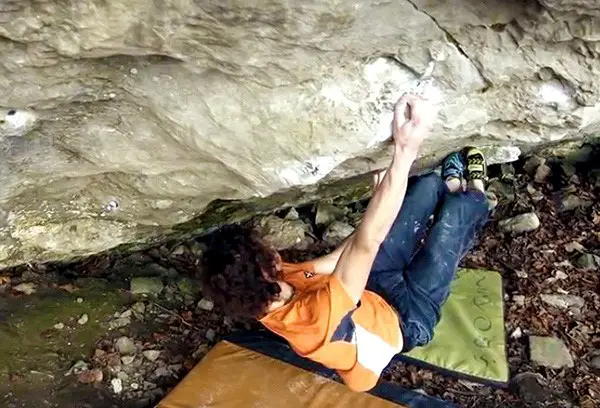 It wasn't until 2011, that Ondra decided it was time to properly project the traverse. After 12 days of effort, and wholly dedicating time to projecting the sequence, Ondra clinched the first ascent of his long-standing project. He called the boulder Terranova, an Italian word deriving from Latin, translating to "new land". This referred to the new experience of projecting a boulder, instead of a sports route, as the step up in difficulty compared to anything else he had attempted previously.
Even more impressively, only a month later, Ondra would claim a rare repeat of Gioia and suggested an upgrade of V16.
Other Attempts
Over a decade later, Terranova lies dormant. It's a line that has seen little to no real attempts since the first ascent, perhaps because Brno isn't exactly a renowned climbing destination, so the few people who have the skill to send a problem of such caliber are inspired by other lines.
Will Bosi has looked the most likely to snag the first repeat of Ondra's unrepeated testpiece. He went on a Czech climbing rampage in early 2022. Across a four-week period, he not only bagged a silver medal at the Lead World Cup, but he also climbed 19 boulders over the grade of V12, six of which were V15, and clipped the chains on two unrepeated Ondra 5.14ds.
When it came to attempting Terranova, a line he had watched Ondra climb as a young boy, he got "completely shutdown", as Bosi puts it. On his Instagram page, he reported that the pinches and crimps on the boulder are some of the worst holds he has ever used.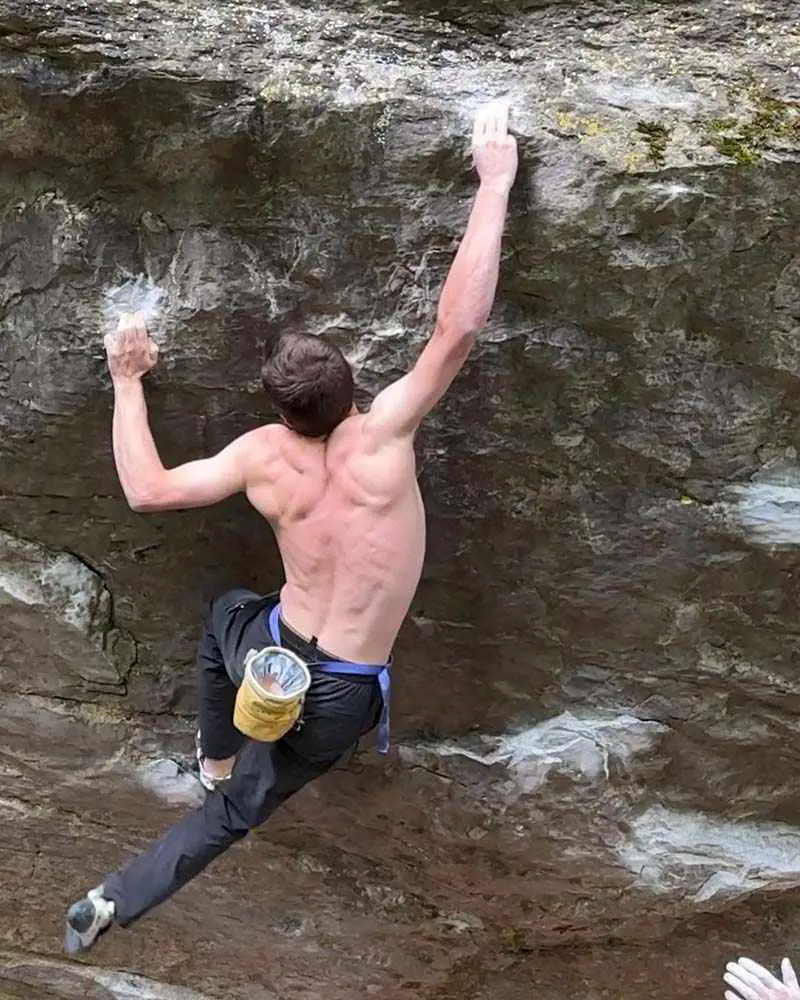 Will was so stuck by the difficulty of the scrappy traverse that in early 2023 he suggested that Terranova felt just as hard as Burden Of Dreams. After going on to claim the second ascent of BOD, in September 2023 Will returned to Czechia for a rematch on the traverse and is currently projecting the boulder. While no quick sends have been reported, you can keep up with his progress on his Instagram page.
Another exciting candidate in the running for a repeat of the V16 Terranova boulder is Jane Svecova. The Czech native has had Terranova in her sights for a while, but it was March 2023 when she began to really start projecting the line.
At first, progress was pretty quick, and plenty of eyeballs were watching her progress closely after she posted a video on her YouTube channel titled "I Did All The Moves Of Terranova in Just Two Days". However, it seems linking all the moves together is no easy task, as we still wait excitedly for Svecova to send the line. If she can, it would only be the second ascent of V16 by a female climber, behind Katie Lamb's Box Therapy.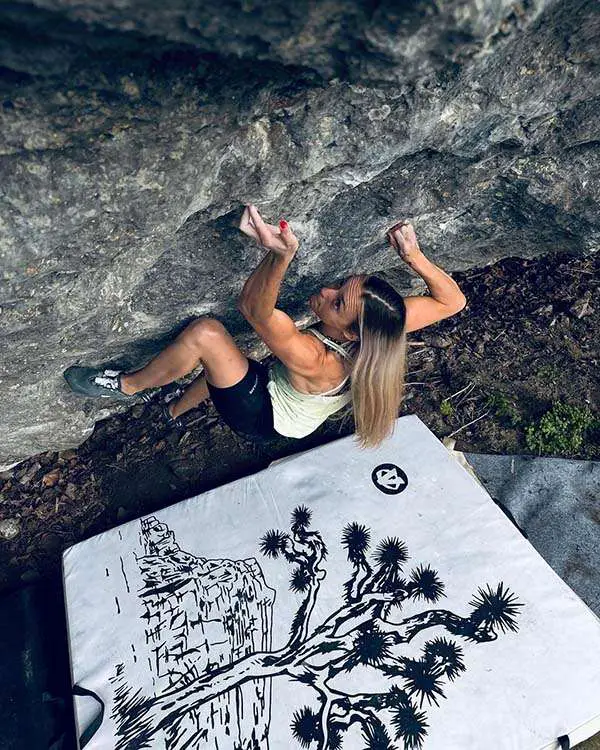 Nova – The Second Part Of Terranova
At the end of July 2023, Jana set up a new variation of the traverse, named Nova. The new problem offers a different start variation from Ondra's line, then links back in with the original Terranova after two moves. For her new line, Jane suggested a grade of 8B+/V14, which not only makes it her hardest send to date, but also one of the hardest first ascents put up by a female.
More recently. Will Bosi made a quick ascend of Nova but upgraded it to a V15. Will said it deserves an upgrade as it took him 6 days to send it, longer than what a V14 would usually take him. It also felt a lot harder than many of the V14 boulders he's done.
With Nova being a V15, does that put Terranova up to a V17? Only time will tell!

Video Library