History
Dive into the vibrant and transformative climbing history of Joshua Tree National Park, a hub that's been shaping the course of U.S. rock climbing since the 1950s. Pioneer Royal Robbins, a visionary in the climbing world, saw the potential in the park's unique landscape and began challenging its features. Although Joshua Tree was initially considered a "training ground" for Yosemite, it soon forged its own distinct reputation.
As climbing culture evolved, so did Joshua Tree's climbing scene. The challenging terrain became a playground for the legendary Stonemasters, testing their skills in ways Yosemite's walls couldn't. By the late '60s, climbers were transforming aid routes into free climbs, and bouldering emerged as a distinct discipline, with Joshua Tree offering an abundant playground.
In the decades that followed, climbing legends like John Long, Tom Higgins, and Lynn Hill pushed grades all around Joshua Tree, while local developers expanded the climbing radius. However, the evolution of climbing wasn't without controversy. The clash between traditional climbing ethics and a new-age approach sparked heated debates and even resulted in the removal of certain routes.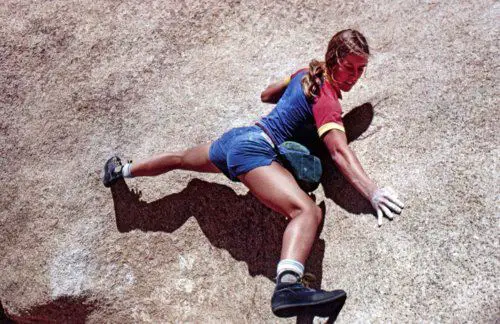 As time passed, the old-age mentality receded, giving way to a new generation of climbers in the 1990s. They pursued ambitious, challenging routes without fear of reprisals, bringing some of the hardest routes to the park. Today, even with the sense that Joshua Tree is fully developed, you'll still find climbers exploring remote canyons, ever in search of new and visionary lines. The adventure, it seems, is far from over!
How To Get To Joshua Tree 
Joshua Tree is located in the deserts of southern California, just south of the town of the same name. There are three entrances to the park but most of the climbing is accessed via the West Entrance on state route 62. Here are the other two entrances:
The North Entrance is in Twentynine Palms, three miles south of the junction of Highway 62 and Utah Trail.
The South Entrance near Cottonwood Spring is an access point along Interstate 10, 25 miles east of Indio.
Depending on your starting point, there are various ways to reach the park:
By Car: If you're driving from Los Angeles, located around 140 miles from J Tree, the journey should take around 2-3 hours via the I-10 E freeway. The park has several entrances, the most popular being the West Entrance, located in the town of Joshua Tree.
By Air: For all the dedicated climbers coming cross-state or internationally, the nearest airport to Joshua Tree National Park is Palm Springs International Airport (PSP), around 45 minutes away by car. Other major airports within a reasonable driving distance include Los Angeles International Airport (LAX), San Diego International Airport (SAN), and McCarran International Airport in Las Vegas (LAS).
By Public Transportation: The Morongo Basin Transit Authority (MBTA) provides public bus services to Joshua Tree National Park. Check timetables as there is very limited publish transport going to Joshua Tree.
Don't expect to catch a bus in Joshua Tree National Park as there is no public transport available within the park! It's a DIY adventure here – you'll either be steering your own wheels or hitching a ride with a private tour company.
If you're up for some climbing, lace up your walking boots or rev up the engine to hop between crags – there's a bundle of them tucked into a cozy radius.
Beware though, the parking spots you'll be aiming for are often shared with popular trailheads. This might mean you'll be playing a round or two of parking lot musical chairs. But hey, isn't that part of the fun?
And if you're cruising into J Tree in your own ride, buckle up for a road trip you won't forget. The scenic back road from Las Vegas is a must-drive for many an adventurer with the most spectacular views.
Camping
If you want to be next to the rock, camping is the way to go. There are a variety of camping options in Joshua Tree National Park, with the majority of the 500 campsites in the park available by reservation. These reservations can be made the same day or up to 6 months in advance on recreation.gov. Some of the popular reserved sites include:
For those who love spontaneous adventures, Joshua Tree offers first-come, first-served camping options at Hidden Valley, White Tank, and Belle Campgrounds. To claim a site, simply find an unoccupied spot, establish your presence by setting up a tent or leaving personal items, and then promptly register and pay at an entrance station. The cost for these campsites is a modest $15 per night.
The park also features group campsites at Cottonwood, Indian Cove, and Sheep Pass. These larger sites can house between 10 and 60 people and can be secured up to half a year in advance. While Cottonwood and Sheep Pass are designed for tent camping, Indian Cove can accommodate small RVs or trailers, with a maximum total length of 25 feet.
Keep in mind that not all campsites are created equal in terms of the number of people and tents they can accommodate. Before making a reservation, ensure to check the campsite specifics. First-come, first-served campgrounds permit up to six people and three tents, provided they fit comfortably. Exceeding these limits may lead to additional guests being asked to vacate or the forfeiture of the campsite.
If you prefer the comfort of your vehicle, sleeping inside it is permitted but only at a legally occupied, designated campsite. Sleeping in vehicles is prohibited in areas outside of campgrounds, like trailheads, dirt roads, parking lots, and roadways.
There is a dry lakebed Northeast of the town of Joshua Tree which sits on BLM land. Dispersed camping is permitted here, but please respect the resource and the neighbors. Just because it is free doesn't mean you can trash the place.
Visit Rec.gov for more information and to see availability.
Where To Rent Gear
Climbers are nothing without their trusty gear. If you are thinking of heading to J Tree without any gear, there are a few places to rent:
Joshua Tree Outfitters: This store offers rentals for crash pads and climbing shoes. The crash pads cost $15 per day for a medium size and $25 per day for a large size. If you need climbing shoes, they're available for under $10 per day. They also rent out bouldering guide books for $5 per day, with an additional $1 per day after the first day​.
Nomad Ventures: This store rents out rock shoes for $7.50 per day​.
When you're prepping for your climbing escapades at Joshua Tree, remember that there are some pieces of gear you'll need to bring from home. Due to some pretty serious safety rules, the local rental shops won't be able to hook you up with climbing hardware, harnesses, or ropes. It's all about making sure you're climbing with gear you know and trust, keeping you safe while you're reaching for the stars. So, don't forget to pack your own trusted hardware, harnesses, and ropes before you head out to conquer those epic Joshua Tree routes!
If you are looking to also rent camping equipment, Joshua Tree Outfitters lets you rent sleeping bags, cooking equipment, fuel, water coolers and many more.
Amenities
Joshua Tree National Park and the nearby towns provide a variety of amenities for visitors:
Inside the Park:
Visitor Centers: The park has three visitor centers – Joshua Tree Visitor Center, Oasis Visitor Center, and Cottonwood Visitor Center. These centers offer educational exhibits, park maps, and helpful staff who can answer your questions about the park. The Joshua Tree Visitor Center and Oasis Visitor Center are located near the park entrances, while the Cottonwood Visitor Center is located in the southern part of the park.
Water: Potable water is available at the Oasis Visitor Center, Black Rock Campground, Cottonwood Campground, and Indian Cove Ranger Station. There are no water services in the backcountry, so be sure to fill up your water bottles at these locations before venturing deeper into the park.
Restrooms: There are restrooms at the visitor centers and campgrounds. Some restrooms in the park are equipped with flush toilets, while others have vault toilets.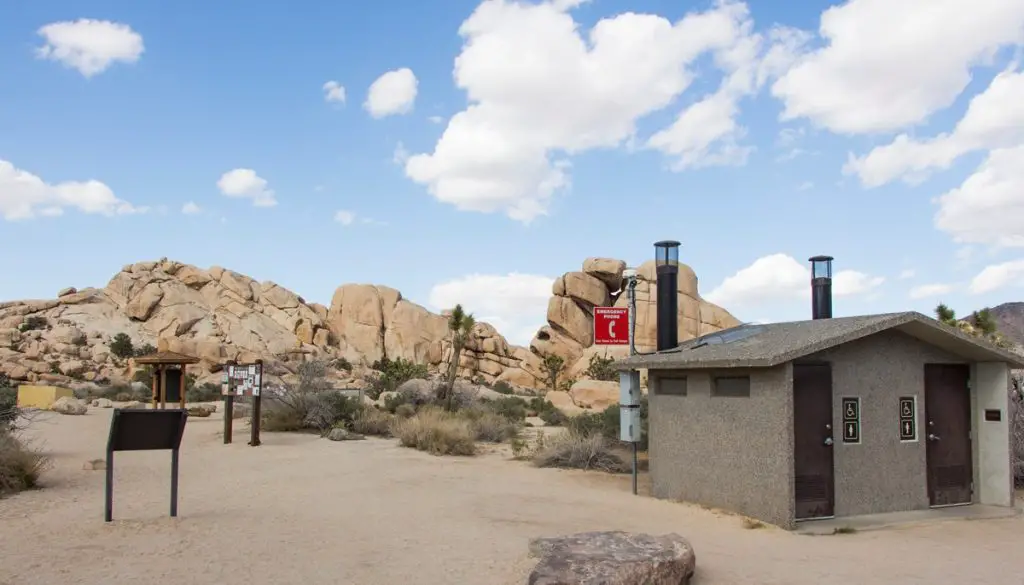 Outside the Park:
The towns surrounding Joshua Tree National Park – Joshua Tree, Twentynine Palms, and Yucca Valley – offer additional amenities:
Food and Groceries: These towns have a range of dining options, from fast food to sit-down restaurants. There are also supermarkets where you can stock up on food and other camping supplies.
Gas: There are several gas stations in these towns, providing easy access to fuel for your vehicle.
Gear Rental: As previously mentioned, you can rent climbing gear from stores like Joshua Tree Outfitters and Nomad Ventures in the town of Joshua Tree.
Camping in Joshua Tree National Park is a bit like stepping into a survival adventure – you've got to plan ahead and pack smart! This isn't a place where you can pop into a food joint or gas station – they simply don't exist here. So, before you cross the threshold into the park, make sure your supplies are stacked high.
Water is your best bud, especially when the summer sun is beating down. There are a few water services scattered around the park, but they might as well be oases in a desert. So, bring enough of your own hydration to keep you cool and quenched.
And remember, we're just visitors here. The Leave No Trace principles are the golden rules of camping. Carry out what you carry in, and leave only footprints. Let's keep Joshua Tree as dazzling as ever for the next wave of adventurers!
Best Time To Go To Joshua Tree
If you're looking to test your mettle against the rugged climbing routes of Joshua Tree National Park, you'd better time your trip right. Trust me, when it comes to rock climbing, timing is everything. The park is a desert playground, and like any desert, the mercury can skyrocket in the summer and plummet in the winter.
Summer, from June through August, brings soaring temperatures that can make even the most hardened desert rats think twice. The sun blazes down, often sending the mercury rocketing past 100 degrees Fahrenheit (38 degrees Celsius), turning climbing into more of a sizzling ordeal than a fun adventure. Winter, on the other hand, flips the script entirely, with nighttime temperatures sometimes freezing solid in December and January.
So, what's the golden period for climbing in Joshua Tree, you ask? Late fall, around October, through to early spring is the best time to climb. These cooler months offer the best conditions for the climbing aficionados among us. The weather is mild, the rock faces are welcoming, and the views are simply spectacular.
But remember, you're not the only one with this insider information. Climbers from around the world descend on Joshua Tree during these prime months, especially around holidays like Thanksgiving and Spring Break. So, if you've got your heart set on a campsite, don't hesitate to make reservations early!
Keep in mind, though, Mother Nature has a mind of her own, and conditions can change from year to year. So, before you pack your gear and hit the road, check the latest weather forecasts and park conditions.
Know Before You Go
From one climber to another, here are a few things I wish I knew before making my first ever trip to Joshua Tree.
Climbing Preparation: Joshua Tree is renowned for its bouldering problems and sports/trad routes, which can be different from gym climbing. If you're new to the outdoor climbing scene, it might be beneficial to hire a guide for your first few climbs. If you take pride in wanting to figure it out all yourself, at least buy the guidebook!
Plan Ahead: There is no cell phone reception in the national park, which makes sense since it's a desert… But since we are so reliant on our phones to take us places, not having reception might be a problem. Try and make a rough plan on the climbs you want to do that day or the crags you want to go to. Download an offline map if you can or have a paper copy handy.
Gear: Make sure you have all the necessary gear. This includes climbing shoes, a helmet, harness, chalk, crash pads for bouldering, a rope, and a trad rack if you're planning to do traditional climbing. Some gear can be rented locally from Joshua Tree Outfitters or Nomad Ventures but as we mentioned earlier, you can only rent shoes and crash pads. You're better off bringing your own stuff to avoid disappointment when you go and ask for rentals.
Clothes: The desert can be incredibly hot during the summer and quite cold in the winter. Make sure to pack appropriate clothing. You'll get super hot and sweaty while climbing, and chilly while you're waiting around or spotting. Bring clothes that you can layer. In the hot months, wear lightweight clothes and don't forget sunglasses, a hat and suncream.
Water, water, water: You can never have enough water with you so make sure you pack plenty to keep you hydrated, especially in the hottest parts of the day. Pack a lunch and snacks to have throughout the day too. As there are no shops around, you definitely don't want to go hungry in the desert, to come prepared!
Weather: The weather is very unpredictable nowadays, so even in the hotter months, take a look at the forecast before you head out. Remember, the climbing season typically spans from October through May when the weather is more suitable for outdoor activities.
The Crags
Joshua Tree is well-known for a ridiculously high concentration of single-pitch terrain. Access is unparalleled, with some of the best crags and individual routes sitting literally right next to the road! One does not have to travel far between crags to get their money's worth. There is so much rock that most areas run the full grading gamut between 5.6 and 5.11+, and there is usually something for everyone. Then, less than 500 feet away, there is another crag with similar offerings. Then another, then another.
As long as you have a guidebook in hand (keep in mind that there is almost no cell reception in the park), you can spend an entire day in a single area and never run out of things to climb.
Hidden Valley Campground
Right where it all began, the campground next to Intersection Rock boasts some of the area's most classic routes. Park at the large lot behind (on the north side) of Intersection rock and an entire universe opens up before you. If you stayed in Josh for a week and staged your climbing activity solely out of this parking area, you still wouldn't be able to do everything.
Intersection Rock
The dome which stands guard over the parking area has been thoroughly developed and has dozens of climbs ranging from 5.6 to 5.12. Among the easier climbs for those new to Josh are Upper Right Ski Track (5.3), Bat Track (5.5) and The Flake (5.8). For the more advanced parties, try North Overhang (5.9), Lower Right Ski Track (5.10b) and Left Ski Track (5.11a). Many of the climbs intersect at one or more points, so beware of crossing ropes with another party.
This dome sports a ton of bouldering problems, as well. If the routes are swarmed, consider staying low and trying your hand on some classic pebbles!
The Old Woman
Adjacent to Intersection rock is The Old Woman. Check out Double Cross (5.7), Dogleg (5.8), Orphan (5.9) and Bearded Cabbage (5.10c). There are plenty of harder sport routes peppering this dome, too, going all the way to 5.12-.
The Blob
The next formation in the chain, The Blob has just as much to offer as the rest of the domes which surround it, though the routes are typically a little shorter. The upper moderate routes on The Blob are the real attraction: Papa Woolsey (5.10b) and Surrealistic Pillar (5.10b) are just a couple. Moreover, many of the classic bouldering lines are sheltered and offer plenty of shade for some good old try hard for days with higher temps. Check out Caveman Finish (V3) and the original traverse, Caveman (V7).
Chimney Rock
Literally 10 feet from campsites 1-3 at the campground, Chimney Rock has some of the most easily accessible routes for anyone staying there. Great for those days when you still have a little juice left and don't know what else to do with it! West Face Overhang (5.7), The Flue (5.8), Damper (5.9) and Blind Ambition (5.11a). Most of these routes can be easily toproped by climbing the ramp on the east side of the dome. Do try to be courteous; some people may be annoyed to have you in their campsite without asking first.
Lost Horse Road
Sandwiched between Park BLVD and Lost Horse Road, there are nearly a dozen quality crags, the longest approach being about 15 minutes. While it would be nice to cover all of them, the cornerstone of this whole area is Hemmingway Buttress.
Hemingway Buttress
This crag sports some of Joshua Tree's longest and most classic routes. You can see it from the road and it takes all of five whole minutes to get to the base. The main wall's main attractions are White Lightning (5.7), Funky Dung (5.8), Overseer (5.9), and Overseer Direct (5.10a). The backside has even more classics! Move either left or right along the front side to access any number of high-quality crags.
Real Hidden Valley
Just across the road from the entrance to the Hidden Valley CG is a large parking loop. This is a popular location for hiking. Just as anywhere in Josh, as you travel further away from your car, the less likely you are to have to share the crag!
Locomotion Rock 
This crag, right next to the first parking area on the loop, has a great concentration of easier climbs, perfect for an introduction to Joshua Tree. Leaping Leaner (5.6), Lumping Fat Jennie (5.7) and Jumping Jehoshaphat (5.7). Most of these routes share anchors with harder routes just next door, easy if you want to set up a toprope. Grain Dance (5.10c) and Slip and Slide (5.11c).
The Thin Wall
If it is a little warmer, consider checking out The Thin Wall. While a little further out, this crag gets plenty of shade and has an amazing collection of easy and hard routes, going from 5.6 to 5.10+!
Wonderland South
Wonderland South, true to its name, is an amazing area comprised of dozens of individual areas. Some of the park's best sport and mixed climbing can be found here, as well as some of the most classic boulder problems (Gunsmoke, V3 traverse in Barker Dam Area is a personal favorite).
Barker Dam Area
Closest to the road, Barker Dam has some of the easiest to access and best routes in Wonderland South.
South Astrodome
This area has some of the most highly rated mixed routes and rare multi-pitches in the park. Easier moderates are hard to come by on this dome, with the lowest grade at 5.9 and the hardest going at 5.13a! Throw a stick at the base of the formation and it will land at the foot of a mega classic. Do not fret about quality here, but do bring your game face! Some of these routes are bold.
Among other killer routes out here, check out Room To Shroom (5.9), I can't Believe It's a Girdle (5.10a) on Freak Brother's Dome, The Gunslinger (5.12b) on North Astrodome and Mental Physics (5.7) on Lenticular Dome.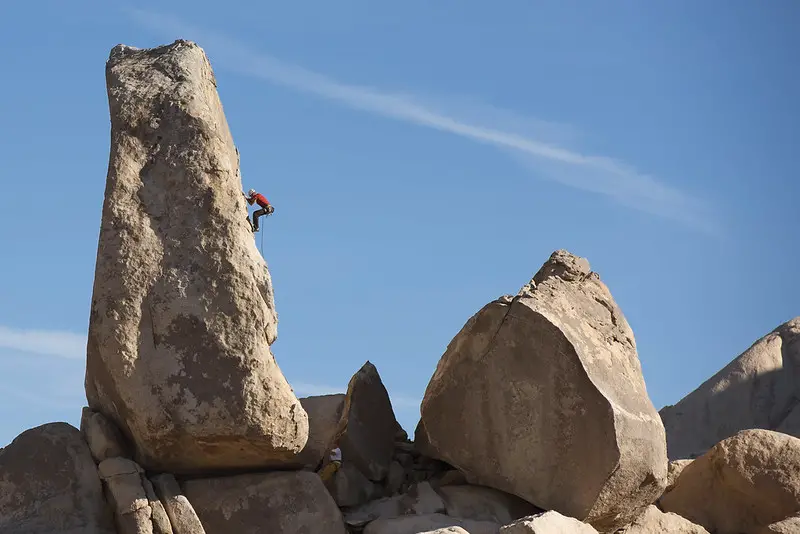 Other Things To Do In Joshua Tree
Apart from climbing, Joshua Tree National Park offers a plethora of other activities to engage visitors. The park's extensive trail system provides abundant opportunities for hiking and bird-watching amidst the unique desert landscape. Wildlife enthusiasts can spot animals like jackrabbits, coyotes, and bighorn sheep.
If you're into stargazing, the park's clear, dark skies make it an excellent place for astronomy. Nature photography is another popular activity, with the park's signature Joshua Trees and rock formations offering endless inspiration. For those interested in history, the park also has several historical sites, including remnants of old mining operations and Native American rock art.
Finally, during the cooler months, the park's roads make for excellent biking routes, offering a different perspective on this beautiful landscape.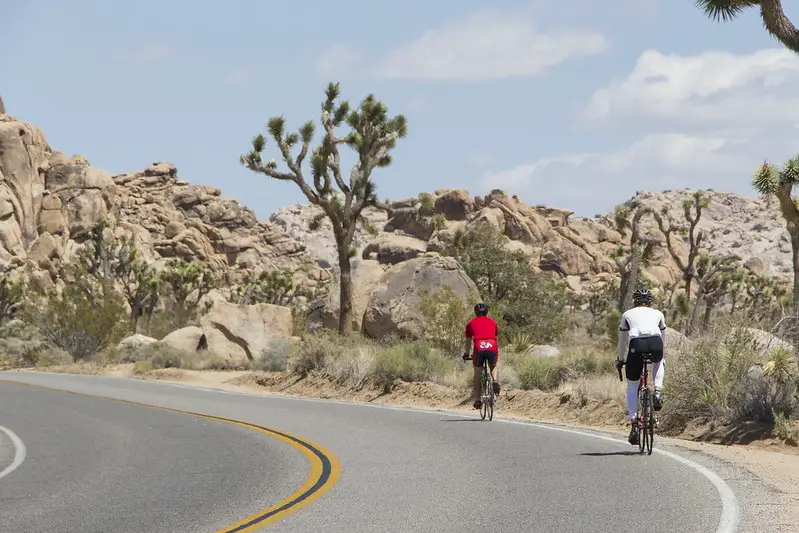 Joshua Tree FAQs