History
Smith Rock's climbing chronicle begins earnestly in the 1960s. Prior, the 1950s had seen sporadic ascents by the Staender duo, but it was the first ascent of Monkey Face in 1959 by Dave Bohn, Jim Fraser, and Vivian Staender that truly positioned Smith Rock in the limelight, especially after its feature in the Mazama publication.
Despite its newfound fame, the 1960s saw a sparse climbing populace at Smith Rock. With most climbers magnetized to Yosemite and Joshua Tree, and aid climbing in vogue, Smith Rock's attraction was somewhat diminished. However, in 1961, Jim Ramsey pioneered free climbing in the region with his ascent of The Awl. This shift continued, and by the 1970s, free climbing had cemented its place. Significant ascents included Del Young's free climb of Smith's first 5.11, Minotaur, and Wayne Arrington's notable contribution with Tombstone Wall.
The end of the 70s saw a remarkable event: Jeff Thomas and Chris Jones' successful free climb of Monkey Face, a feat repeated soon after by Jones and Bill Ramsey.
Smith Rock's geographic isolation proved serendipitous during the American introduction of sport climbing in the 1980s. While other areas grappled with traditionalist resistance, Smith Rock embraced this new era wholeheartedly. Allan Watts emerged as a fervent advocate, pioneering new climbing methodologies at the crag. His redpoint of Darkest At Noon, Smith's first 5.13, set off an explosion of high-grade climbs.
The 1980s saw Smith Rock transform into a mecca for elite climbers. Among them, Jean-Baptiste Tribout left an indelible mark by redpointing To Bolt Or Not To Be, the first 5.14 in the U.S., in 1986. This feat catalyzed a new wave of challenging routes and solidified Smith Rock's reputation as one of America's premier sport climbing destinations. The progression and innovation at Smith Rock weren't just climbs; they were history in the making.
How To Get To Smith Rock
The town of Terrebonne built around Highway 97 is the access point for Smith Rock State Park. Luckily, Terrebonne sits in the crosshairs of numerous state highways. If approaching from the south, pick up Highway 97 from Weed, CA. Coming from the north, turn off Interstate 84 at Biggs Junction. From the east, routes 20 or 26 are essentially equidistant from Ontario, ID. From the west, you'll turn onto Highway 20 from Albany.
Amenities
Terrebonne is a small town with few businesses, but the essentials are all covered. Right on the main drag you'll find Oliver Lemon's, the town grocery, a chevron, and even a modest gear store/taproom called Redpoint Climber's Supply. Pump House Bar and Grill is the local watering hole.
Just down the road, Redmond has everything you could ever need, including hotels. A few miles south of Redmond is the city of Bend, one of Oregon's loveliest little cities, replete with gear stores, breweries, restaurants, cafes, you name it.
Camping
There are a few camping spots in and around Smith Rock.
The Bivy Campground
Situated amidst the breathtaking landscapes of Smith Rock, the Bivy Campground offers adventurers a comfortable base from which to explore.
Fees: A stay at the Bivy Campground costs $8 per person per night. This fee covers not only your camping but also your day use within the park. Campers should be ready to pay upon arrival through the self-pay station.
Type of Camping: The Bivy is tailored for tent camping, with 28 shared tent sites available. It's worth noting that RV facilities aren't provided here.
Fires: Campfires are prohibited at the Bivy, ensuring the safety of the delicate surrounding environment. However, for your cooking needs, camp stoves or self-contained charcoal barbecues are permitted.
Facilities & Amenities:
Restrooms: Campers have access to flush toilets for their convenience.
Showers: For just $2, campers can freshen up with a hot shower, ideal after a day of vigorous activities.
Drinking Water: Fresh potable water is available on-site.
Picnic Tables & Lockers: Shared picnic tables offer a communal dining experience, and lockers are present to safeguard your valuables.
Interpretative Programs: A seasonal yurt is on-site, hosting park staff who deliver enriching programs about Smith Rock.
Additional Information:
The campground operates on a first-come, first-served basis, with no reservation options.
Pets are welcome but need to be leashed at all times.
To maintain a serene environment, quiet hours are enforced between 10 pm and 7 am.
Skull Hollow
Located just a short drive from Smith Rock State Park, Skull Hollow Campground offers a more rustic camping experience for those seeking simplicity and solitude.
Fees: The cost of camping at Skull Hollow is quite affordable, at $10 per night for a single site. Larger groups requiring double sites will need to pay $20 per night. Payment is facilitated through a self-service payment station.
Type of Camping: Skull Hollow is versatile, catering to both tent campers and those with trailers or RVs. However, it's essential to note that there are no RV hookups available.
Fires: Campfires are allowed, but only within designated fire rings. Campers are encouraged to exercise caution and ensure their fires are fully extinguished before leaving or sleeping.
Facilities & Amenities:
Restrooms: While the facilities are basic, pit toilets are provided for campers' convenience.
Picnic Tables & Fire Rings: Each of the 28 available sites is equipped with a picnic table and a fire ring, enhancing the camping experience.
Drinking Water: Unlike some other campgrounds, Skull Hollow does not offer potable water. Campers should come prepared and bring their own drinking water.
Garbage: There are no garbage services on-site, so the "pack it in, pack it out" principle applies. Campers are responsible for their own trash.
Other Useful Information:
The campground operates on a first-come, first-served basis, and reservations are not available.
While pets are welcome, they must be kept on a leash to ensure the safety and comfort of all visitors.
With its location away from city lights, Skull Hollow offers an excellent opportunity for stargazing on clear nights.
If you are looking for an RV park, there are a few dotted around. Take a look at the Crooked River Ranch or the Expo RV Park. If camping is not your thing, you can find some nice vacation rentals around Smtih Rock. For more information, take a look here.
Best Time To Climb At Smith Rock
Smith Rock sits in a high-altitude desert landscape. The Cascades keep most storms rolling off the pacific from ever reaching the eastern half of the state, so there is precious little rainfall. That being said, summer can be pretty warm (topping 100 degrees often) and winter can see temperatures plunging into the negatives for weeks-long stretches. The spring (March-May) and the fall (mid-September through mid-November) are the two most reliable seasons to climb at Smith.
The Crags
The accessibility of Smith Rock is what sets it aside from many other sport climbing areas. Some of the best crags are within a 20-minute walk from your car, many are even closer. Best of all, most of them feature a great mixture of easy and hard climbs. There is trad, there is sport, take your pick! Just be aware, many of the routes (out of necessity) are runout due to poor rock quality.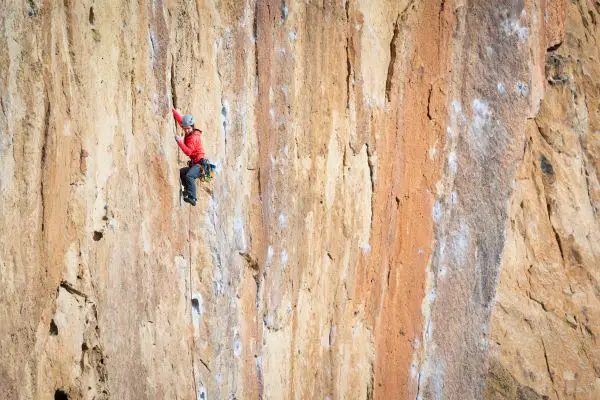 The Dihedrals
True to their name, the dihedrals are a series of perfect corners with immaculate face climbing and sharp, seductive arêtes in between. This is some of the most developed real estate in Smith Rock and has something for everybody.
Moving right to left, there are more than a dozen easier bolted routes on low-angle rock. Easy Reader (5.6), Ginger Snap (5.8) and Cry Baby (5.9) are perfect to start on. Karate Crack (5.10a) is a perfect, splitter-hand crack, sitting just next a plethora of harder lines including Karat Tops (5.11b) and Firing Line (5.12b). Here is a full list of all the routes on The Dihedrals.
Picnic Lunch Wall
Picnic Lunch Wall is the most obvious feature from the parking lot – a big, beautiful wall of pink rock is the first thing you see when you drive in. Most of the climbing here is harder, so consider going elsewhere for a good introduction to the area. 
Regardless, there is gold to be had. Honey Pot (5.9) and Teddy Bear's Picnic (5.10b) sit side by side and are a great warmup to some of your harder projects. Highway 97 (5.11b), Apian way (5.12a) and Driveway Gravel (5.12c) are all super classic routes, barely 10 feet apart.
Morning Glory Wall
A hop, skip and a jump down the river gets you to Morning Glory Wall. The Zebra area is likely the most popular in this zone. Five Gallon Buckets (5.8) and The Outsiders (5.9) are a great introduction to the pockets and edges, so often seen at Smith. Working left to right, Light On The Path (5.10a), Morning Sky (5.10c) and the single pitch CAT Scan (5.11b) just above it, Gumby (5.10b), etc.
A 60-foot boulder to the left of Morning Glory Wall offers a few more easy/moderate routes for those new to the area. Snuffy Smith (5.9), Hop on Pop (5.8), and Peanut Brittle (5.8) are located on the left of the formation.
Crooked River Gorge
The gorge is known for a different kind of rock than the tuff dominating most the park. The Crooked River cuts through a basalt deposit. The climbing here is of a vastly different nature – fractured crack systems, aretes and soapy face climbs are the dominant qualities here.
North Point
North Point is unquestionably the most accessible crag in Smith Rock. At the end of the drive, there is a turn-around loop. 500 feet of walking gets you to the top of the crag. Guide companies, boy scout troops and even just large parties of friends will often defer to this area, so be aware to contend with some crowds.