The day has finally come; your project peeks coyly through the trees as you and your partner hike out to the crag. You have rehearsed every move, you have mapped out every hold. There is no reason NOT to send it. Still, the memory of every fall, every failed attempt, every walk of shame off the crag plays through your mind like an annoying pop song that you can't stop humming. What if I can't do it? You think to yourself.
You rope up, rack up, and start climbing. As if by some magic, some combination of rest, training, practice and time away, the moves feel fluid; natural. Your breath is measured, your mind is calm. You reach the top, clip the chains, celebrate with a quick "Whoop!" and your partner lowers you to the ground!
There are many potential names for your accomplishment, and it all depends on the steps taken to get there. In climbing, we love our obscure terminology, and here, it is no different – every contingency must be accounted for when deciding how to label your send.
There are probably a million others, but the main descriptors are onsight, redpoint, pinkpoint and headpoint. Let's break down each of them – what they mean, how to achieve them and, most importantly, where they intersect.
Onsight Climbing
The holy grail of rock climbing. Onsight climbing is the proudest and most respected type of ascent because the stakes are so high; if you blow it, you've lost the onsight forever.
To get the onsight means that you walk up to a route, having never touched it before, and climb it clean (no falls). Onsighting, especially when climbing at a certain grade, is the best demonstration of strength and overall climbing ability.
Currently, the hardest male onsighted route is a 9a, achieved by Alex Megos and Adam Ondra. The hardest female onsight is by the GOAT Janja Garnbret, graded 8c.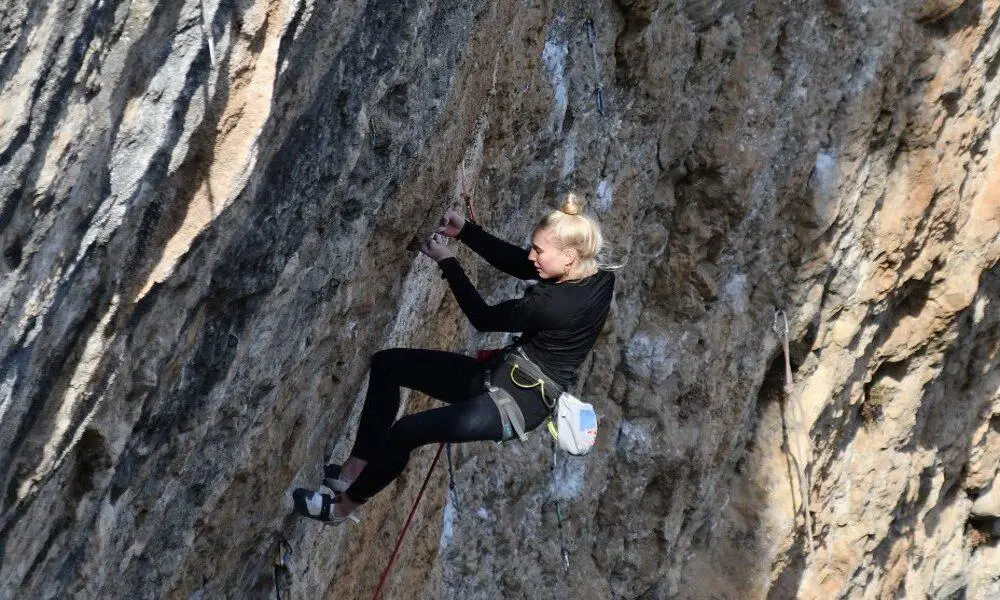 Now, for the 'but'.
You have to be careful when prepping for an onsight attempt. Too much information – meticulous study of the topo, watching videos, trying to preemptively nail down the beta, even just watching someone else climb it first can get you into trouble if you then try to claim an onsight ascent.
Rock climbing is a non-establishment sport and, traditionally, climbers make their own rules; rules which have a million conditions. For example, someone may look at your thorough preparation and claim that you knew too much about the route beforehand for it to be considered a true onsight. Sound arbitrary? I know, but there is a rhyme and reason to it all.
What Is Redpoint Climbing?
Redpoint climbing term is the most common type of send, and most of the best climbers in the world rely on this approach when dealing with elite-level climbs. To get the redpoint means that you DO have prior knowledge of the route, having attempted to lead or top rope it before. Following a failed first attempt, any successful bottom-to-top clean lead, thereafter, is called a redpoint, whether it is your 2nd or 200th try.
The term "redpoint" in rock climbing originated from the German climbing tradition. The word itself is a direct translation of the German term "Rotpunkt", which was first used by Kurt Albert in the 1970s. Albert was a prominent figure in the free climbing movement in Germany. He would mark a red circle at the base of a climbing route which he was attempting to climb without any falls or rests on the rope.
Once he successfully completed the climb, he would fill in the circle, creating a "red point". This practice evolved into the term "redpointing", which is now widely used in the climbing community to denote the act of free-climbing a route (lead climbing, specifically) from start to finish without any falls or rests on the rope after having previously attempted the route.
As opposed to the strict guidelines for onsighting, a climber can choose whatever approach they desire when getting ready for a redpoint ascent; they can rappel in from the top to get a better look at the route, they can toprope it first to get a feel for the movement, they can hangdog their way up on lead and work the route as many times as they want.
However, for the climber to say they lead a route 'clean,' they must climb it from bottom to top without falling, taking or pulling on gear. Moreover, they must carry and place their own gear. Then, and ONLY then, can they claim the redpoint.
Pinkpoint Climbing
When a climber leads a route using pre-placed gear, they are understood to have gotten the pinkpoint. A climber can place gear from the safety of a rappel or a top rope setup. This is a technique used especially on scary trad routes where gear placements are tricky, runout, or both. It goes without saying that, if you are trying to climb a route at or near your ability level, fiddling with sketchy pro is the last thing you want to do.
An unspoken tenet of rock climbing is that you never want to claim a 'clean' send if you've done it on pre-placed gear. In a fundamental sense, this is a lie. Again, for it to be a clean lead, you have to carry your rack with you and protect the route on lead.
Now for a bit of controversy…
Sport climbs are protected by bolts drilled into the rock face. These bolts will always have some version of a hanger: a steel loop that the climber clips a quickdraw through. There are many sport crags where the bolts are outfitted with permanent quickdraws, usually a carabiner at the end of a length of chain. A quick link is used to attach the chain link to a bolt. These are called "perma-draws."
These days, it is generally accepted that a route has been redpointed or even onsighted if the climber leads it clean, even if they clip their rope through perma-draws. However, if we are going to be technical about it (and we may as well be), clipping perma-draws is by definition still a pinpoint.
*Cue outrage from mountain project discussion board*.
Pinkpoint climbing is a term that was mainly used in the 90s and early 2000s and have become increasingly rare these days.
Redpoint vs Pinkpoint
Are you confused between redpoint vs pinkpoint? I don't blame you. Here's a breakdown:
Redpoint: You climb the route you've rehearsed clean, without falling, no hangdogging or pulling on gear. You have also climbed the route by placing your own gear, be it quickdraws on a sport route or cams on a trad route.
Pinkpoint: You climb that same route clean, but this time the gear is already placed for you. Quickdraws are already clipped into the bolts or trad gear is already preplaced and all you have to do is clip the rope through each piece of gear as you go up.
Pinkpoint is a term that was mainly used in the 90s and 2000s to indicate a route that was climbed with preplaced gear. These days, it's very rare to hear that term as it has been entirely replaced by redpoint climbing. Redpoint climbing is now used for routes with preplaced gear. The only time you might hear the term pinkpoint is in trad, where gear had to be replaced due to the difficulty of the route.
Got it? Okay, let's move on to the next one.
Headpoint Climbing
Headpointing is used to describe toprope practice for a redpoint attempt. A headpoint approach is generally used when the character of a route is spicy; fiddly gear, delicate moves, runnouts, etc. While on toprope, the climber can rehearse the movement and even practice placing gear – almost a mock-lead. Once they have done their due diligence and feel ready, they can go for the redpoint.
Headpointing as an approach has also been used to help prepare climbers for their highball bouldering goals. Lonnie Kauk, Nina Williams and others have rehearsed the moves on Too Big To Flail, a 55' V10 boulder problem in the Buttermilks outside of Bishop, CA.
Now You're An Expert In Climbing Jargon!
Now you know what is redpointing, pinkpoint climbing and headpoint climbing! It can be tiring keeping up with all this climbing terminology. We climbers love to throw fancy words out there, but at the end of the day, as long as you're having fun, who care what means you used to get to the top. The only thing it boils down to is that you lead the climb clean in the end.
That's it, that's all. Frankly, some of the best climbs in the world have been established in top-down style and, no matter what the hardcore traditionalists say, theirs is not the only way.