Ascent Log
| Climber | Suggested Grade | Date of Ascent | Notes |
| --- | --- | --- | --- |
| Dave Bircheff, Phil Bircheff and Jim Pettigrew | 5.7 C2 | 1976 | First ascent of Lurking Fear |
| Alan Nelson, Dave Sessions | 5.7 C2 | 1983 | Alan and Dave made the fourth ascent. There is no information on any previous ascents. |
| Steve Schneider, Alan Lester and Jeff Schoen | 5.7 C2 | 1995 | They free climbed most of the route apart from some of the thinner faces. |
| Tommy Caldwell, Beth Rodden | 5.13c | 2001 | Beth and Tommy became the first couple to free climb the route. |

Climb Profile
First Ascent
1976: Dave Bircheff, Phil Bircheff and Jim Pettigrew
Lurking Fear is a 2,000 ft route on El Cap's southwest face that was first climbed in 1976 by Dave Bircheff, Phil Bircheff and Jim Pettigrew. In keeping with the aesthetic of their generation, the party used a mixture of aid and free climbing tactics – free climbing what they could and hammering in pitons for the harder sections.
On their first ascent attempt, a 4" wide crack on pitch 8 shut them down. Instead of merely driving wide-angle pitons (called bong bongs) into the crack and placing bolts on lead, they retreated back to the ground to retrieve what gear they would need to free climb the route.
The team's second ground up attempt ended after three days spent on the wall, the highlight being Pettigrew's free ascent of pitch 8, a 5.10+ offwidth crack. The name "Lurking Fear," according to Pettigrew, was inspired by an H.P. Lovecraft poem and is reflective of the pervasive sense of fear, ever present in the back of his mind, even during the party's reprieve on the valley floor.
The (Almost) First Free Ascent
1995: Steve Schneider, Alan Lester and Jeff Schoen
Due to its long approach, relative to other popular routes on El Cap, Lurking Fear saw surprisingly few repeat ascents in the intervening 20 years. Then, in 1995, a lycra-clad and savagely strong Steve Schneider and his team, Alan Lester and Jeff Schoen, succeeded in free climbing 95% of the route. Some of the thinner face climbing on the first half of the route stood in the way of a completely free ascent. The last holdouts, pitches 2 and 7, were all that remained to be free climbed.
The First Free Ascent
2000: Tommy Caldwell, Beth Rodden
In 2000, Tommy Caldwell and Beth Rodden – at that time the new power couple in climbing, both in and out of Yosemite – decided to test their meddle on Lurking Fear. Caldwell had arrived in the valley that spring to attempt to free the Muir Wall, but was forced to change his objectives when his partners bailed. Instead, he and Rodden turned their attention to the captain's southwest face.
The pair, still new and timid around one another, couldn't quite get used to the close quarters of life on a big wall. In an effort to preserve some shred of magic in their relationship, when nature called, one would quickly climb a pitch to give the other one some privacy.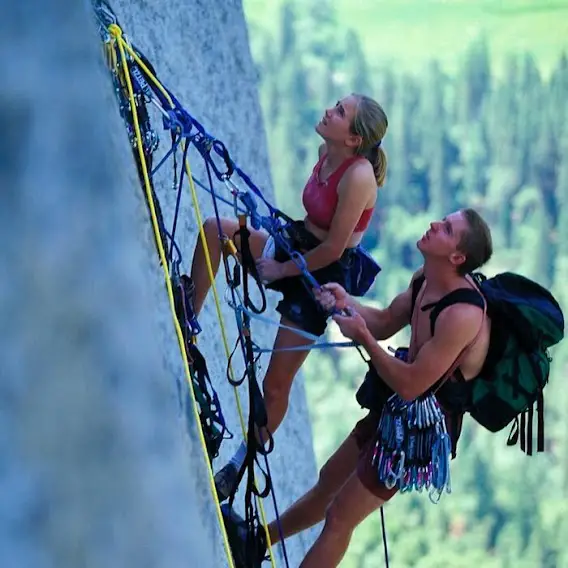 It took the couple seven days just to send pitch 2 – the technical crux of the route at 5.13c – but once it was done, their progress went uninterrupted until pitch 7. The intervening pitches feature, in Caldwell's own words, "Some of the best climbing in the valley. A pitch of tricky face climbing followed by three pitches of beautiful 5.12 thin cracks…"
Pitch 7, a slabby and seemingly blank traverse pitch, kept them occupied for three days, alone, before it was conquered. Then, once more, they went unchallenged until pitch 11, a weird and beta intensive line that dances around the lip of a roof shared with the West Buttress; a section called the Grand Traverse. Steve Schneider, apparently, gave Tommy and Beth some key pointers on how to navigate this tricky section. "If you first traverse beneath the roof and then follow a crack above the roof, a sit-down rest appears. After catching your breath, you traverse a few feet above the lip, downclimb back under the roof for a few undercling moves, and finally finish the pitch with yet more great slab climbing."
Due to a case of heat exhaustion from attempting to climb the route in May, they were forced to retreat to the valley floor before they could top out. They returned in short order and completed the route, climbing another tough 5.12+ pitch and a heinous overhanging 5.11d off-width before reaching easier slab terrain near the top. 
Header image: ©Cheyne Lempe

Video Library