Ascent Log
| Climber | Suggested Grade | Date | Notes |
| --- | --- | --- | --- |
| Warren Harding | – | 1970 | The first aided ascent of The Dawn Wall. It took Warren and Dean 28 days to complete. Video |
| Dean Caldwell | 5.14d | 1970 | Video |
| Tommy Caldwell | 5.14d | 14th Jan 2015 | Tommy and Kevin achieved the unachievable by making the first free ascent of The Dawn Wall Video |
| Kevin Jorgeson | 5.14d | 14th Jan 2015 | Kevin's biggest struggle was in Pitch 15, the boulder problem, and took him a couple of days to get past it. Video |
| Adam Ondra | 5.14d | 21st Nov 2016 | Adam Ondra made the second free ascent of The Dawn Wall in just 8 days. Instagram Post |

Climb Profile
The Dawn Wall, just like the rest of El Capitan, is a storied rock face that has tried and tested some of the biggest names in climbing. In a sense, it is a paragon for the evolution of rock climbing as a sport; every stage, every era of climbing history gets some degree of representation on this, the most hallowed of Yosemite's big walls. Only one route up this massive, blank face has gone free; its namesake – The Dawn Wall.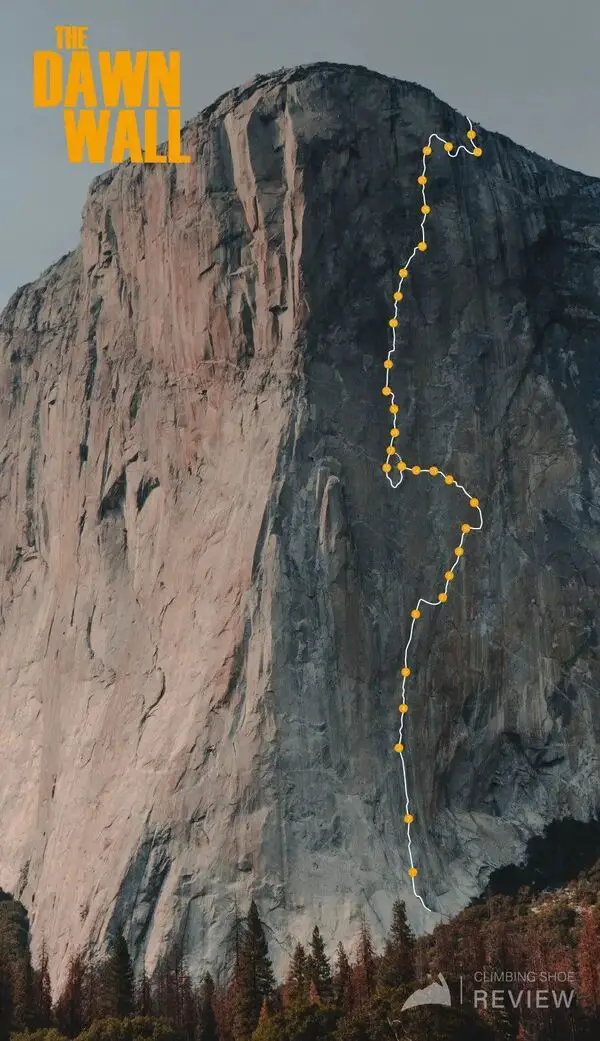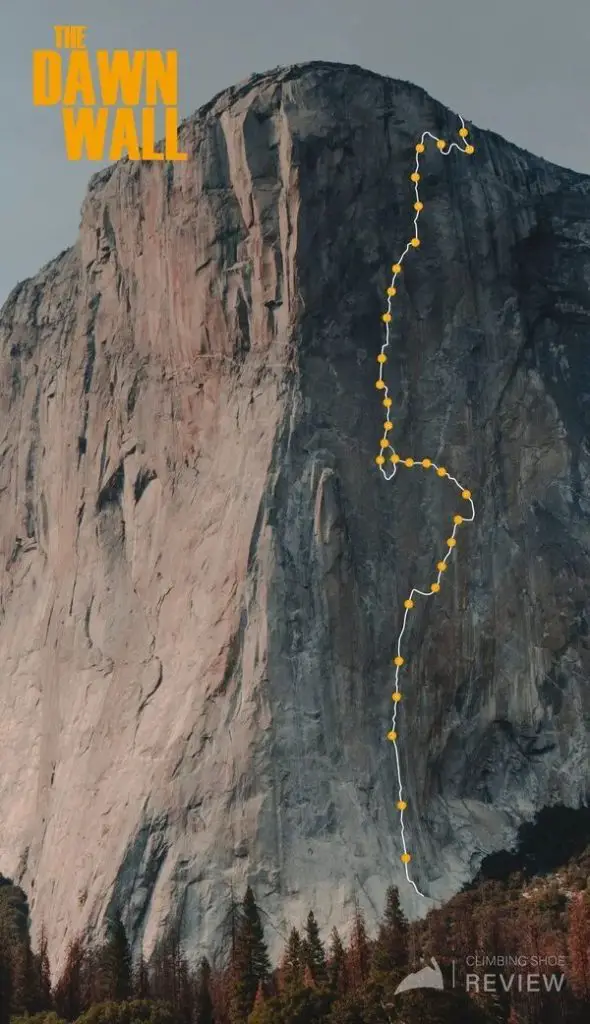 At the end of the 1960s, the Golden Age of Yosemite climbing was coming to a close. The Masters of Stone, a distinctly innovative and adventurous generation of climbers, were filtering out of the Valley, either too old or too tired to keep up the break-neck pace they had maintained for so long.
With death knells sounding for this, the most foundational age of Yosemite climbing, a crusty man knocking on middle age emerged from his bivvy sack in Camp 4 for one last big project. The legend himself, Warren Harding.
Harding had been at the forefront of climbing progression in Yosemite and the Eastern Sierra since the early 1950s. He was the first man up many of the routes that we free-climbers cherish to this day: The Keeler Needle on Mt. Whitney, the Southwest Face of Mt. Conness in the Yosemite high country and many more.
With Wayne Merry and George Whitmore, Harding completed the first ascent of The Nose on El Capitan in 1958. Although many disagreed with the means used to gain the summit, Harding was known for endlessly pushing the envelope, establishing milestones and issuing a not-so-quiet challenge to other climbers to "catch him if they could." His first ascent of The Nose is just the latest example of his boldness and creativity.

First Aid Ascent: Warren Harding and Dean Caldwell
Oct-Nov 1970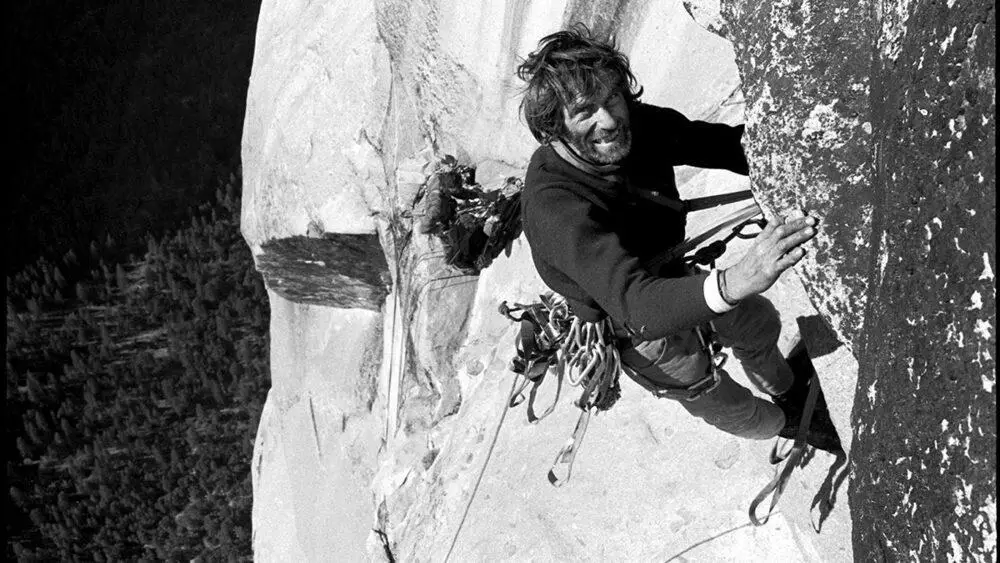 In 1970, Harding turned his sights back to a wall on El Capitan, one that had haunted his waking dreams since first arriving in the valley – The Wall of the Early Morning Light, later known as The Dawn Wall. With partner Dean Caldwell, Harding bravely set off into this ocean of sheer granite. In his pack he carried hundreds of carbon steel pitons and expansion bolts, the latter installed by hand drilling a hole into the rock and pounding in a 1/2" bolt.
After 27 days on the wall, Harding and Caldwell crawled over the lip of the summit. They were greeted by a swarm of reporters, all of whom wanted to know "Why?"
"Because we're insane!" Harding replied. "There can't be any other reason."
Warren Harding's ideological nemesis, Royal Robbins, did not greet this latest accomplishment in Yosemite climbing with a celebratory mood. Robbins and others of "The Valley Christians," a disparaging moniker which was derisive of their unmoving stance on 'clean climbing,' were of the view that Harding's by-any-means-necessary approach was harmful to the very spirit of climbing. Moreover, his habit of spraying bolts into the rock – hardware that is impossible to remove without leaving permanent scars – was not only reprehensible, it was downright blasphemous.
Shortly after the story of Harding's ascent broke, Royal Robbins and Don Lauria approached the Wall of the Morning Light for a second ascent. Robbins' goal was not to repeat the route but to restore the rock to its original grace by chopping all of the bolts that Harding had placed during his 27-day assault on the wall. He got about halfway up before abandoning his original purpose. Later, he was quoted as saying that the boldness and ingenuity of the route astounded even him. In his mind, only a true master could have devised such a path up an all but featureless shield of rock.
He left the remainder of the bolts undisturbed, for once ceding the game to Warren Harding. The route was left intact.
First Free Ascent: Tommy Caldwell and Kevin Jorgeson
14th Jan 2015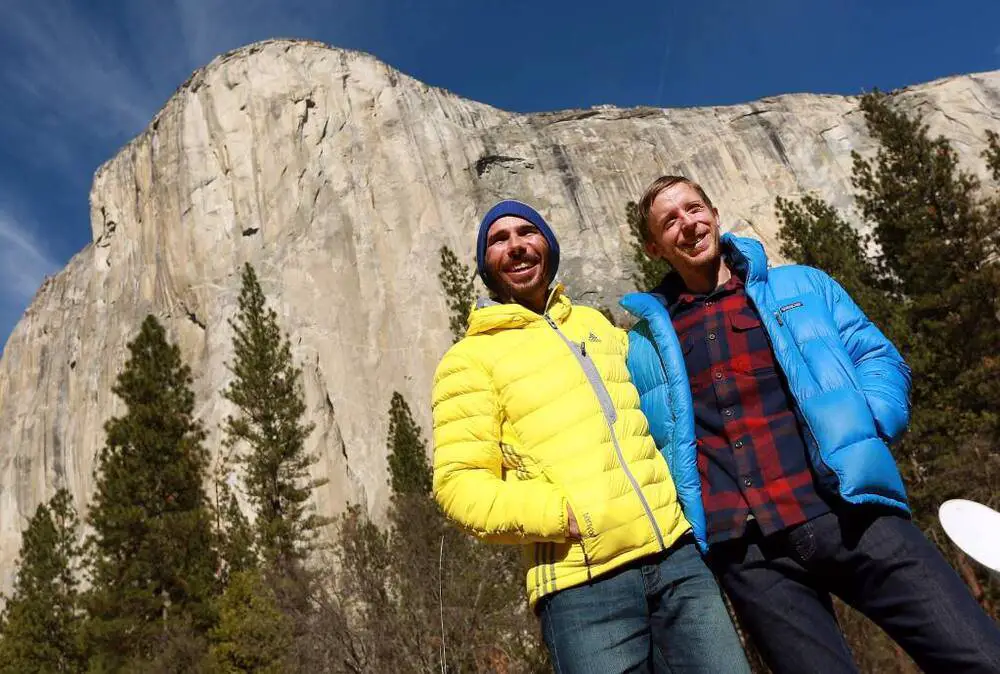 As Yosemite entered the 1970s and was swept up in the free climbing movement, climbers began looking at El Capitan with new eyes. Through the '80s and '90s, many of the popular aid routes were seeing free climbing attempts. By the turn of the millennium, many of the routes that could be freed had. The West Face (5.11c), Salathe Wall (5.13b/c), Freerider (5.13a), etc. That was when Tommy Caldwell stepped on the scene.
On the surface, Caldwell did not strike an imposing visage. He was quiet and reserved, quite the departure from the loud personae assumed by the typical resident of Camp 4. Yet beneath an unassuming exterior was an ocean of power and ambition.
Alongside his then partner, Beth Rodden, Tommy Caldwell completed the first free ascents of Lurking Fear (5.13c) and The West Buttress (5.13c) on El Capitan. He is also credited with the first free ascent of the Dihedral Wall (5.14a), Magic Mushroom (5.14a) alongside Justin Sjong, and the Muir Wall (5.13c) with Nick Sagar. For a climber to be on the first free ascent team on any single El Capitan route is to immediately earn a page in the history books. With five to his name, Caldwell was fast approaching the status of demi-god.
In 2010, Caldwell's marriage ended. Distraught, heartbroken and lost, he channeled his grief into a project to which – up to that point – he had never lent much credence. The Dawn Wall.
Since 2007, Tommy had been rappelling in from the top of El Capitan, scouting for ways in which the wall might be climbed. During this period, he would frequently camp on the wall for weeks at a stretch, mapping out the rock, using every inch of imagination to link unlikely features into something that resembled a line. Yet, even for a big wall behemoth like him, the undertaking proved too big for one man.
Enter Kevin Jorgeson. Kevin was a boulderer by trade and had zero big-wall experience. Nevertheless, when he sent Tommy a message asking him if he needed a partner for the Dawn Wall project, Tommy immediately agreed.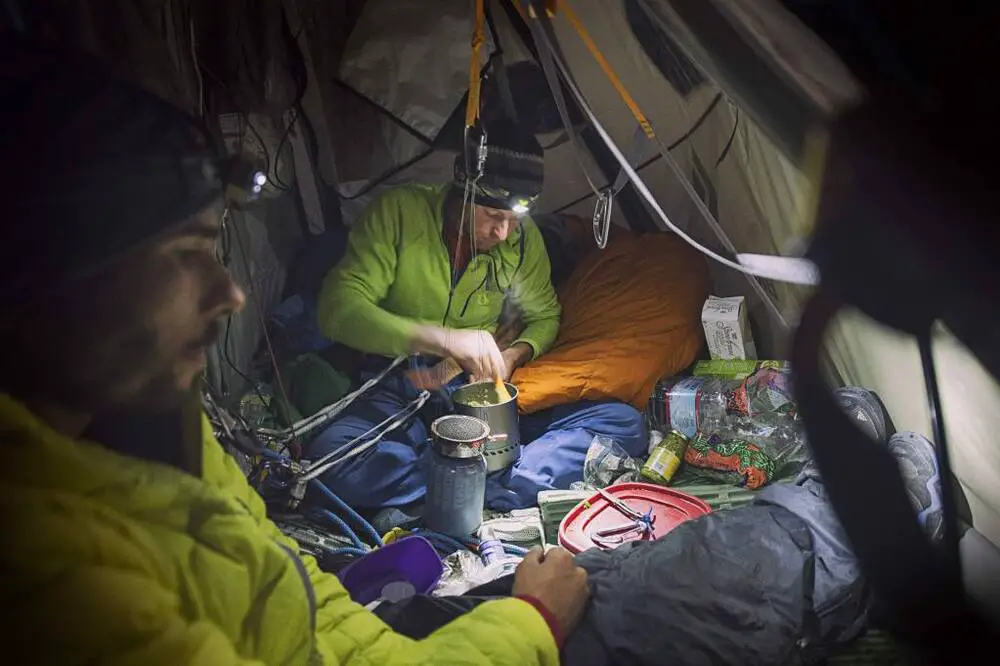 From 2009 onward, Caldwell and Jorgeson worked the pitches on the Dawn Wall, using a mixture of strength, experience and fierce optimism to carry them through. Individually, each of the pitches was within their climbing ability. However, when all 31 pitches of the route are combined, it stretches the imagination of how a climber could pull something like this off. All in all, it contains more difficult pitches than any other free climb on El Capitan combined. In the Yosemite Decimal System, the Dawn Wall breaks down like this:
Pitch 1 – 5.12b
Pitch 2 – 5.13a
Pitch 3 – 5.13c
Pitch 4 – 5.12b
Pitch 5 – 5.12d
Pitch 6 – 5.13c
Pitch 7 – 5.14a
Pitch 8 – 5.13d
Pitch 9 – 5.13b
Pitch 10 – 5.14b
Pitch 11 – 5.13c
Pitch 12 – 5.14b
Pitch 13 – 5.13b
Pitch 14 – 5.14d
Pitch 15 – 5.14c
Pitch 16 – 5.13c
Pitch 17 – 5.14a
Pitch 18 – 5.13d
Pitch 19 – 5.13b
Pitch 20 – 5.13c
Pitch 21 – 5.13c
Pitch 22 – 5.12c
Pitch 23 – 5.11
Pitch 24 – 5.11
Pitch 25 –5.11
Pitch 26 – 5.11d
Pitch 27 – 5.11c
Pitch 28 – 5.12c
Pitch 29 – 5.12b
Pitch 30 – 5.12b
Pitch 31 – 5.12c
Pitch 32 – 5.12b
Over the course of nearly a decade, the pair chipped slowly away at each of the pitches. One after another, both Tommy and Kevin successfully climbed almost all of them individually. By the time they decided it was time for a ground-up attempt, however, there was one – pitch 15, The Traverse – that neither had been able to climb.
When Tommy Caldwell and Kevin Jorgeson started up the wall on December 27th, 2014, neither was certain of their ability to see the project through. The first 14 pitches went by smoothly enough, but true to form, pitch 15 (the crux pitch) proved to be their first roadblock.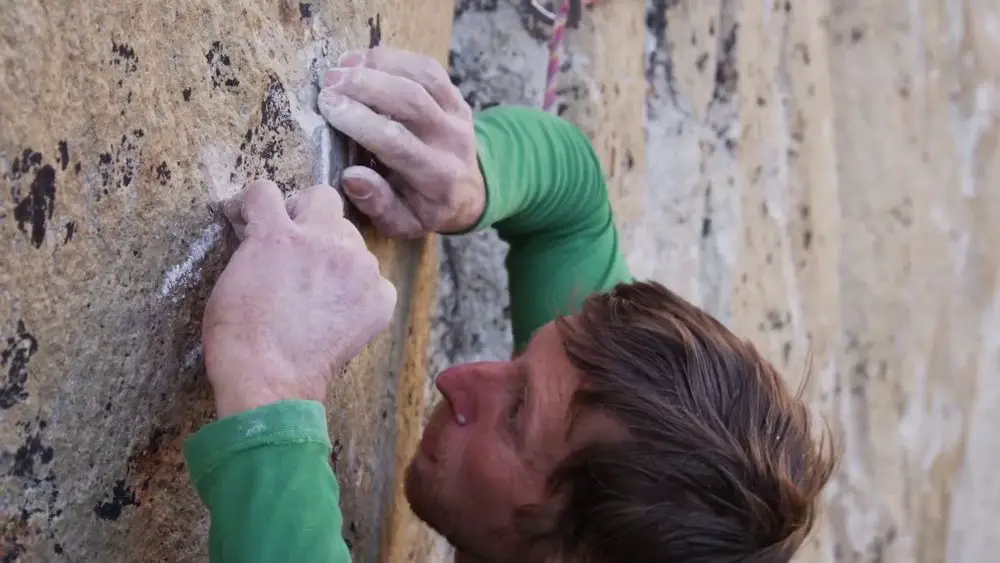 After a few attempts, Tommy was able to send the pitch. Kevin, however, spent days on this section of the climb, falling repeatedly at the same spot and causing speculation as to whether he would be able to climb it, at all. It was during this time that, rather than wait for Kevin to succeed, Tommy decided to keep pushing higher on the route. He made it all the way to Wino Tower at the top of pitch 21 before Kevin finally broke through.
At long last, and after a series of nail-biting days, Kevin sent the crux pitch. He swiftly caught up with Tommy's high point and, on January 15th, 2015, after 19 days on the wall, the two of them crawled over the lip of El Capitan, marking one of the most monumental achievements in the history of climbing.
Second Free Ascent: Adam Ondra
21st Nov 2016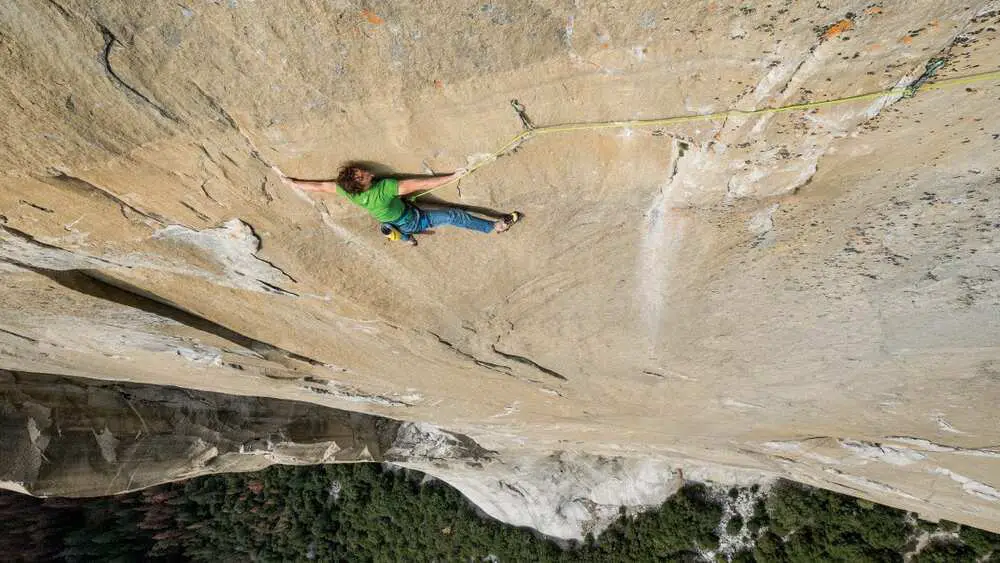 This climb, still regarded as one of – if not THE – most difficult big wall climbs in the world, was the culmination of a life's work for both Tommy and Kevin. Since then, it has only seen one repeat by Adam Ondra in 2016. Ondra, probably the strongest climber in the world, had this to say about the Dawn Wall:
"Tommy and Kevin put so much effort into the climb and faced so many question marks and logistical problems that I cannot really compare my effort to theirs. I had it prepared, had all the knowledge. I knew it was possible."

Legacy
Since Adam Ondra, The Dawn Wall is yet to see another repeat. Every climber who has dared to try has met with failure. Nalle Hukkataival and Ignacio Mulero gave the challenging route a shot in early 2020, but their endeavor was halted by unfavorable weather.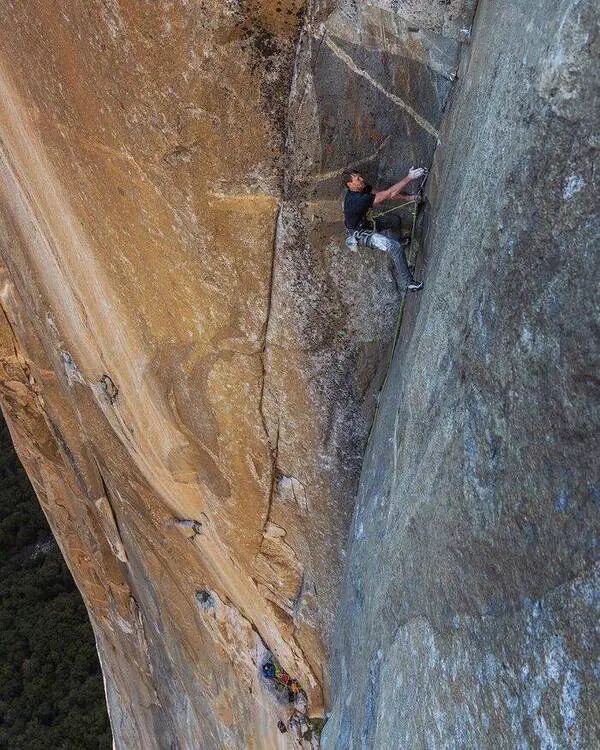 In the early part of 2022, Siebe Vanhee and Seb Berthe initiated their own climb of The Dawn Wall. Despite a grueling struggle, Berthe found himself stuck at Pitch 14 and was forced to back down.
This underscores the immense difficulty of the route, with even the most skilled climbers meeting their match. The Dawn Wall is destined to remain a historical testament to one of the most formidable challenges in the realm of rock climbing.

Dawn Wall FAQs

Video Library