Ascent Log
| Climber | Suggested Grade | Date of Ascent | Notes |
| --- | --- | --- | --- |
| Steve 'Crusher' Bartlett | 5.14b (E10) | 2001 | First aid ascent of Century Crack. |
| Tom Randall, Pete Whittaker | 5.14b (E10) | 5th Oct 2011 | Tom and Pete became the first duo to lead Century Crack. Their first ascent was with pre placed gear. Two weeks later they both came back to climb it again, placing gear as they went. Video |
| Danny Parker | 5.14b (E10) | 26th Oct 2018 | Danny became the fourth person to climb century crack. There have been no further repeats since then. Climbing Magazine |

Climb Profile
The Route
Century Crack is not just any climbing route; it's an emblem of extreme off-width crack climbing, a sub-discipline of rock climbing that many find particularly grueling and challenging.
Situated in the vast, rugged terrains of Canyonlands National Park in Utah, Century Crack is located near the White Rim. The area is characterized by its vast plateaus, deep canyons, and striking rock formations, offering a dramatic backdrop for climbers.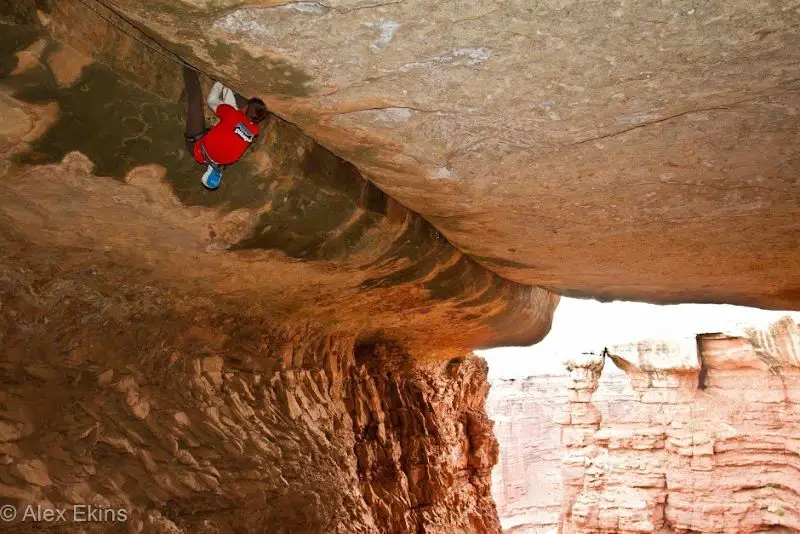 The route itself is a 120-foot horizontal roof crack. Unlike many traditional climbs that ascend vertically, Century Crack runs almost entirely horizontally for over 85 feet, making the climb a literal "roof" challenge. This horizontal stretch demands climbers to invert, meaning they climb upside-down with their feet above their heads for the majority of the route.
The crack varies in width but is consistently wide throughout. Offwidth cracks are wider than a fist but narrower than a body, meaning climbers can't use regular jamming or chimneying techniques. Instead, they must employ a combination of arm bars, leg jams, stacks, and other specialized techniques to progress.
The initial 15 feet of the climb involve hand jams, which are relatively straightforward. However, as climbers progress, they encounter the technical crux: a section dominated by flared No. 6 cams. This section requires precise technique and immense strength. Following this, the crack is primarily sized for No. 5 cams until the top. As climbers near the end, the crack's angle eases slightly, transitioning from a full horizontal to a 45-degree overhang, leading to a sandy finish.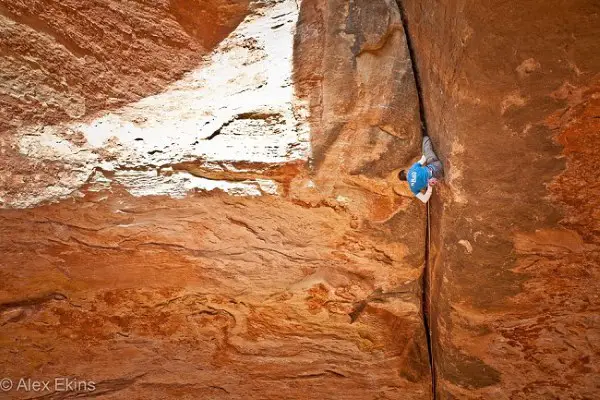 Throughout the climb, there are no genuine resting points. Climbers must continuously move, shuffle, and adjust, making the route physically and mentally exhausting.
Beyond the physical challenge, Century Crack offers an unparalleled aesthetic experience. Climbers are suspended in a horizontal world, with the ground far below and the vast Utah skies above. The sensation of being inverted, with the canyon's floor visible beneath and the endless horizon in the distance, is both disorienting and exhilarating.
First Ascent (Aid)
2001: Steve 'Crusher' Bartlett
Before Century Crack became known as the world's hardest off-width climb, it was first tackled using aid climbing techniques by Steve "Crusher" Bartlett in 2001.
Aid climbing differs from free climbing in that the climber uses gear not just for protection but also to assist in upward progress. This means that rather than relying solely on their physical strength and skill to move up the rock, climbers can use devices like cams, nuts, and even specialized aid climbing tools to help pull themselves up. This type of climbing was popular in the early days and was used by climbers such as Warren Harding to make the first ascent of The Nose in Yosemite.
Bartlett found the route 10 years prior to the first free ascent and went with Stevie Haston to see it. The aid ascent of Century Crack was a significant achievement in its own right. The route's overhanging nature and the wide crack's challenging size made for a demanding aid climb.
Bartlett solo aided across the crack, employing a back rope only for the final barrel and lip turn. Given the committing nature of the area and the exposure in the final section, his ascent was a considerable accomplishment. Haston was the one who saw the free-climbing potential of Century Crack but failed in his attempts to free it.
After successfully navigating the route, Bartlett named the aid line "Chocolate Starfish, A1." This name and his ascent laid the groundwork for the future free climbing attempts that would follow, including those by the "Wide Boyz" and others.
First & Second Free Ascent
5th Oct 2011: Tom Randall & Pete Whittaker
The first and second free ascent of Century Crack was achieved by Tom Randall and Pete Whittaker in 2011. The duo, known as the "Wide Boyz," underwent two years of rigorous off-width-specific training for this feat.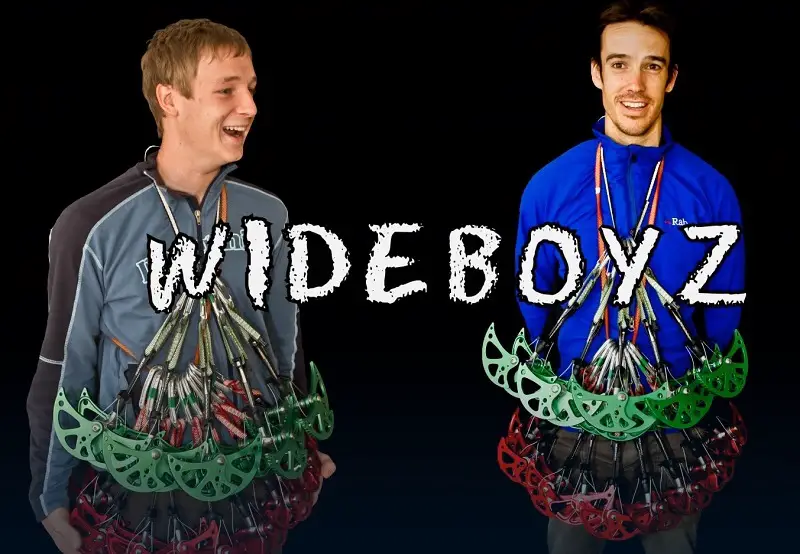 Tom transformed his cellar into a 'dungeon of doom' as he calls it. In his cellar, they built a replica of Century Crack and began training hard. England isn't exactly the place for off-width climbing. You are lucky if you can count all the off-width routes in one hand. Tom and Pete knew that to ramp up their preparation for Century Crack, they needed to visit the Mecca of off-width climbing; America.
The two unassuming Brits packed their bags and ventured off to the US of A with a list of all the off-width routes they wanted to tackle. It didn't start off easy for the Wide Boyz. Both of them struggled to get to grips with American crack climbing. Not long after though, they started ticking off some of the hardest crack climbs, and let's just say the American crack climbing community wasn't exactly happy about it.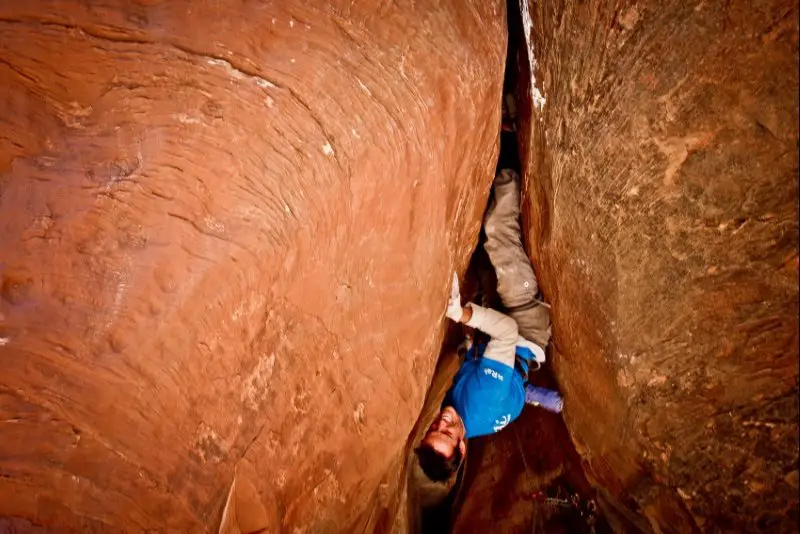 They spent a month out in the West going down their list of routes to climb. The one that remained unticked was the one they went to America for; Century Crack. This was their trophy route.
They came into contact with Steve aka 'Crusher' and asked him to take them to Century Crack. Steve had his doubts about their ability to attempt the route but took them anyway. Tom and Pete initially sent the route using preplaced gear and later returned to redpoint it, placing all gear on lead.
Their ascent was not without controversy, as some questioned the legitimacy of their initial ascent with preplaced gear (more on that below). However, their dedication and the subsequent redpoint ascent solidified their place in climbing history.
Third Ascent
26th Oct 2018: Danny Parker
The third free ascent of Century Crack was made by Danny Parker, a climber from Salt Lake City, Utah. Like the "Wide Boyz," Parker placed his own protection during his ascent. His journey to conquer Century Crack was inspired by the "Wide Boyz" and their story.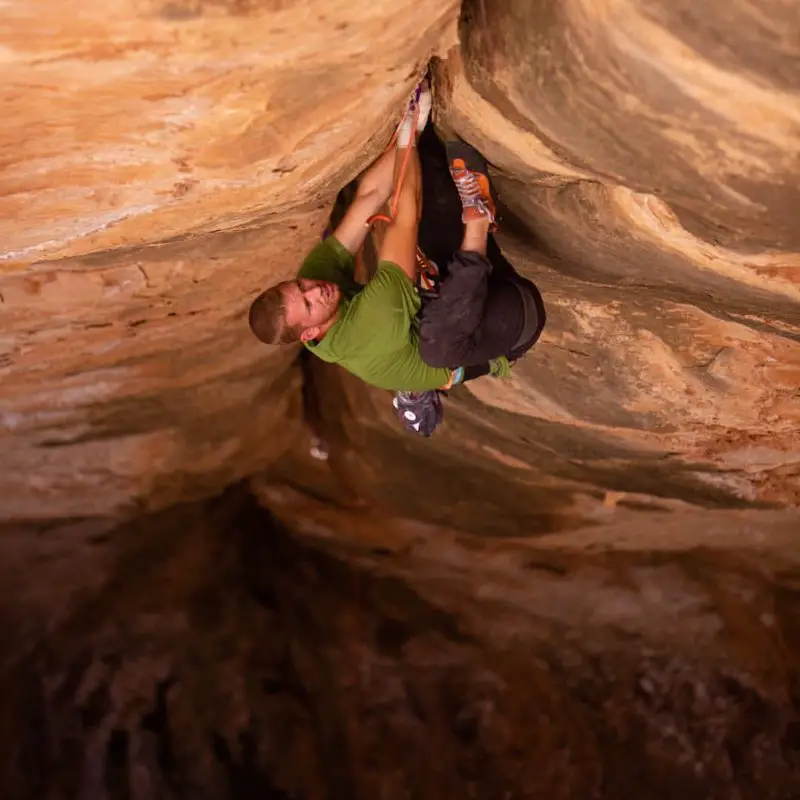 Over the years, Parker trained intensively, even building replicas of the crack in his garage to practice. His successful ascent was a testament to his dedication and the effective training regimen he adopted.
Controversy Around Preplaced Gear
In the world of traditional climbing, the style in which a route is climbed can be as significant as the ascent itself. The use of preplaced gear, especially on a first ascent, can be a contentious issue.
Preplacing gear means that the protection devices (like cams and nuts) are already set in the rock before the climber starts their ascent. This can make the climb "easier" in a sense, as the climber doesn't have to expend energy and time placing gear while on the move. It also means that the climber has the advantage of knowing that the gear placements are solid and reliable.
When Tom Randall and Pete Whittaker made the first free ascent Century Crack in 2011, they used preplaced gear. When the duo posted about their achievement, instead of being met with praise, they were met with harsh comments about the legitimacy of their ascent.
Their decision to climb the route with preplaced gear was met with some skepticism and criticism from parts of the climbing community. The controversy wasn't about their physical ability to climb the route but rather the style in which it was done. For many, placing gear on lead (while climbing) represents a purer, more challenging style, especially for a route's first free ascent.
Stevie Haston, who had tried the route for 10 years gave up doing so due to the fact that it was really difficult to carry all that gear up with him. For him, Tom and Pete's ascend didn't count as a First Free Ascent.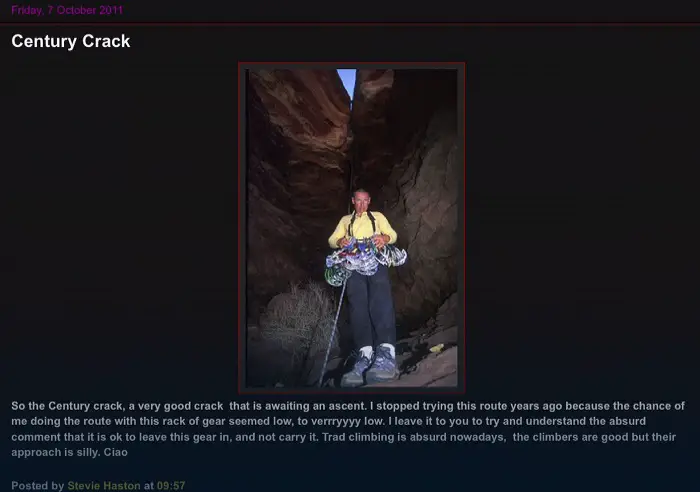 To give you a perspective, the gear required to go up Century Crack would weigh around 50 pounds. It's bad enough carrying that weight on a vertical wall. Now, imagine carrying all of that upside down…
Redpoint Ascent by the Wide Boyz
Recognizing the importance of style and the significance of their ascent, the "Wide Boyz" returned to Century Crack two weeks later to redpoint the route, this time placing all gear on lead.
They knew that carrying almost 25kg of gear with them would make it impossible. So, they had to make the dreaded decision of lightening their load. Tom and Pete narrowed it down to 8 pieces of gear. That's one piece placed every 5 meters. That's pretty runout if you ask me (although on their actual ascent, it was more runout than that!). The beginning of the route is close to the ground, so any fall would result in a head-first dive straight down. As you enter the vertical section, any fall would be in the air.
Their decision to return and climb the route in this style was a testament to their commitment to the sport and their respect for the climbing community's values. By doing so, they not only solidified their place in climbing history but also put to rest any lingering doubts about their capabilities and the legitimacy of their ascent.
In the end, their redpoint ascent of Century Crack with gear placed on lead was widely recognized and celebrated, further establishing the route's reputation as one of the world's most challenging off-width climbs.
If you want to watch the full video of Tom and Pete's ascent, take a look at Red Bull TV.

Video Library