Imagine standing at the base of a towering rock face, gazing up at its dizzying height, with nothing but your own skill, strength, and determination to take you to the top. No ropes, no harnesses, just you and the mountain.
This is the exhilarating world of free solo climbing, where the stakes are as high as the peaks themselves. In this realm, a select few climbers have pushed the boundaries of what's possible, achieving ascents that leave us mere mortals in awe.
Join me as I take you through some of the most challenging free solo climbs in history, where every grip and step is a testament to human will and bravery.
What Defines Hard Free Solos?
When it comes to free soloing, what is actually defined as hard? Is it the hardest grade? Or is it the biggest wall?
Some might argue that it's the hardest grade. Others might agree that it's not the grade that matters, but how long the free solo is and the type of terrain. Some climbers have free soloed multiple pitches while being on the wall for hours, while others have free soloed sport routes while being on the wall for a mere few minutes. Others have free soloed alpine routes that might have an easy 'grade' but the terrain and conditions make it hard.
I will let you be the judge of what defines 'hard'. Below, you'll find a list of all the hardest free solo multi-pitch routes, single-pitch routes and alpine.
I've also dedicated an article on the best free solo climbers in the world, so do check that out too!
13 Of The Hardest Free Solos
In no particular order here are the hardest free solo ascents ever done. Let me know in the comments box below which one you think is the hardest free solo!
Freerider
Climber: Alex Honnold
Grade: 5.13a/7c+
Location: Yosemite Valley, California
Date: 3rd June 2017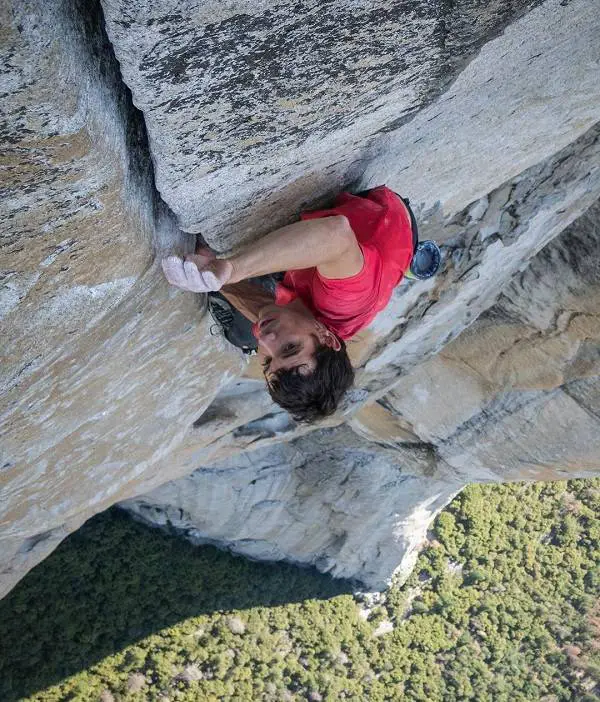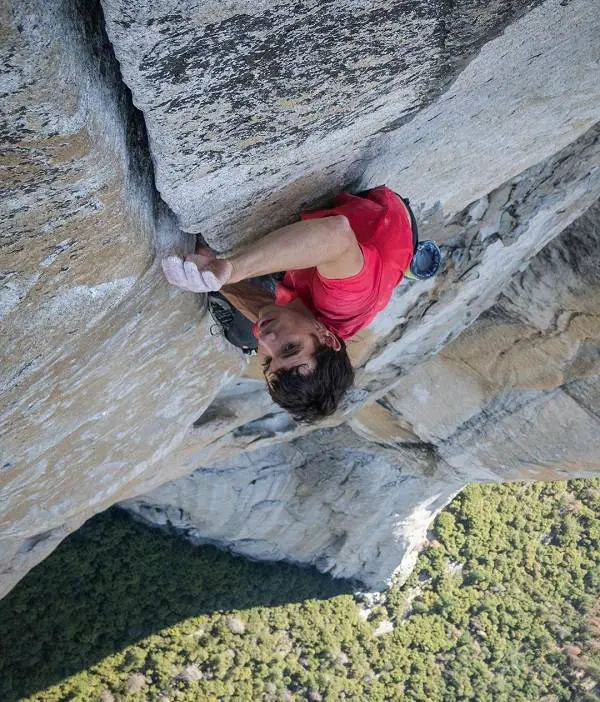 Unless you are living under a rock, you know exactly which free solo route this is. The sheer scale of the endeavor – a 3,000-foot vertical ascent without ropes or safety gear – is mind-boggling.
Honnold, the best free solo climber of our time, meticulously prepared Freerider for over a year, memorizing every handhold and foothold, every crux and rest spot. His ascent was immortalized in the film "Free Solo," which not only showcased his climbing skills but also delved into the psychological and emotional aspects of undertaking such a perilous climb. The film's breathtaking cinematography and Honnold's calm demeanor amidst the palpable tension made it an instant classic, earning it an Oscar and solidifying its place in cinematic and climbing lore.
The Phoenix
Climber: Alex Honnold
Grade: 5.13a/7c+
Location: Yosemite Valley, California
Date: 13th June 2011
In 2011, Alex Honnold achieved a remarkable feat in the world of free solo climbing by ascending The Phoenix, a challenging 5.13a/7c+ route in Yosemite. This free solo was captured by Peter Mortimer and shown on a Reel Rock episode. In true Honnold style, he went up to climb The Phoenix before his 9am meeting with the Yosemite park rangers. 
The Phoenix is a slippery crack running for 130ft next to Cascade Falls and had never been soloed before. Watch Mortimer's sweat-inducing footage below.
Cerro Fitz Roy
Climber: Jim Reynolds
Grade: 5.10c/6a+
Location: El Chalten, Patagonia, Argentina
Date: 25th March 2019
You might know Jim from holding the Nose Speed Record before Alex Honnold and Tommy Caldwell reclaimed it, but what you might have not known, is that Jim is a pretty great free soloist.
A 25-year-old Jim Reynolds accomplished a remarkable free solo ascent of Cerro Fitz Roy's 5,000-foot rock climb called Afanassieff. He didn't just climb the route without any safety equipment, he also downclimbed it, with the whole ascend and descend taking him over 15 hours to complete.
The route, graded 5.10c, might not be as technically demanding as some other famous free solos, but its length, the nature of the climb (involving sections of snow and ice), and its remote location make it a significant achievement. It hasn't seen any free solos since so that just shows how hard it is.
Darwin Dixit
Climber: Dave MacLeod
Grade: 8b+
Location: Margalef, Spain
Date: 15th March 2008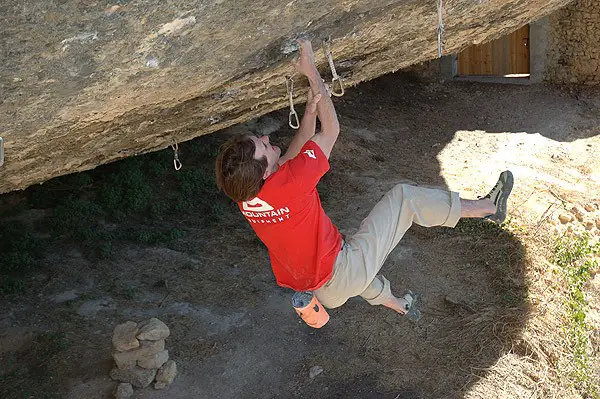 In 2008, Dave MacLeod did a daring free solo of Darwin Dixit, a challenging 8b+ sport route in Margalef, Spain. This ascent was not just about the climb itself but served a greater purpose for MacLeod.
He used the experience of free soloing Darwin Dixit as a mental preparation for his most challenging trad ascent, Echo Wall. Before it was downgraded from an 8c, Darwin Dixit was recognized as the hardest free solo ever accomplished by any climber.
Kommunist
Climber: Alexander Huber
Grade: 8b+
Location: Schleierwasserfall, Austria
Date: April 2004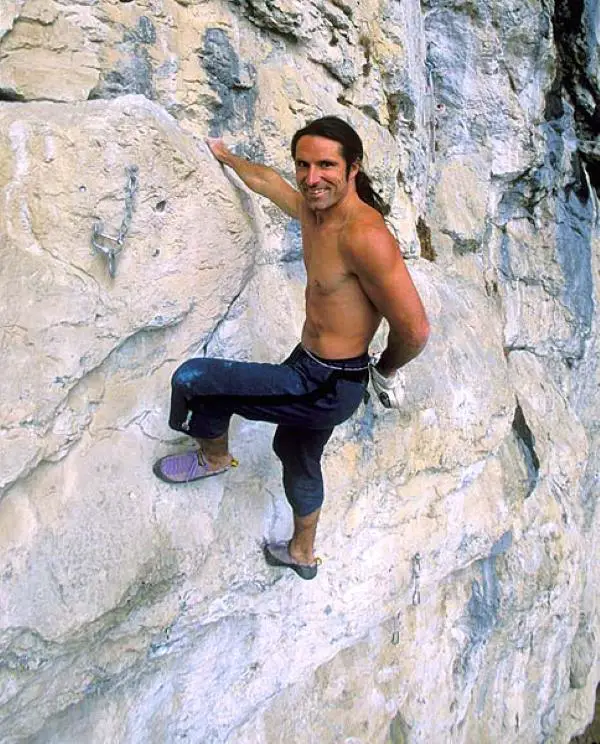 Alexander Huber, one of the famed Huber brothers known for their significant contributions to climbing, took on the challenging route of the Kommunist in Schleierwasserfall, Austria. Alex went up to the crag hoping to execute this free solo without any spectators. After a hiker arrived, he convinced him to be his cameraman. Unbeknown to the hiker what was about to happen, Alex started climbing, no safety attached.
While Huber has a vast array of impressive ascents under his belt, tackling Kommunist without the safety of ropes was a test of how far he could stretch his limit, and the Kommunist was at his limit.
Fish Route
Climber: Hansjörg Auer
Grade: 5.12c/7b+
Location: Dolomites, Italy
Date: 29th April 2007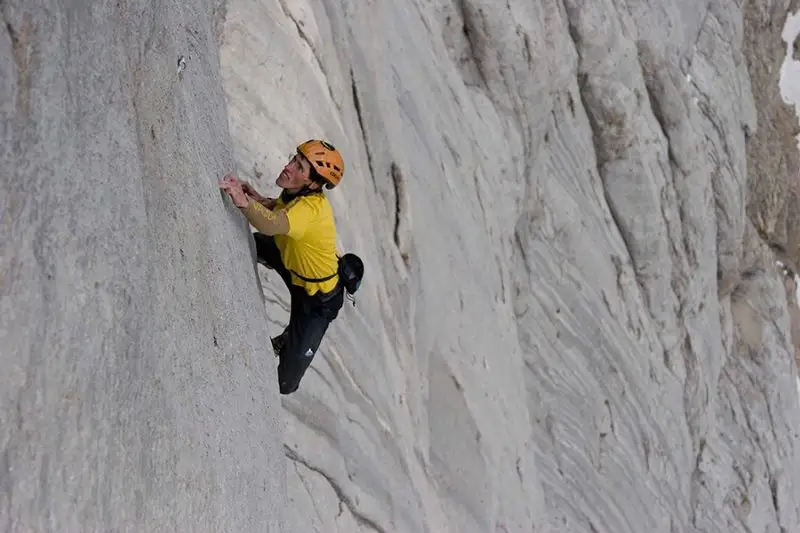 Hansjörg Auer, a renowned Austrian climber, achieved a remarkable feat by free soloing the Fish Route (also known as "Attraverso il Pesce") in the Dolomites of Italy. This challenging route, graded at 5.12c/7b+, is situated on the Marmolada, the highest mountain of the Dolomites, and was the first 7b+ big wall-free solo.
The Fish Route is known for its long, sustained pitches and exposed sections. The decision to climb without ropes or protective gear on such a demanding route speaks volumes about Auer's confidence and commitment. This ascent stands as one of the most significant free solo achievements in the climbing world.
Panem et Circenses
Climber: Alfredo Webber
Grade: 5.14b/8c
Location: Muro di Pizarra, Arco, Italy
Date: March 2021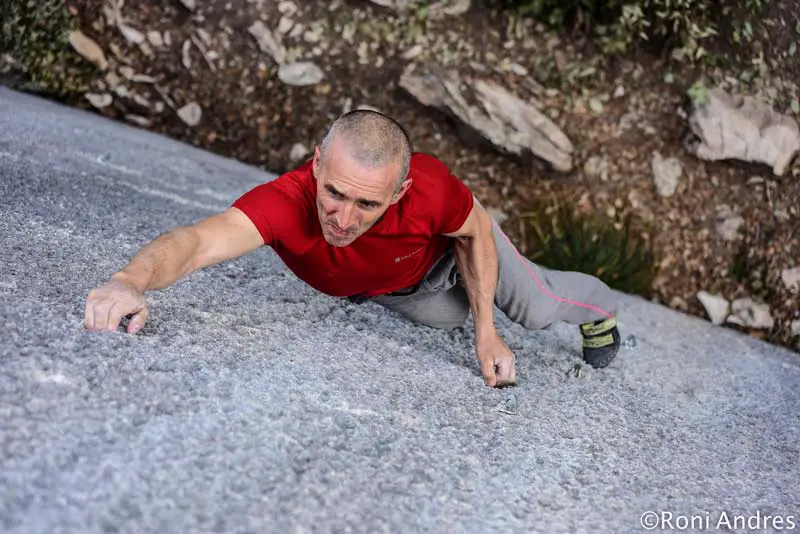 This 15-metre free solo is among the most challenging ever accomplished, ranking alongside other notable solos like Alex Huber's ascent of "Kommunist" and Dave MacLeod's climb of "Darwin's Dixit."
Alfredo not only free soloed the hardest grade to date, he was the oldest man to do so. He free soloed the route in 4 minutes and to top it all off, he won a Guinness World Record for the hardest free solo ascent.
Widow's Tears
Climber: Vitaliy Musiyenko
Grade: Ice Climbing WI5
Location: Yosemite, USA
Date: 2016
Musiyenko, who began climbing in 2010, had previously attempted Widow's Tears three years prior but had to back off. This initial setback transformed the climb into a dream route for him. When the route formed again in December 2016, he couldn't find a climbing partner. Undeterred, Musiyenko decided to solo the climb.
Equipped with a few screws, slings, and a cell phone for emergencies, he onsighted the entire route without any prior knowledge of its conditions and didn't even rely on any of the screws for support. He described the cruxes as having steep, cauliflower ice with insecure placements and technical footwork. He completed the route in approximately 2 hours and 40 minutes.
Separate Reality
Climber: Wolfgang Gullich
Grade: 5.12a/7a+
Location: Yosemite, California
Date: 1986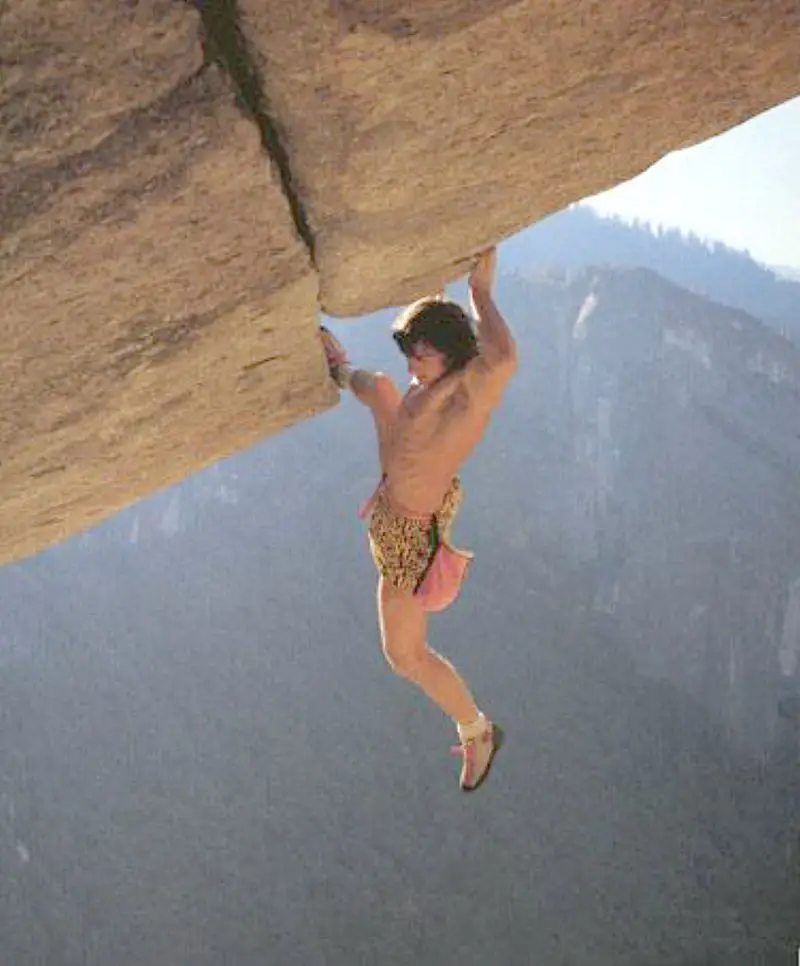 In 1986, the legendary German climber Wolfgang Güllich made a bold statement in the world of rock climbing by free soloing "Separate Reality" in Yosemite, California. This iconic route, characterized by its stunning roof crack, is graded at 5.12a/7a+ and is one of the most photographed and recognized climbs in Yosemite.
The route, with its exposed horizontal roof and the famous crux move where climbers have to transition from the roof to the vertical wall, is pretty scary even with protective gear.
Chiaro di Luna
Climber: Brette Harrington
Grade: 5.11a/6b+
Location: Fitzroy Massif, Patagonia, Argentina
Date: February 2015
There is no denying that Brette Harrington is a badass climber. She's done some of the sickest alpine and big wall climbs in the world. Oh and she skis too!
Her free solo ascent of Chiaro di Luna will go down in the history books. She became the first woman to free solo a tower in the Fitz Roy Massif.
Cayan Tower
Climber: Alain Robert
Height: 309m, Urban Climbing
Location: Dubai
Date: 12th April 2015
The French Spider-Man added another skyscraper to his list of urban conquests: the Cayan Tower in Dubai. Standing at 309 meters, this twisted structure presented a unique challenge even for Robert, who is renowned for scaling some of the world's tallest buildings without ropes or safety gear.
In 41-degree heat and numb fingers from the sharp metal, Alain managed to climb this urban monolith pretty smoothly.
It's easy to forget that Alain doesn't just free solo buildings, he was one of the strongest free solo climbers on real rock in the 90s and has climbed some gnarly stuff.
Heckmair Route, Eiger North Face
Climber: Ueli Steck
Grade: 5.12a/7b+
Location: Switzerland
Date: 2007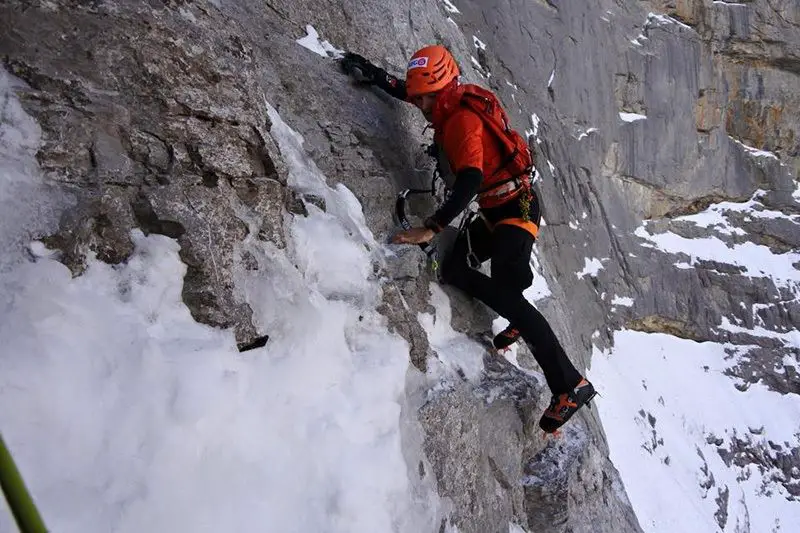 In 2007, Swiss climber Ueli Steck completed a solo ascent of the Heckmair Route on the Eiger North Face, a climb that is as much about endurance and speed as it is about technical difficulty. The Heckmair Route, known for its treacherous conditions and history of perilous ascents, is graded ED2 (Extremely Difficult), with sections up to 5.12a/7b+.
Steck's ascent was a groundbreaking achievement, as he managed to climb the North Face in a record-breaking 2 hours and 47 minutes, a feat that redefined what was considered possible in the realm of speed alpinism.
Deep Blue Sea, Eiger North West
Climber: Dean Potter
Grade: 5.12a/7b+
Location: Switzerland
Date: 6th August 2008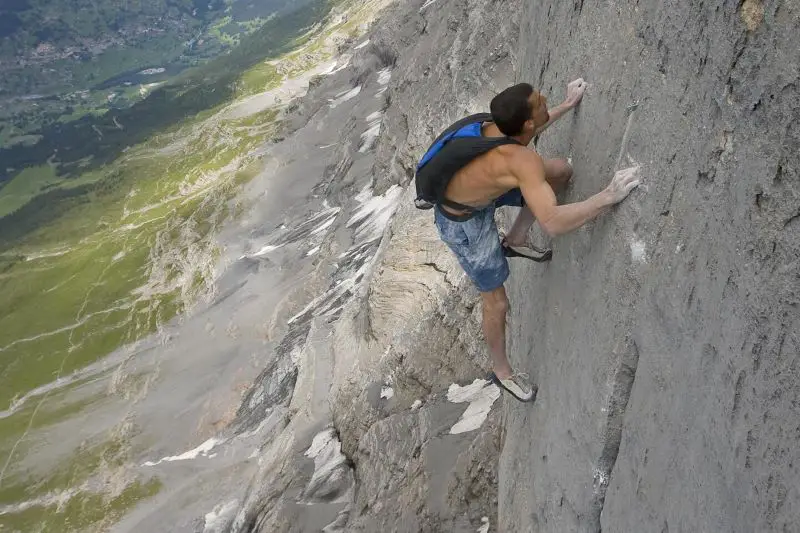 Dean Potter's free solo ascent of Deep Blue Sea wasn't like any other. He had recently come up with the idea of free soloing with a parachute rigged to his back. This way, he could push his limits free soloing without the risk of instant death. He called this freebase. He tested his new invention while climbing the Eiger North West Arete.