Ascent Log
Climb
Location
Type
Suggested Grade
Date of Ascent
Notes
Super Euro Deluxe
Hueco Tanks, Texas
Boulder
V8
1990s
Early repeat
The Razorback
Hueco Tanks, Texas
Boulder
V8
1990s
Early repeat
Steck-Salathé
Sentinel, Yosemite
Free Solo
1996
Party solo with Timmy O'Neill – "It was an epic. I had never climbed the route before. It was over my head at the time. Every off-width I'd go up facing one direction and have to climb down and go up facing the different way."
King Tut
Mill Creek, Utah
Free Solo
5.13a
1997
ground-up solo first ascent of 40-foot route, Dean also free-soloed other routes at Mill Creek at this time: Techno Christ, Scavenger, King of Sting, Sinister and Undertow. Some of them were 5.12 or a 5.13 climbs.
The Crippler
Mill Creek, Utah
Free Solo
5.13+

1997

Ground-up no-rope first ascent
Crack House
Moab, Utah
Boulder
V8

1998
First Ascent of a desperate 85-foot roof-crack boulder problem leading to an insecure lip acounter, likely the hardest crack in the desert at the time. "It's just a such beautiful feature. It's a place where Indians used to hang out."
South Central
Washington Column, Yosemite
Trad Climb
5.12R
1998
The first free ascent, with Rick Cashner – "It was pretty runout 5.12 section in the middle of the climb. On that crux pitch, Rick couldn't follow, so I pulled the rope and gave him a free line. He then followed a slab pitch we named the Long Dond pitch, on really rotten holds, super scary, impossible to lead. So we both found our own way there."
Silent Line
Gold Wall, Ribbon Falls Area, Yosemite
Trad climb
5.13R
1998
First free ascent of the first pitch
Regular Northwest Face
Half Dome, Yosemite Valley
Free Solo
5.9
1998
Speed-solo ascent in 4 hours 16 minutes. He free-soloed most of the route with his rope on his back. When necessary he pulled on bolts and cams. The previous solo record was… 20 hours 56 minutes.
Regular Northwest Face
Half Dome, Yosemite Valley
Free Solo
5.9
1998
Speed ascent in 2 hours 54 minutes, with Jose Pereyra
Salathé Wall
El Capitan, Yosemite
Speed Climbing
5.9
1999
We (Jose Pereyra) simulclimbed the entire route. We never saw each other the whole route, which we did in 'one pitch', carring a lot of carrabiners and using fixed protection.
Northwest Face + The Nose
Half Dome & El Capitan, Yosemite
Speed Solo
5.9
26 July 1999
Solo speed ascent in a total 23 hours, first one-day solo ascent. Two days later Hans Forine did the same thing in 21 hours 3 minutes.

"I was in the moment the whole time. It was the purest climbing day I've ever had."
The Nose
El Capitan, Yosemite
Speed Solo
5.9
1999
Dean soloed The Nose in 12:59
Royal Arches
Central Royal Arches, Yosemite
Free Solo
5.10a/b
1999

Solo ascent in 57 minutes car to car
Blind Faith
The Rostrum, Yosemite
Free Solo
5.11d
2000
First free solo ascent of the route
The Regular North Face
The Rostrum, Yosemite
Free Solo
5.11c
2000
Free Solo Ascent
Astroman
Washington Column, Yosemite
Free Solo
5.11c
2000
Second person (after Peter Croft) who made the ropeless ascent of the route, he took rarely climbed variation to the Boulder Pitch.

"When I finally started the climb, it was like being inside a dream. The sharpness of light, the colors, the texture of the stone.. everything seemed to slow down around me."
The Nose
El Capitan, Yosemite
Speed Climbing
5.9
Oct 2001
3:59:35. Dean along with Timmy O'Neill began a rivalry with Hans Florine and Peter Croft for the best Niad time.
The Potter-Davis Route
Poincenot, Patagonia
Alpine
5.11 C1 WI4
2001
Established alpine style in 25 hours "day" with Steph Davis
The Triple Crown
Yosemite
Trad Climb
–
2001
Half Dome (Regular Route VI 5.9 A1) + Mt. Watkins (South Face VI 5.9 A3) + El Capitan (The Nose VI 5.9 A2), first one-day ascent of three Yosemite grade VI walls, with Timmy O'Neill
The Nose
El Capitan, Yosemite
Speed Climbing
5.9
2001
Speed ascent in 3 hours 59 minutes 35 seconds, the first to break four-hour barrier on the route, beating 9-year record, by Hans Florine and Peter Croft (4 hours 22 minutes) with Timmy O'Neill
The Nose
El Capitan, Yosemite
Speed Climbing
5.9
2001
Speed ascent in 3 hours 24 minutes 4 seconds, with Tommy O'Neil. They took just 20 cams, and simul-climbed whenever possible.
Supercanaleta
Fitz Roy, Patagonia
Alpine Solo
VI 5.10 WI3+
2002
First free solo of Fitz Roy in 6 hours 49 minutes American Alpine Club
Compressor Route
Cerro Torre, Patagoina
Alpine Solo
VI 5.10 A2 WI4
2002
Solo ascent in 11 hours from the glacier
California Roulette
Fitz Roy, Patagonia
Alpine Solo
VI 5.10+ WI5
2002
A huge 7,000ft new route established free solo in 9 hours 50 minutes

"Standing on the top, I knew it was my ultimate climb. It was the biggest, hardest thing I'd ever done, but also the most pure."
Regular Route + Freerider
Half Dome & El Capitan, Yosemite
Speed Climbing

VI 5.12d
2002
The first person to free climb Half Dome and El Cap in a day (23 hours 23 minutes). He freed the crux pitch of Free Rider at night wearing five headlamps in order to see holds.
The Epitaph
Tombstone, Utah
Trad Climb
5.13b
2002
First free ascent, with Steph Davis – "It's the most aesthetic line I've ever seen on a desert formation, plus it's only five minutes from our house!"
Concepcion
Day Canyon, Moab, Utah
Trad Climb
5.13+
25th Jan 2003
Although he placed his own protection, he finished the route with an 100ft run-out. Climbing Article
A Dog's Roof
Yosemite
Free Solo
5.12b
4th June 2006
He tried to lead the route before but failed. After a lot of meditation, he decided to free solo it.
Titanic
Torre Egger, Patagonia
Alpine
ED 6+/A2
2005
First one-day (23 hours) ascent of the mountain, with Steph Davis
Bridwell-Staszewski
Mocho's East Pillar, Patagonia
Alpine
5.10
2005
BASE jumped off the top, introducing this sport to Patagonia
Separate Reality
Yosemite
Free Solo
5.12d
2006
Potter went on to solo Separate Reality 5 times. Video
Heaven
Glacier Point, Yosemite Valley
Free solo
5.12d/13a
2006
First free solo of Ron Kauk's route. Video
Southern Belle
Half Dome, Yosemite Valley
Trad Climb
V 5.12d R/X
Oct 2006
Along with Leo Houlding, Potter made the second ascent of one of the hardest routes in Yosemite. It hadn't been repeated for 18 years.
Delicate Arch
Arches National Park, Utah
Free Solo
7th May 2006
It's thought Potter has soloed this route 5 times. He lost his Black Diamond and Patagonia sponsorships due to climbing this route illegally. Outside Magazine
The Reticent Wall
El Capitan, Yosemite
Trad Climb
VI 5.7 A5
13th Jul 2006
Along with Ammon McNeely and Ivo Ninov, they raced up the route in 34 hours 57 minutes.
The Long Run
Cerro Torre, Patagonia
Alpine
6c A1 M7
2005
New route with Marko Prezelj and Stephen Koch
Deep Blue Sea
Eiger, Bernese Alps, Switzerland
FreeBase
5.12+
6th Aug 2008
First FreeBase ascent of Eiger. Planet Mountain
The Rostrum (with the Alien Roof finish)
Yosemite
FreeBase
5.12
Nov 2008
The first FreeBase solo and the hardest big wall solo in Yosemite at the time, Video
The Nose
El Capitan, Yosemite
Speed Climbing
5.9
6th Nov 2010
2:36:45. Sean Leary convinced Dean Potter to come out of retirement and break the NiaD record once again. Planet Mountain
King Air
Yosemite
Bouldering
V10
2010
First ascent of King Air, a highball boulder in Yosemite Valley. Video

Climbing Career
Learning the Ropes
At the tender age of 16, Dean Potter had his first encounter with rock climbing on the granite cliffs of Joe English Hill, a 1,273-foot mountain located on the fringe of a local military base. Despite knowing that trespassing on the land was prohibited, Potter's curiosity was piqued upon spotting a piton 200ft up. Unable to resist, he embarked on a solo climb in his Converse All-Stars to investigate further. This daring act marked the beginning of Potter's adventurous climbing career and underscored his fearless approach to the sport.
In the ensuing years, Potter and his friend, John, dedicated themselves to mastering their climbing skills. They spent countless hours practicing on their local rock, often free soloing – climbing without any protective gear. Their only form of "protection" was a makeshift harness made from a clothesline and various objects they found in John's garage. While this rudimentary setup hardly provided any real safety, it reflected their resourcefulness and commitment to the sport.
Potter's passion for climbing continued to grow during his time at the University of New Hampshire, where he took up rowing. The sport taught him about physical discipline and the importance of a regimented regime. However, after three semesters, Potter decided to leave university at the age of 20 to pursue his true passion: climbing. This decision marked the start of his full-time climbing career, a path that would lead him to become one of the most influential figures in the world of extreme sports.
Notable Ascents
Yosemite Climbing
Potter began traveling the country, and spent the rest of the 90s living rough, even by dirt-bag standards.
Surviving on food stamps, salt sandwiches, and condiments, Potter spent years living out of his van and couch-surfing. He moved between the boulders of Hueco Tanks and the red cracks of Moab, leaving behind a trail of challenging first ascents (FAs) and a string of temporary, dead-end jobs.
Potter's climbing legacy is etched across the landscapes of the United States, South America, and Europe. However, it was in Yosemite Valley where his climbing career truly blossomed. Potter first arrived in Yosemite in 1993, where he met the near-mythical legend and slacklining pioneer, Chongo Chuck. From Chuck, Potter not only learned about the realities of a hardcore "dirtbag" lifestyle but also received an introduction to slacklining, a discipline that would become a significant part of his climbing repertoire.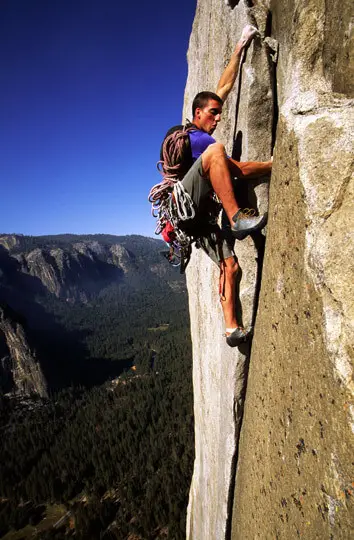 Over the subsequent decades, Potter became a prominent figure in the Yosemite climbing scene, particularly in the late 90s and early 2000s. His daring ascents, solo climbs, and record-breaking feats made him a standout personality in the climbing community. His fearless approach to climbing and his innovative techniques left an indelible mark on the sport, particularly in the iconic cliffs and crags of Yosemite Valley.
Triple Crown (2001)
Following in the footsteps of Yosemite legends, speed records, and big wall link-ups became the next challenge for Dean Potter. The bar was set in 1986 when Peter Croft and Jim Bridwell completed a 24-hour link-up of Half Dome and El Capitan, demonstrating the potential for how many pitches a climber could attempt within a single day. While Croft and Bridwell contemplated adding Mt. Watkins to their 24-hour link-up, they never pursued this ambitious goal.
The concept of the Triple Crown – a single-day link-up of Half Dome, El Capitan, and Mt. Watkins – remained unrealized until Timmy O'Neill and Dean Potter took on the challenge. The pair embarked on a grueling journey that involved 71 pitches, most of which were climbed free, with the exception of aiding some of the harder pitches. After 7,000 feet of climbing and miles of hiking on approach trails, O'Neill and Potter successfully completed the first Triple Crown link-up.
Nose Speed (2001 & 2010)
The competition for The Nose Speed Record, a prestigious title in the world of rock climbing, had been ongoing for several decades by the time Dean Potter joined the race in 2001.
In 2001, Potter and Timmy O'Neill made their first speed attempt on The Nose, a prominent feature on El Capitan in Yosemite National Park. They completed the route in 3 hours and 59 minutes, a time that marked a significant reduction from the previous record of 4 hours and 31 minutes, set by Hans Florine and Peter Croft.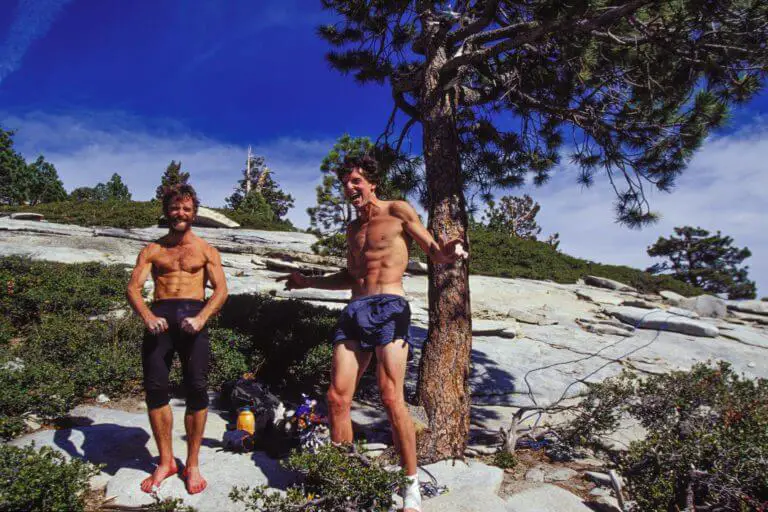 The Nose Speed Record only filed the rivalry between Potter and Florine, two of Yosemite's most accomplished climbers. Throughout 2001, the pair continually outdid each other's records, often by mere minutes. This competitive back-and-forth pushed the boundaries of what was considered possible in speed climbing.
Potter's last official speed run of The Nose was recorded in 2010, when he completed the route in 2 hours, 36 minutes, and 45 seconds. This record-breaking climb was prompted by Sean Leary, who persuaded Potter to re-enter the competition. Potter's record stood for two years until Florine, teaming up with Alex Honnold, set a new record of 2 hours, 23 minutes, and 46 seconds in 2012.
Southern Belle (2006)
Dean Potter accomplished the second ascent of the notoriously challenging route on Half Dome known as Southern Belle (5.12d). This achievement was particularly significant as the route had not been successfully repeated since its first free ascent in 1988 by Dave Schultz and Scott Cosgrove, a span of over 18 years.
Southern Belle is a formidable 14-pitch route that offers sparse protection, making it one of the most dangerous climbs in Yosemite. The route's difficulty and risk are so high that Potter once remarked, "On a fair bit of the upper ground if you fall you might as well be dead."
Free Solo & FreeBASE
Free soloing is undoubtedly where some of the most impressive, and controversial ascents of Potter's climbing career lie. Potter not only accomplished numerous impressive free solo first ascents (FAs), but he also pioneered the concept of FreeBASE. This innovative approach involves solo climbing with a parachute attached, serving as a last-resort safety measure in case of a fall.
Separate Reality (2006)
Twenty years after Wolfgang Gullich's free solo of Separate Reality (5.11d/7a), this route had become one of the most iconic solo ascents in climbing history. Dean Potter once proclaimed, "There is no solo more classic or special." In 2006, he achieved the third free solo ascent of the line, and was so inspired that he continued to solo the 66-foot roof crack four more times consecutively.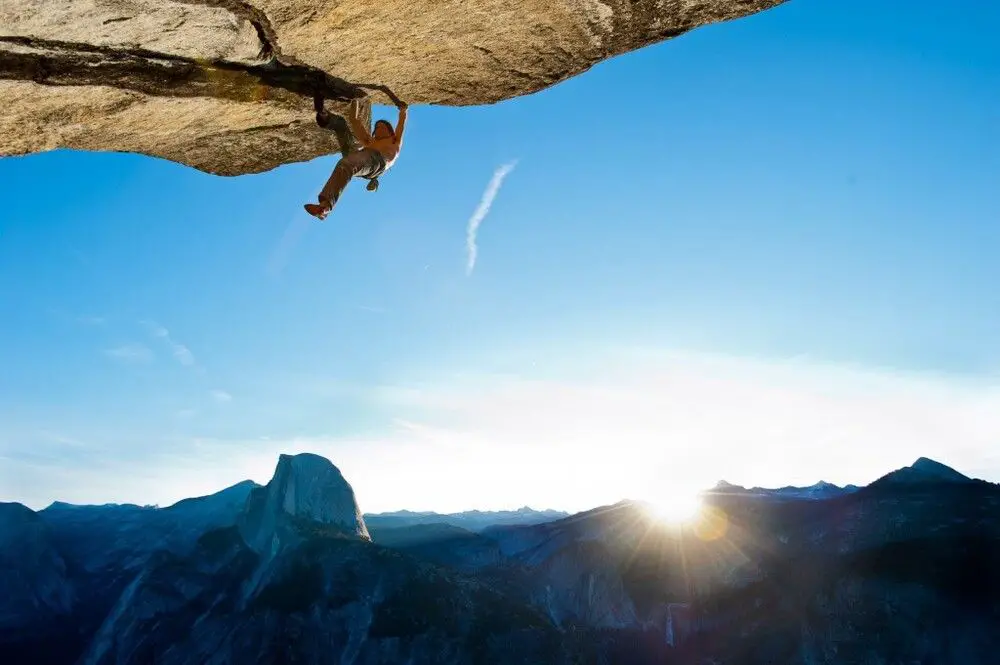 Only a few days later, Potter undertook another remarkable feat. He soloed A Dog's Roof (5.12b), a challenging route that still stands as one of the hardest free solos ever attempted in Yosemite.
Fitz Roy Massif & Cerro Torre (2002)
When asked about his most significant climbing achievements, Potter referred to his experiences in Argentina in 2002. That season in Patagonia was filled with some of the most daring solo ascents attempted at the time, making it a memorable period in Potter's climbing career.
In the Fitz Roy Massif, Potter accomplished the first solo ascent of Supercanaleta, a 1,600-foot route with a difficulty rating of 5.10. Adhering to a "light is right" philosophy, Potter embarked on this challenging solo climb with only a quart of water, minimal climbing gear, and no warm clothing. He began his ascent before dawn, navigating the thinning ice and alpine granite, and reached the summit in less than six and a half hours.
Days later, Potter found himself on the summit of Cerro Torre after speed climbing the formidable Compressor Route (VI 5.11a A2 WI4) in just eight and a half hours. While the ascent of the Mushroom tip didn't pose a significant challenge for Potter, an unexpected storm forced him to seek shelter in an ice cave, with only a tin foil survival blanket for warmth.
Just over a week later, Potter was back on the Fitz Roy Massif, this time attempting a record-breaking first ascent on a route he would later name Californian Roulette (VI 5.10+ WI5). This 7,100-foot route on Fitz Roy's southwest side had been attempted a few times before, but it was a formidable line that had claimed the lives of several climbers who had dared to attempt it. After a grueling 10-hour battle to the summit, Potter began his descent but was hit by a falling toaster-sized boulder in the leg after only two pitches, causing him to black out. With his pants torn and covered in blood, Potter embarked on a critical 36-hour descent, marking it as one of the highest-risk survival situations of his climbing career.
It was this experience that led Potter to explore base jumping as a safer and more efficient way to descend from mountains, marking a new chapter in his adventurous career.
Delicate Arch (2006)
One of the most controversial climbs in Dean Potter's career was his free solo ascent of the Delicate Arch in Arches National Park, Utah. This climb sparked widespread controversy within the climbing community, leading to heated debates, and criticism from friends and mentors, and even resulted in Potter being dropped by two of his main sponsors, Patagonia and Black Diamond.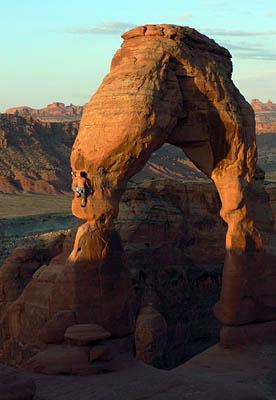 Potter had been eyeing the 60-foot Arch for over 12 years, and on May 6, 2006, he began projecting it. He meticulously studied every feature and divot on the arch, but before the free solo attempt could be made, a fixed line had to be placed. This would allow Potter to practice some beta and enable a crew to record his ascent from above. Even today, it remains a mystery how Potter and Brad Lynch managed to set up the fixed line, with neither man willing to reveal their method.
It is believed that Potter climbed the Arch a total of six times. While he insisted that he adhered to his strict "leave no trace" approach to the Arch, as he did with many of his ascents, several critics claimed that up to five rope grooves appeared afterward. When confronted with this criticism, Potter responded, "The marks up there are not mine, absolutely, and I know for a fact that other people have been up there."
Although climbing the arch wasn't technically illegal at the time, the widespread outrage that followed Potter's ascent led to blanket climbing bans throughout the park. These bans prevented new routes from being established in Arches National Park, marking a significant shift in the park's climbing regulations.
Deep Blue Sea (2008)
Potter's ascent of the 300m Deep Blue Sea (5.12+/7b) in 2008 on the north face of the Eiger was not only of the most impressive solos of his career, but was also the testing ground for his new creation, FreeBase.
The slightly overhanging limestone face of the Eiger provided the ideal conditions for Potter to refine this new discipline, which opened up the freedom of soloing "without instantaneous death". Potter spent the 2008 climbing season in Switzerland, spending a month and a half in a cave 9,500′ up the Eiger's west ridge, honing his base jumping and pushing his limits on the overhanging limestone routes.
Reflecting on the experience, Potter stated, "FreeBASE climbing Deep Blue Sea has stirred my way of thinking more than anything in the past."
The Rostrum (2008)
Following his groundbreaking ascent on the Eiger, Dean Potter returned to Yosemite Valley, bringing with him the FreeBASE skills he had honed on the Swiss mountain. He began applying this innovative approach to the iconic walls of Yosemite, resulting in some remarkable ascents.
One of the most notable of these was his solo climb of The Rostrum, a 5.11 route. This towering 4,600-foot pillar was first free-soloed by Peter Croft in 1985. However, Potter took the challenge to a new level. Not only did he repeat the ascent of The Rostrum, but he also soloed The Alien Roof finish, a 5.12 route. This feat was considered the hardest long solo that had ever been attempted in the Valley at the time.
Easy Rider
Before Alex Honnold's groundbreaking free solo of Freerider, Dean Potter was one of the first climbers to make significant progress in soloing El Capitan. He achieved a partial free solo, marking one of the first major free solo attempts ever on El Capitan.
For his partial solo ascent, Potter would start from the top of El Capitan, down-climb the slabby upper pitches of Lurking Fear (graded at 5.10a), traverse the Thanksgiving Ledge, and then finish the last six pitches of Freerider (5.11d, two pitches of 5.10d, 5.10b, 5.10a, and 5.7). This route, which Potter dubbed Easy Rider, allowed him to bypass the notoriously technical slabby section at the start of the Freerider route.
While Potter's ascent may not be considered the first true free solo of El Capitan, it undeniably contributed to the progression of free soloing on this iconic wall.
Slacklining & Highlining
Climbing achievements aside, Dean Potter was also a pioneer in the fields of slacklining and base jumping.
"The first time Dean tried slacklining, in 1993, he walked the whole 40-foot line," recalls Chongo Chuck, a slacklining pioneer and one of Potter's early influences. Potter was a natural at slacklining and quickly incorporated it into his repertoire of self-expression.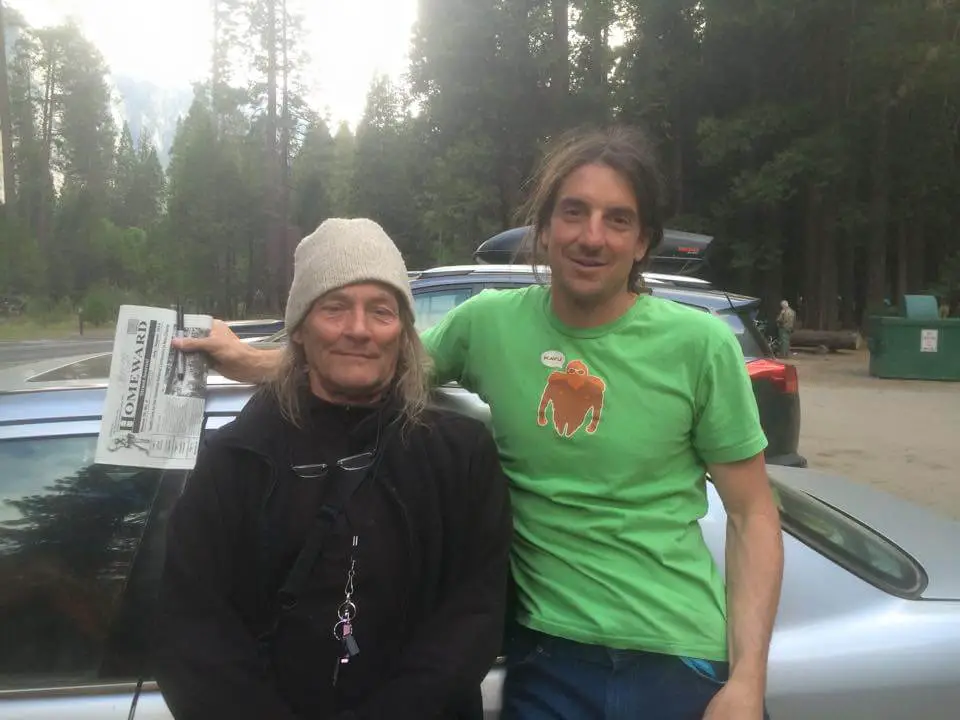 Potter attributed much of his climbing success to the skills he developed through slacklining. The balance, focus, and body awareness required in slacklining translated well to climbing, enhancing his ability to navigate challenging routes. Recognizing these benefits, the climbing community quickly adopted slacklining as a valuable training tool.
Lost Arrow Spire & Moon Walk
In true Potter fashion, he sought to push the boundaries of slacklining. His lines began to get longer and higher, often setting 120-foot lines just 10 feet off the ground. Eventually, Potter would perform highlining at the highest degree of difficulty with zero margin for error.
In 2003, he became the second person to highline the Lost Arrow Spire untethered, and the first to complete both the uphill and downhill versions. This feat demonstrated Potter's exceptional balance and fearlessness, as the Lost Arrow Spire is a daunting 2,700-foot vertical rock formation in Yosemite National Park.
Another noteworthy moment in Potter's slacklining career was the famous Moonwalk at Cathedral Peak. From over 2 kilometers away, National Geographic captured iconic footage of Potter completing the highline untethered. The image of Potter, silhouetted against the moonlit sky as he traversed the Highline, has reached near-legendary status.
Base Jumping
After discovering base jumping at the age of 30, in true Potter form, he immediately began pushing the boundaries of the sport.
Less than a year into his base jumping career, Potter experienced a near-catastrophic jump at the Cave of Swallows, near Mexico City. His parachute failed to deploy correctly on the 1,200-foot jump, leaving him plummeting towards the ground with no protection.
In a split-second decision, and only 200 feet from the bottom of the Cave, Potter grabbed a 10mm rope whizzing past him, used by jumpers to climb out of the cave. He gripped the rope as tightly as he could and crashed to the cave floor. Miraculously, Potter survived the fall, but his hands were severely injured, with half-inch rope burns dug deep into both palms.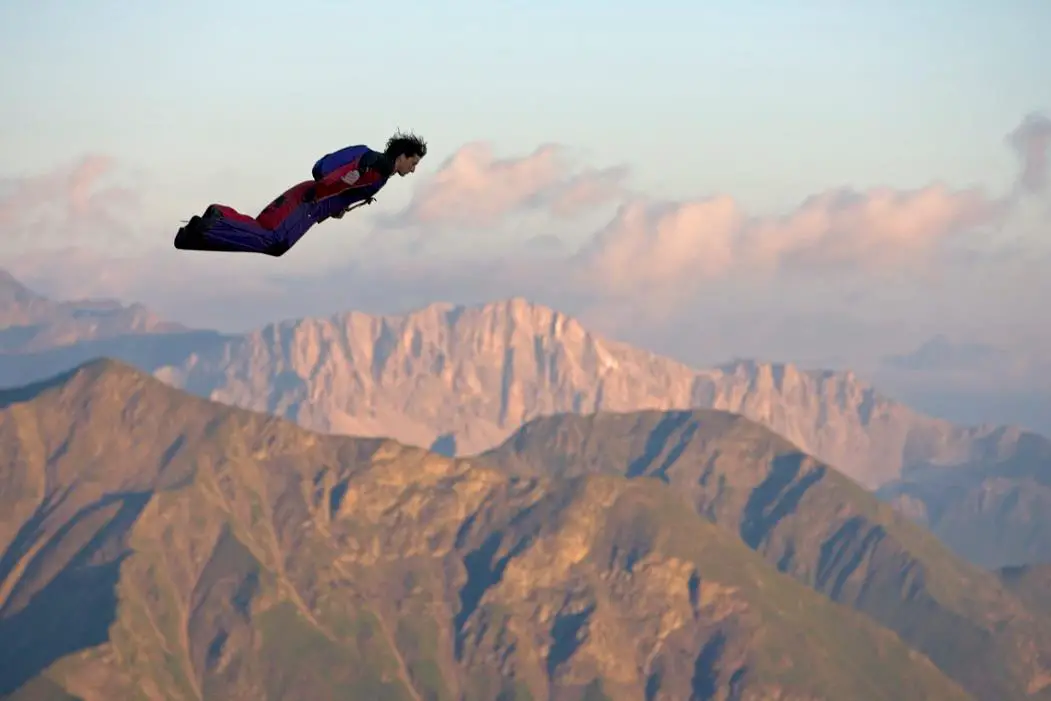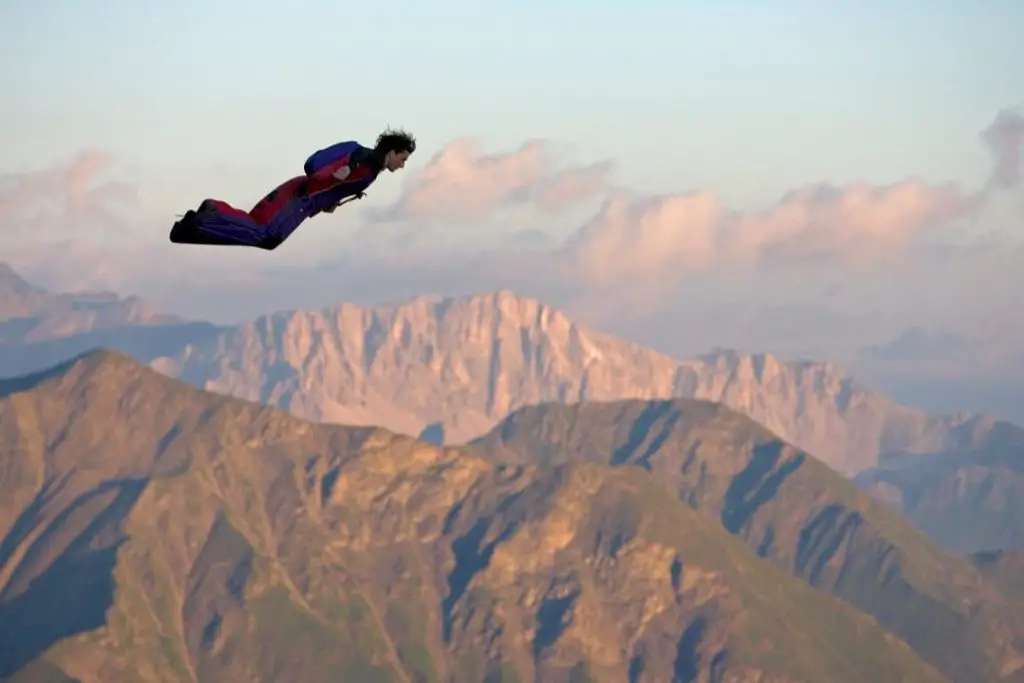 Despite this harrowing experience, Potter continued to push the limits of base jumping. Over the years, he became one of the leading base jumpers on the American continent and a strong advocate for legalizing BASE jumping in National Parks.
In 2011, Potter set a new record for the longest wingsuit flights ever recorded. He flew a total of 7.5 kilometers off the North Face of Eiger.
Death
On May 16, 2015, Dean Potter and his climbing partner Graham Hunt tragically died in a BASE jumping accident in Yosemite National Park. The pair had jumped from Taft Point, a 3,000-foot cliff. Potter's girlfriend, Jen Rapp, was present and captured photographs of their final moments. Hunt, was flying faster, and Potter disappeared into a notch in a ridge known as Lost Brother. Rapp heard two sounds and realized something had gone wrong when no parachutes were deployed.
Rapp rushed back to the parking lot and drove to the valley floor, hoping to find that the pair had landed safely or had been arrested (as BASE jumping is illegal in national parks). However, when she arrived at their meeting point, there was no sign of Potter or Hunt.
A late-night search was initiated by the Yosemite Search and Rescue team. By daybreak, a helicopter search spotted two bodies. Neither man had deployed a parachute. Hunt had cleared the base of the notch but had crashed into the right wall. Potter was found several hundred feet farther into the notch. The exact cause of the crash remains unknown, but it's speculated that the sight of Hunt or the air disturbance caused by his maneuvers may have affected Potter's concentration or control.
Personal Life
Childhood
Dean Potter was born to a father who served as a colonel in the U.S. Army, leading to a childhood filled with frequent relocations. Among the many places he lived, he spent three years in Israel before eventually settling in New Hampshire, where he spent most of his teenage years.
Potter's love for the outdoors was sparked during religious walks he took with a local pastor. These excursions, led by Father Jerry, were not traditional religious preaching sessions. Instead, they involved visits to local mountains and caves. This exposure to nature at a young age ignited Potter's passion for the outdoors, setting the foundation for his future career as a pioneering climber and adventurer.
Parents
Dean Potter's upbringing was a unique blend of discipline and spirituality, shaped by his parents' contrasting lifestyles. His mother was a yogi, and Potter was introduced to yoga at a very young age. He once mentioned that he "learned yoga pretty much as a baby".
On the other hand, his father's military background instilled in him a sense of discipline and training. Despite the seeming contradiction between his parents' worlds, Potter managed to draw valuable lessons from both. He learned the importance of discipline and training from his father, while his mother introduced him to the practices of breathwork and meditation.
Wife & Girlfriend
Between 2002 and 2006, Dean Potter was married to Steph Davis, an accomplished professional climber in her own right. Their paths first crossed in 1994 in Longs Peak, Colorado. Davis recalls that their relationship was filled with "fireworks and drama" from the start, leading to their marriage in 2002.
During their 13-year relationship, Potter and Davis traveled the world together, achieving numerous first ascents and climbing milestones. Among their notable achievements were the first free ascent of The Epitaph (5.13b), The Tombstone (5.13), and the first one-day ascent of Torre Egger in Patagonia.
However, their relationship was not without its challenges. Following Potter's controversial ascent of the Delicate Arch and the subsequent loss of their Patagonia sponsorship, the couple announced their split. Many speculated that these events played a significant role in their relationship's breakdown.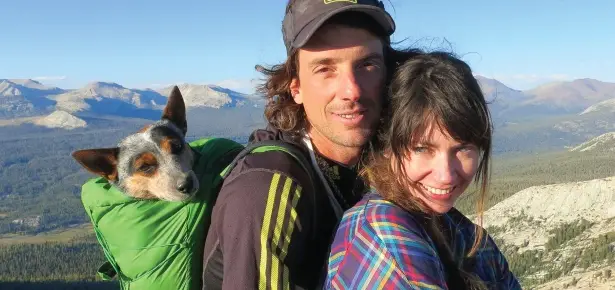 After his marriage to Davis, Potter entered into a relationship with Jen Rapp. They dated for several years and lived together with Rapp's three children in Yosemite.
Dean Potter's Dog
Whisper, Dean Potter's dog, was arguably one of the most adventurous pets on the planet. Potter got Whisper when she was just nine weeks old, and from the very beginning, it was clear that she was destined to be a mountain dog.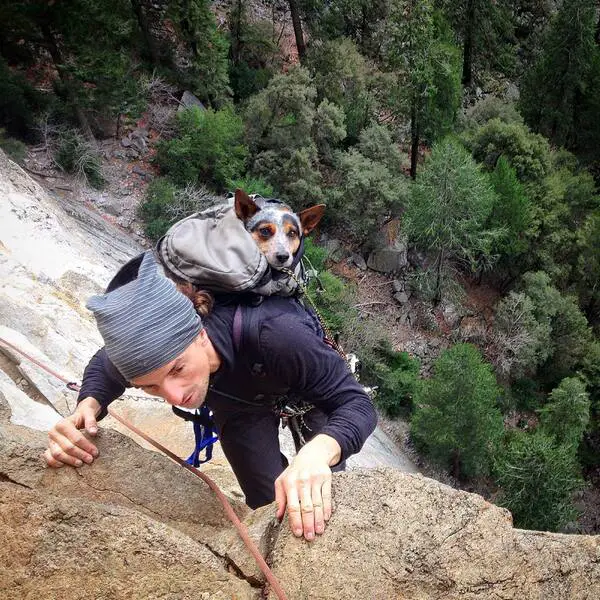 As a puppy, Potter would place Whisper in a haul bag with her head poking out of the top, and they would start climbing together. On longer climbing days on The Rostrum, El Cap, or Half Dome, Potter would rappel down to ledges and create a makeshift cave from a large haul bag where Whisper could take shelter.
However, it was not climbing but base jumping that made Whisper a viral sensation. Using a custom harness, Potter and Whisper undertook several daring base jumps together. These jumps, captured on video and shared widely online, showcased the unique bond between Potter and Whisper, and their shared love for adrenaline-fueled adventures.
Net Worth
Dean Potter's net worth is not publicly disclosed, and due to the nature of his career and lifestyle, it's challenging to provide an accurate estimate.
Potter was sponsored by renowned brands such as Five Ten, Patagonia, Black Diamond and Clif Bar for a significant part of his career. Before Patagonia and Black Diamond dropped him following the Delicate Arch controversy, Potter was reportedly among Patagonia's top-ten paid athletes, earning an estimated $50,000, according to a former employee. However, he was later dropped by Clif Bar in 2014, a year before his death, after being affiliated with the snack company for over a decade. This move was described by Potter as a "huge emotional blow."
Sponsorship was not Potter's only source of income. He also likely received compensation for his numerous appearances in National Geographic documentaries, publications, and public events.
In the months leading up to his tragic death, Potter and his girlfriend, Jenn, had also recently purchased a 31-acre plot in Yosemite.
Based on these factors, it's estimated that Dean Potter's net worth was likely in the range of $500,000 – $1,000,000. However, this is purely speculative.
Dirtbag Lifestyle
Potter was known for his unconventional lifestyle that was deeply rooted in his passion for climbing and the outdoors. After dropping out of college, he embraced the dirtbag lifestyle, living in his car, working dead-end jobs and living off food stamps.
He never actively sought out sponsorship either, instead focusing on his love for climbing. It was only when his cutting-edge climbs began to attract attention that sponsorship offers came in. Although this was not his primary goal, he saw it as an opportunity to dedicate himself full-time to climbing and accepted the offers.
Potter's dedication to being the "king of the dirtbags" extended beyond climbing. He was known for his unique habit of wandering barefoot, a testament to his connection with nature and the outdoors. Potter himself admitted that many of his hardest climbs were done with one or both feet barefoot, and he would often walk around outside barefoot, even in the snow, to toughen up his feet.
Films and Documentaries
If you are interested in learning more, then there are plenty of great Dean Potter documentaries for you to binge.
"Masters of Stone VI" (2004): This film features some of the most daring climbers and their most spectacular ascents, including Potter's free solo climb of Heaven in Yosemite.
"First Ascent" (2006): This series showcases the pioneering climbing being done by the sport's heroes, including Potter.
"The Sharp End" (2007): Potter is featured in this adrenaline-filled documentary about climbers who risk everything to accomplish their daring feats.
"Fly or Die" (2010): This National Geographic documentary follows Potter as he attempts to combine free solo climbing with BASE jumping into a new sport called FreeBASE.
"Valley Uprising" (2014): This documentary about the history of climbing in Yosemite features many of the sport's biggest names, including Potter.
"When Dogs Fly" (2014): This short film by Potter himself documents his adventures wingsuit BASE jumping with his dog, Whisper.
"Moonwalk" (2011): Another short film by Potter, this one features him highlining at Cathedral Peak in Yosemite under a full moon.
"The Man Who Can Fly" (2012): A National Geographic documentary that focuses on Potter's attempts to climb and then BASE jump from the Eiger in Switzerland.

Video Library