Ascent Log
| Climb | Type | Suggested Grade | Date of Ascent | Notes |
| --- | --- | --- | --- | --- |
| Horizon | Boulder | V15/8C | 22nd Mar 2016 | First woman to climb V15 and the youngest person at the time. Instagram Post |
| Sleepy Rave | Boulder | V15/8C | Aug 2016 | Rock & Ice Magazine |
| Golden Shadow | Boulder | V14/8B+ | 15th Jul 2014 | Her first V14 boulder Instagram Post |
| Phenomena | Boulder | V14/8B+ | 24th Dec 2015 | Ashima sent the boulder in just 30 minutes. Rock & Ice Magazine |
| Jade | Boulder | V14/8B+ | 22nd Aug 2021 | Instagram Post |
| Crown of Aragon | Boulder | V13/8B | Mar 2012 | She was aged 10 |
| One Summer in Paradise | Boulder | V13/8B | Aug 2013 | |
| The Automator | Boulder | V13/8B | Aug 2013 | Second female ascent |
| The Swarm | Boulder | V13/8B | 2nd Jan 2015 | First female ascent Instagram Post |
| Terre de Sienne | Boulder | V13/8B | 25th Nov 2015 | |
| Open Your Mind Direct | Sport Route | 9a/5.14d | 17th Mar 2015 | Her hardest grade yet. Video |
| Southern Smoke | Sport Route | 8b+/5.14c | Oct 2012 | Youngest person to climb an 8c+ |
| La Fabela | Sport Route | 8b+/5.14c | Mar 2014 | Instagram Post |

Kit Bag
Evolv Brain Dead Zenist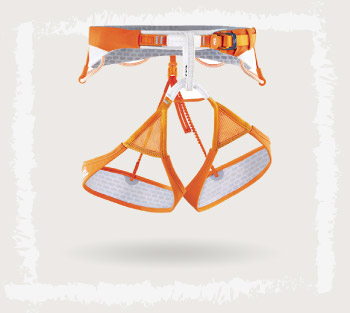 Petzl Sitta Harness
Petzl Chalk Bag

Climbing Career
Learning the Ropes
Ashima Shiraishi was born and raised in New York by her parents, Tsuya and Hisatoshi Shiraishi, who migrated from Japan in 1978. At the age of six, during a visit to Central Park, she discovered her passion for climbing at Rat Rock, a renowned bouldering location in New York City.
When Ashima turned seven, her father introduced her to several climbing gyms across Brooklyn. At Brooklyn Boulders in Gowanus, she uncovered her natural talent for climbing. She began training and competing with other climbers, pushing herself to new heights.
This gym provided her with opportunities to climb at a higher level than she had experienced at Rat Rock. Despite her innate abilities, Shiraishi recognized the need for guidance to truly excel in her craft. In 2008, she was introduced to Obe Carrion, a renowned professional climber from New York, known for his exceptional technical skills, strength, and innovative climbing techniques. Carrion became her coach and mentor, working closely with her to refine her skills and guide her to new achievements in the climbing world.
With Carrion's guidance, Ashima made some impressive progress. At just nine years old, she completed her first V10 climb, and by age ten, she successfully climbed a V13.
However, in 2012, a disagreement between Carrion and Ashima's father caused them to part ways. Since then, Ashima's father has been coaching her. Even though Carrion is no longer her coach, his influence played a key role in shaping Ashima into the successful climber she is today.
Competition Climbing
Ashima Shiraishi has established herself as a prominent figure in the world of competitive climbing, participating in a diverse range of competitions throughout her climbing career. These events have served as platforms for her to showcase her remarkable climbing skills, resulting in numerous accolades and triumphs.
In 2015, Shiraishi made a stellar entrance into the competition scene by securing victories in both bouldering and lead climbing at the USA Climbing Sport and Speed Open National Championships. Her exceptional performance made her the first person ever to claim dual championships in the same year. She even went on to win gold medals in the IFSC Youth World Championships for bouldering and lead climbing in 2015, 2016, and 2017.
The year 2018 witnessed Shiraishi's participation in the Youth Olympic Games held in Buenos Aires, Argentina, where she achieved a commendable fifth-place finish in sport climbing.
Olympic Try-Out
Ashima was unable to get through and qualify for the 2021 Olympics. She came 44th at the 2019 Combined World Championships and 22nd at the Toulouse Invitational.
Her third chance to qualify was at the Pan-American Championships, but for reasons that remain unknown, she decided not to compete.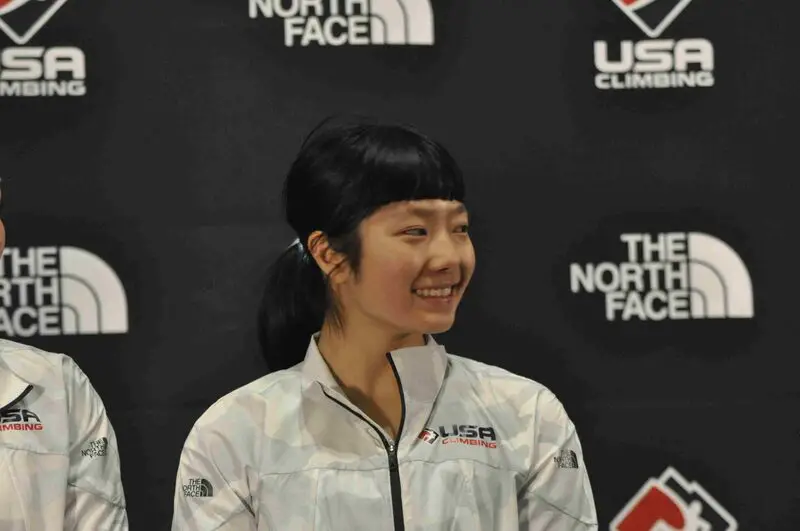 Undeterred by her Olympic setback, Shiraishi continued her competitive pursuits. In 2020, she took part in the IFSC Climbing World Cup and emerged as the second-place finisher in the bouldering event held in Meiringen, Switzerland.
Notable Ascents
Ashima Shiraishi's dominance in the competitive climbing scene during her youth was nothing short of exceptional. However, what truly sets her apart are the groundbreaking achievements she has amassed throughout her outdoor climbing career.
Open Your Mind Direct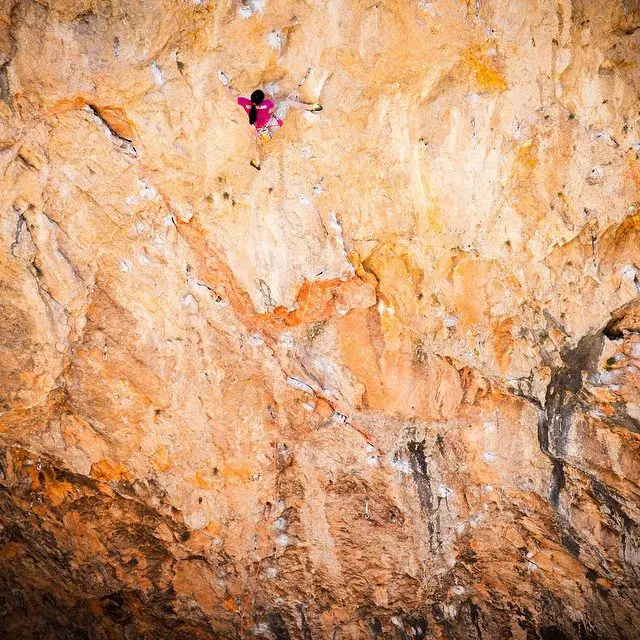 In 2015, Shiraishi made history in Spain by conquering a challenging 9a+ in at Santa Linya. At the time, she became the first female climber to achieve such a high-grade ascent.
Oh, and did I mention she was only 13 years old? Yep. Open Your Mind Direct has now been downgraded to a 9a/+ after some confusion around some holds getting bigger, making the climb 'slightly' easier. Either way, this doesn't take away her incredible achievement at such a young age.
Horizon
The following year, Shiraishi continued her streak of record-breaking accomplishments, this time in bouldering. At only 14, she surpassed all expectations by becoming the youngest person ever and the first female to conquer "Horizon," a formidable V15 Boulder problem situated in Mount Hiei, Japan. Her ability to master such demanding climbs at such a tender age showcased her immense talent and determination, cementing her status as one of the best female boulderes of our time.
Sleepy Rave
As if one V15 wasn't enough, in the same year, she climbed her second V15. This time she traveled all the way to Australia to try Sleepy Rave, a route put up by Dai Koyamada. Sleepy Rave links up 3 other climbs graded 8A (+), 7C, and 8A, all of which make up the final 3/4 of the longest boulder problem in the world, The Wheel of Life 8C/V15.

FAQs

Video Library