Bouldering is the discipline of climbing in which we have seen the most exponential growth in the past decade. Standards have been pushed to an almost inconceivable level with the establishment of multiple V17s and the news of V15/V16 sends becoming commonplace. At the forefront of this movement are a group of elite athletes dedicating their lives to cranking out the world's hardest moves.
Let's take a look at some of the best boulderers in the world, male, female, past, and present.
Best Male Boulderers
Let's kick it off with the men. Bouldering has come a long way in the past few decades. To think that the hardest grade used to be a V13 and now it's a V17 is crazy. These men below have revolutionized the world of bouldering and have broken the barriers to what is achievable.
Daniel Woods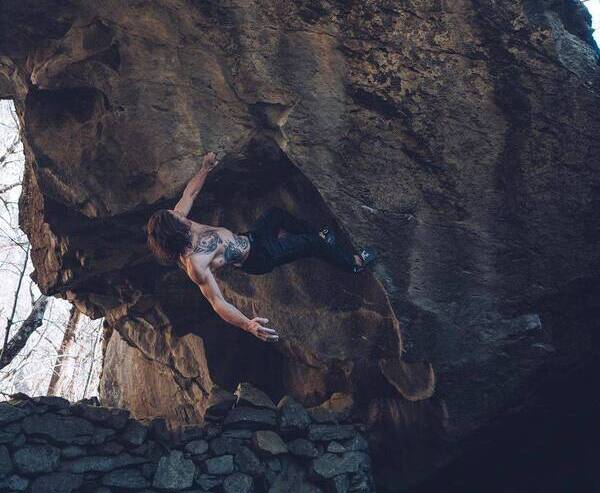 It would be something in the realm of sacrilege or blasphemy to have a list of strong boulderers without Daniel Woods being at the top. Woods has been at the forefront of the bouldering scene for two decades and is one of the most accomplished, if not THE most accomplished boulder of our time with well over 40 of his ascents being V15 and above. His most notable ascent is Return of the Sleepwalker V17, which holds the position of the second undisputed V17 in the world.
In 2022 and 2023, Woods made the third ascent of Insomniac V16 and climbed two V15s and eight V14s. It likely won't be long before we see more big headlines with Woods's name; it seems his hunger for V17 is not yet satiated as he has ambitions for both Alphane and Megatron.
Shawn Raboutou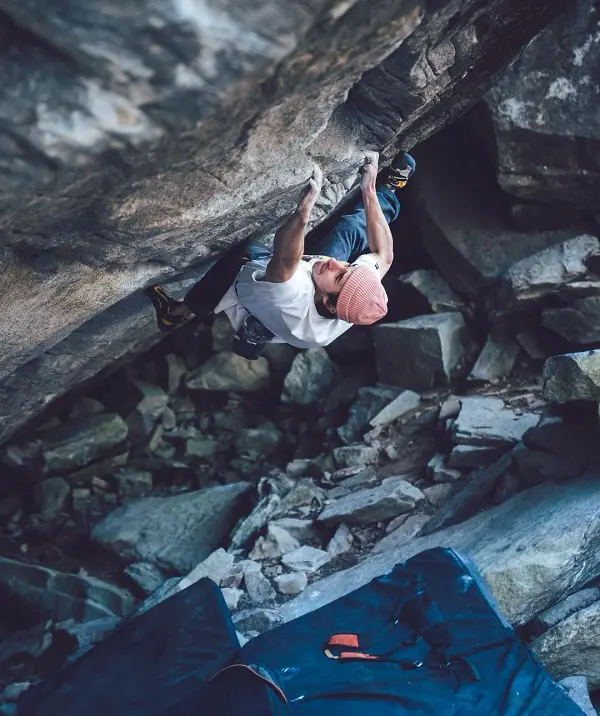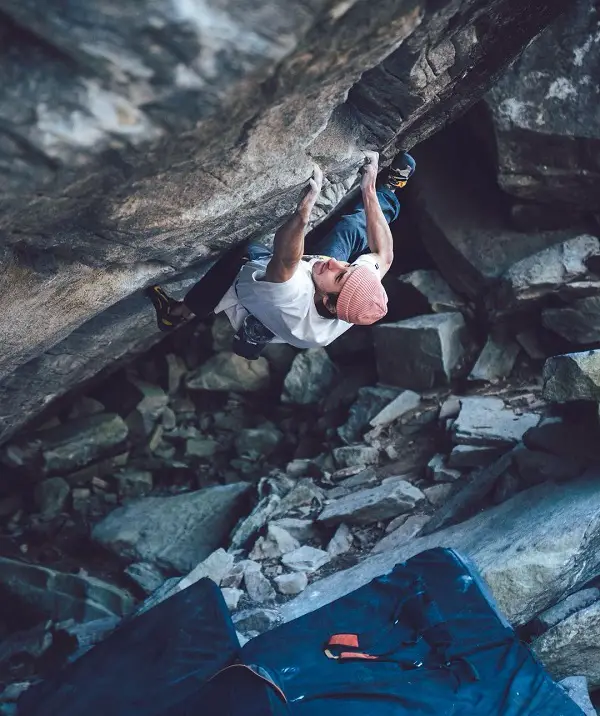 Shawn Raboutou is absolutely on fire right now. In 2022 he established not one but two V17s, with the first ascents of Alphane and Megatron. As though this wouldn't be enough to make it on the list, Shawn also made the first ascent of The Story of Three World's V16, climbing it twice in a row after a small tree tab on the first send, and he made the second ascent of Insomniac V16. He also climbed numerous V15 boulders and easier.
This overview likely only scratches the surface of Shawn's year as he is well-known for climbing the world's hardest boulders and not telling anyone. He typically takes months to announce his hardest sends to the public if he decides to announce them at all. In an interview with Climbing Magazine, he stated "I just find it annoying that you have to post on Instagram when you do a climb. Trying to change it up. Just climb for fun." His climbing philosophy differs from the mainstream and it obviously works! I wonder what is next on his list? (Third ascent of Burden of Dreams perhaps?)
Will Bosi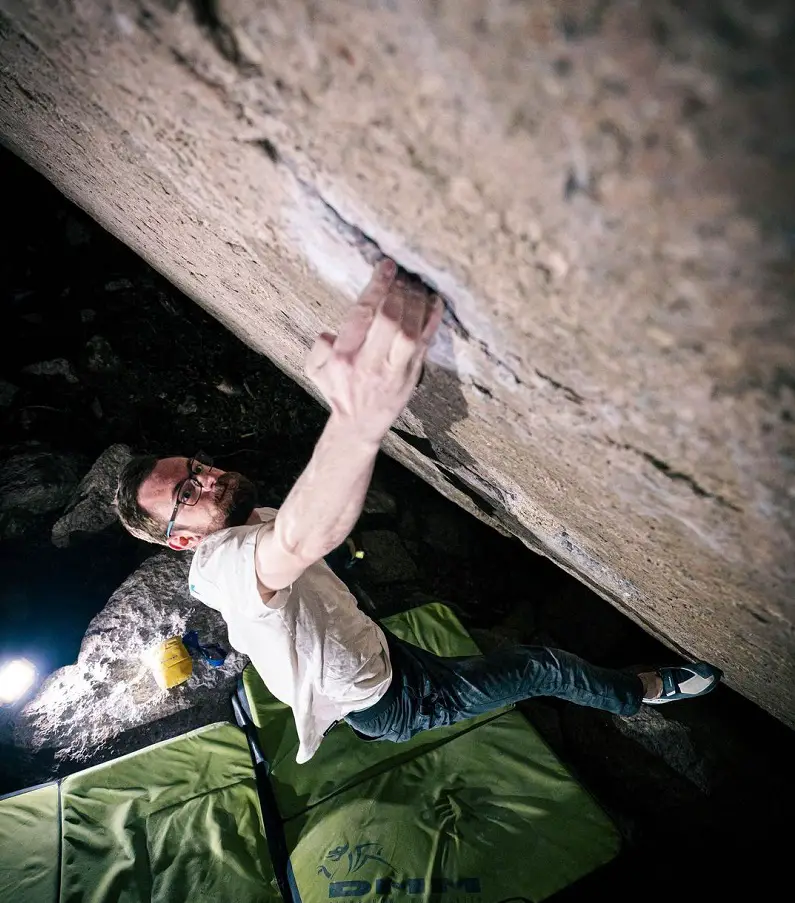 If you follow Will Bosi on Instagram you are likely enamored by his virtuosity and well-roundedness. While also holding the position of one of the world's top sport climbers, having climbed seven routes 9a+/5.15a or harder, Bosi has been on a bouldering rampage the past couple of years.
His 2022 send of Alphane V17 (third ascent) is only the tip of the iceberg. He also made the first ascent of Honey Badger V16 (which he claimed felt harder than Alphane), repeated Ephyra V16, and climbed ten V15 boulders.
His recent (April 2023) and most epic achievement is the first repeat of Nalle Hukkataival's Burden of Dreams in Finland. Not having seen anyone else send this line since Nalle in 2016, Bosi spent 10 days out of the 24 working on a 3D printed replica in the gym before going out and trying it Lappnor.
Nalle Hukkataival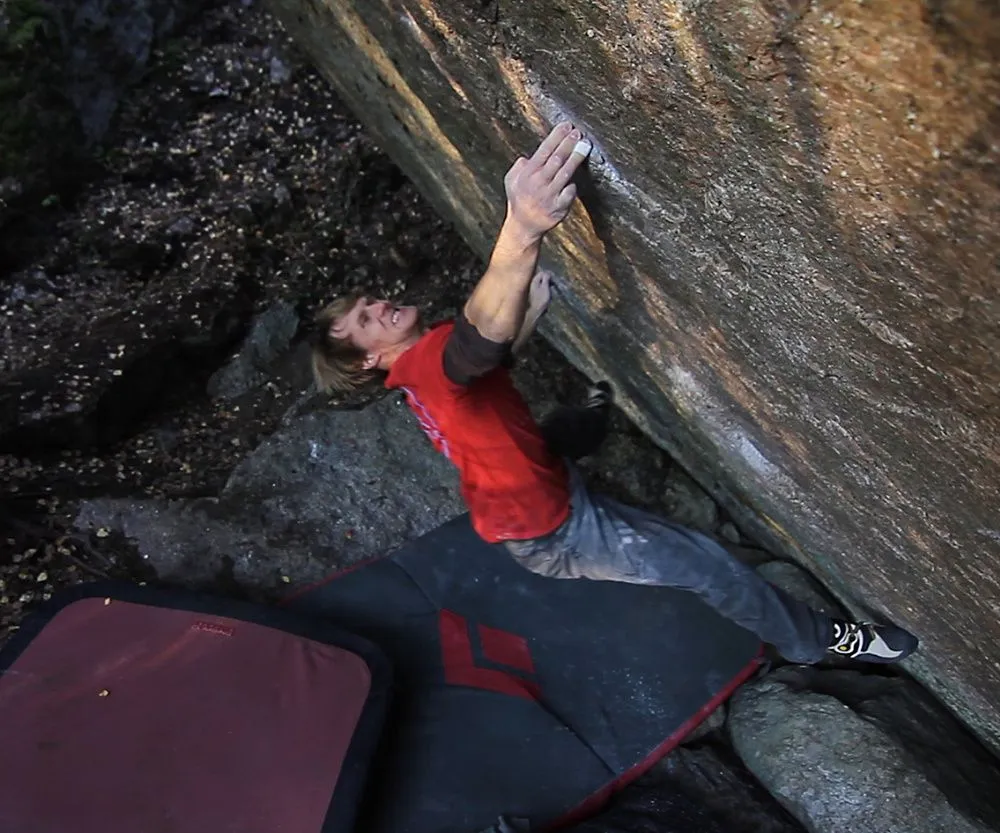 Nalle Hukkataival has made a number of groundbreaking ascents but his most impressive of all is his FA of Burden of Dreams (V17) in 2016, which was and still is considered the hardest boulder problem in the world. He has also climbed several other V15 and V16 problems across the globe and established various highballs in the Rocklands, South Africa. This puts him in a league of his own in the sport.
Although we haven't seen or heard from Nalle in a while (perhaps he's working on his next big V18 project), his achievements, dedication to the sport, and influence in the climbing world are sure to be felt for many years to come.
Jimmy Webb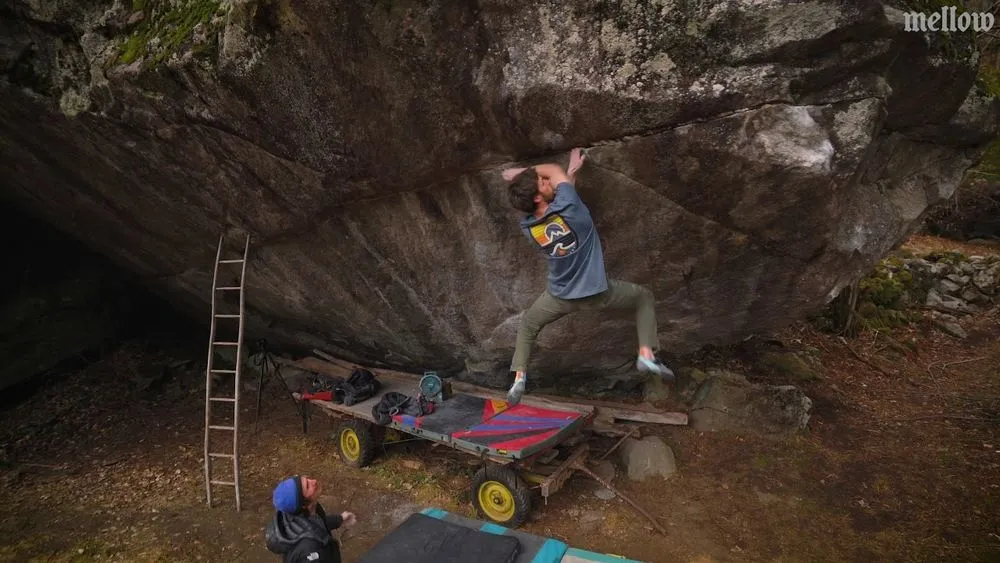 Jimmy Webb is in a class of his own. Webb is a part of the exclusive club of climbers who have conquered the boulder grade V16, but he has also climbed almost 40 boulders graded V15 and higher, coming in second to Daniel Woods as one of the most accomplished boulderers currently out there.
In 2018, after an intense 11-day challenge, Webb accomplished the first ascent of Sleepwalker, a V16 grade problem Red Rocks. This feat, confirmed by fellow climber Daniel Woods, was his second V16, following the Creature from the Black Lagoon in Rocky Mountain National Park. A few months later, he added yet another V16, Ephyra, in Chironico to his tally.
Webb's ability to flash six boulder problems graded V13 or higher led Dead Point Magazine to label him the world's best flash boulderer. Yet, despite his impressive achievements, he maintains a down-to-earth approach to his craft. Who knows what's next on his climbing checklist?
Simon Lorenzi
Simon Lorenzi made his big break into the public spotlight by establishing Soudain Seul, a proposed V17 in Fountainbleu, France that adds a sit start to the notorious Big Island V15. This problem involves steep, sustained compression on terrible slopers.
Interestingly, a key piece of beta for both Lorenzi and subsequent ascents has been a book tucked under a kneepad to widen the kneebar. While people were busy worrying whether it warranted the V17 grade and the ethics of "literary kneebars", Lorenzi was out putting down more hard blocks.
2022 was a particularly successful year for the Belgian climber. Most notably, he made the fourth ascent of Alphane, making him the second climber to send two proposed V17s. On top of this, Lorenzi established Big Conviction V16 and made repeats of La Révolutionnaire V16, Practice of the Wild V15, Foundation's Edge V15, and Everything the Light Touches V15.
Aidan Roberts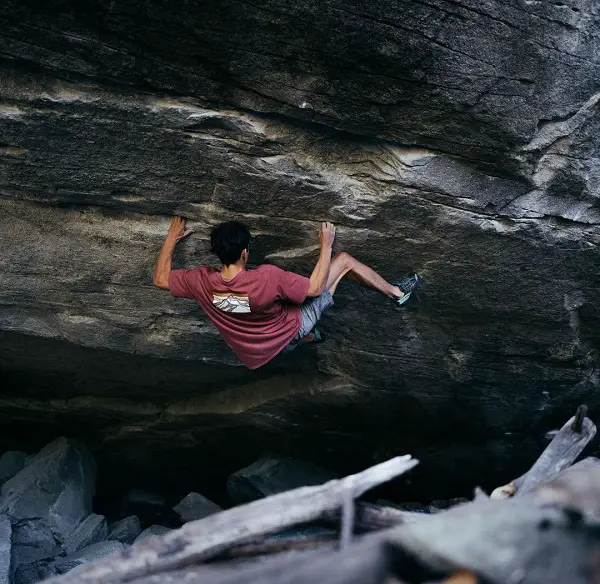 Aidan Roberts has made his way into the forefront of the worldwide bouldering scene in the past couple of years. Most notoriously, he is responsible for making the second ascent of Alphane V17. He is by no means a "one-hit wonder" though. In 2022 and early 2023, he also climbed two V16s, making the first ascents of Vecchio Leone SDS and Isle of Wonders SDS, five V15s, four V14s, and numerous easier problems.
Roberts is well known for his distinctive style of climbing, described by Ollie Torr (his coach) as vacuum climbing. Basically, he sucks his whole body in super close to the wall and climbs extremely controlled and statically. He is also known for his specialty of high-angle-crimping, where the fingers tuck all the way up and over incut crimps in a claw shape.
Drew Ruana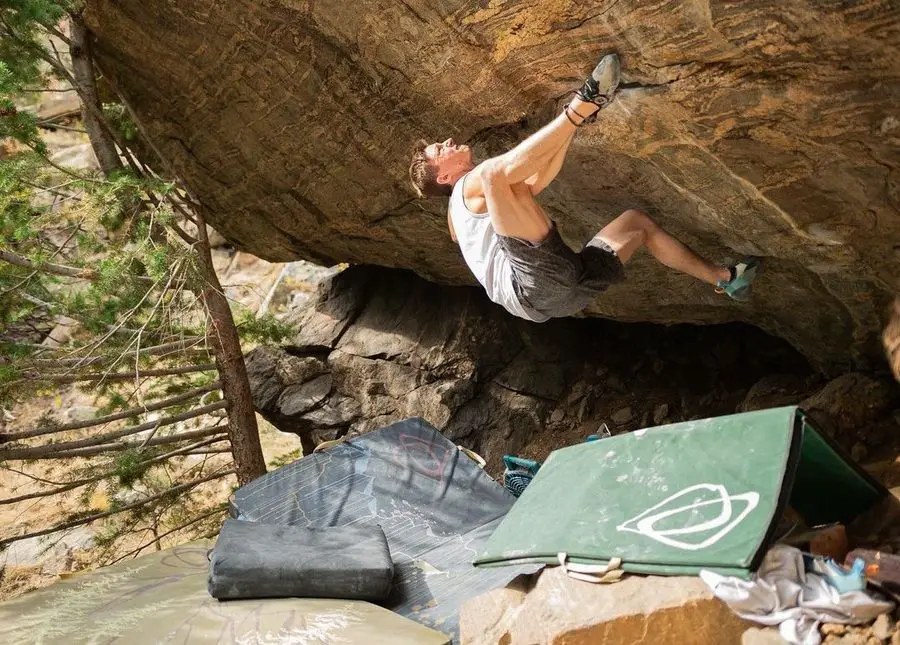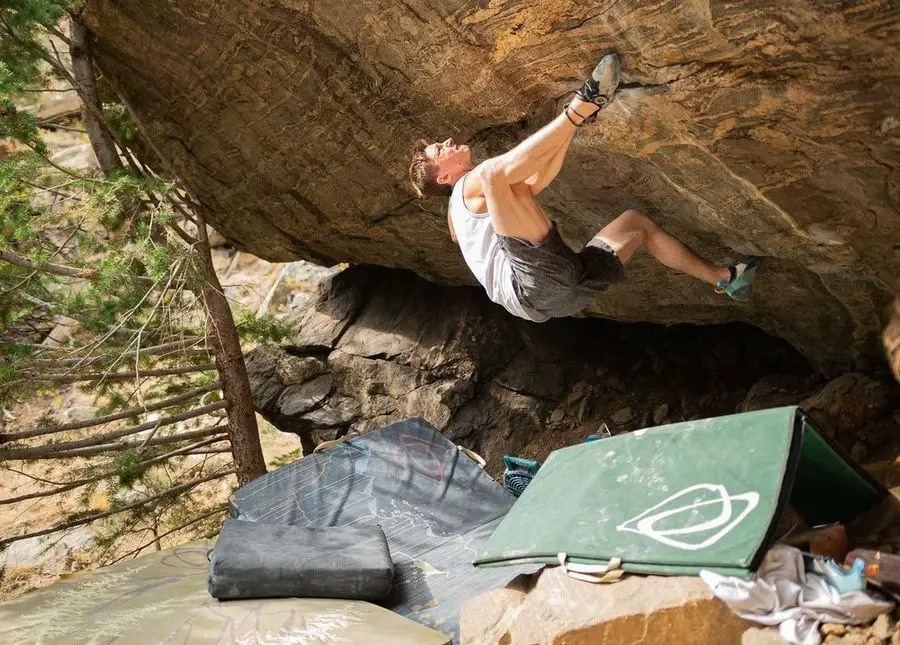 Although Drew Ruana has not yet climbed a V17, he is definitely a top contender to soon take one down. The frequency and consistency with which he climbs double-digit boulders is insane. It seems as though every weekend he takes down a new V14, V15, or V16. At the young age of 23, he has already climbed 100+ boulders V14 and harder. I would happily retire after climbing just one!
In the past year, Ruana has made the first ascents of Maxwell's Demon Sit V16 (after FA'ing the V14 stand in October) and Bookkeeping V16, as well as two V14s, two V15s, and numerous repeats of similarly graded boulders mostly concentrated in Colorado, where he attends school at Colorado School of the Mines. Ruana is clearly just getting started and with ambitions of V17 and even V18 boulders, it will be interesting to see what he accomplishes in the coming years.
Charles Albert (aka Barefoot Charles)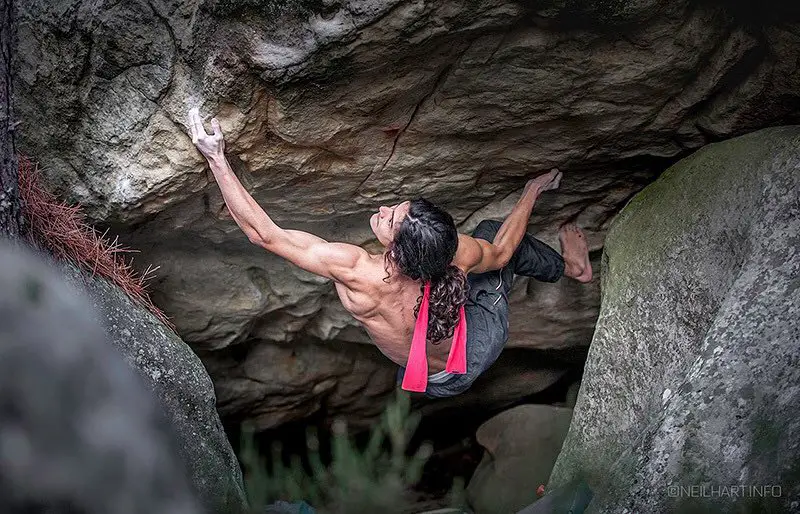 I could not write this list without mentioning Barefoot Charles. Not only is he an amazing climber, but his freespiritness and humble soul is really inspiring. He spends the majority of his time climbing in and amongst the boulders of Fontainebleau, France and lives in a cave. His sole focus is to climb and climb hard.
Climbs we would struggle with wearing shoes, Charles can do it barefoot. And he doesn't just scramble up boulders barefoot. Charles has sent some of the worlds hardest boulders with nothing but the chalk on his fingers. He has bagged three V16 and four V15 barefoot.
His biggest achievement yet is his ascent of No Kpote Only. Charles proposed a grade of V17, but has since then been suggested to be more like a V15.
Adam Ondra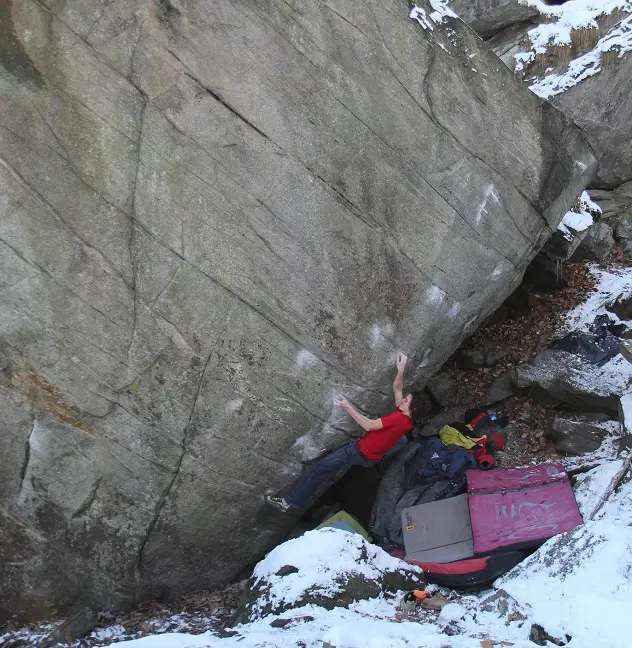 Adam Ondra is known for a lot of things; his competition climbing, establishing and ascending the first ever 9c in the world, climbing the Dawn Wall in 8 days, his screams on the wall, his strange warmup routines, and his pure love and dedication for the sport.
Another thing he is pretty well known for is his bouldering skills. Although we are used to seeing Ondra on the big walls, he has sent some pretty impressive boulder problems too. He made the first ascent of Terranova, a V16 in his hometown of Brno as well as the first repeat of Gioia V16 in Italy, two of the most difficult boulders in the world, before we entered the realm of V17.
Dai Koyamada
While not as widely recognized in the Western hemisphere, the impact of Dai Koyamada on the bouldering sphere is unparalleled, carving out an illustrious legacy over more than two decades. Among the luminaries in this domain, Koyamada has successfully tackled almost 30 routes with a difficulty level of V15 or higher.
His pioneering ascents on renowned problems such as Nayuta V16, The Story of Two Worlds Low Start V16 and The Wheel of Life V15, further cements his position as a bouldering luminary.
At almost 50 years old, Koyamada's climbing prowess remains intact. In 2017 he made the first ascent of Nayuta V16 – such a demanding grade for his early 40s. This sure serves as a testament to his unyielding strength and grit, rivaling that of climbers much younger. Dai Koyamada continues to stand as a veritable colossus within the bouldering community, and his position on this list is indisputably well-earned.
Fred Nicole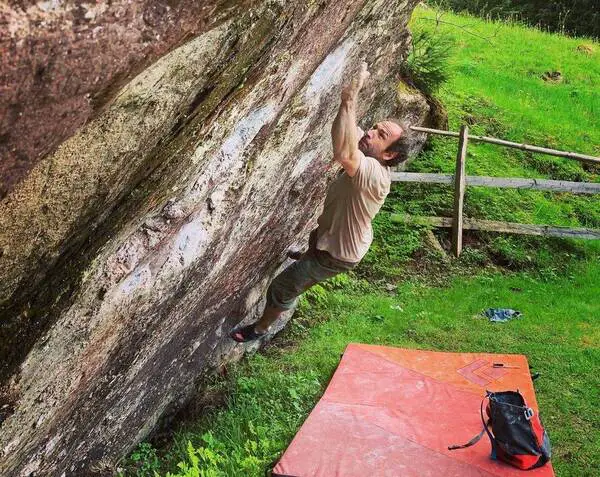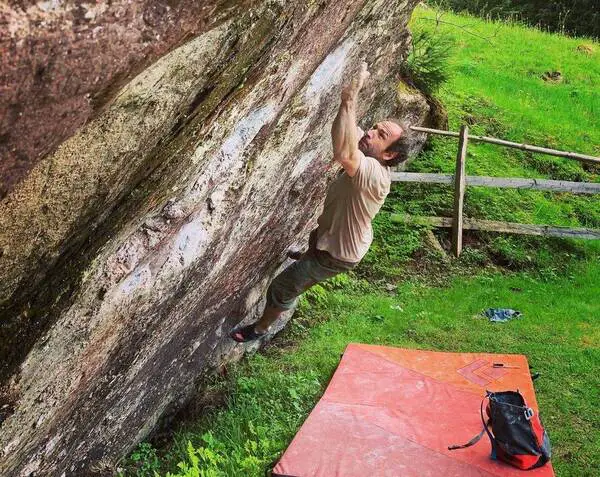 We can't finish this list without mentioning the OG boulderer, Fred Nicole. In a world where Adam Ondra, Shawn Raboutou, and Nalle Hukkataival are breaking the V16/V17 barriers, it's easy to forget the legends that came before them.
This isn't a story about cutting-edge bouldering, but a story of breaking barriers. Fred Nicole made the first-ever ascent of a V13 and later the first V14. In October 2000, Nicole toped Dreamtime and awarded it the first-ever V15. Although the elusive grade became a topic of debate, with Adam Ondra, Dave Graham and Paul Robinson downgrading it to a V14, that still put him in the realm of the top boulderers of his time.
Crushing hard didn't just stop there for Fred. He is one of three people to have made an ascent of Witness the Fitness (V15) and at the age of 45, in 2015, he made the first ascent of Azak (V15). A true legend.
To find out more about Fred Nicole, take a look here.
Best Female Boulderers
Now for the lady-crushers. The gender gap in climbing gets smaller every year. At the elite level, it is a margin of just ONE grade. It is an interesting question of whether this will close completely in the coming years. The women on this list are definitely moving quickly in that direction! Let's kick it off with the best female boulderers in the world. 
Katie Lamb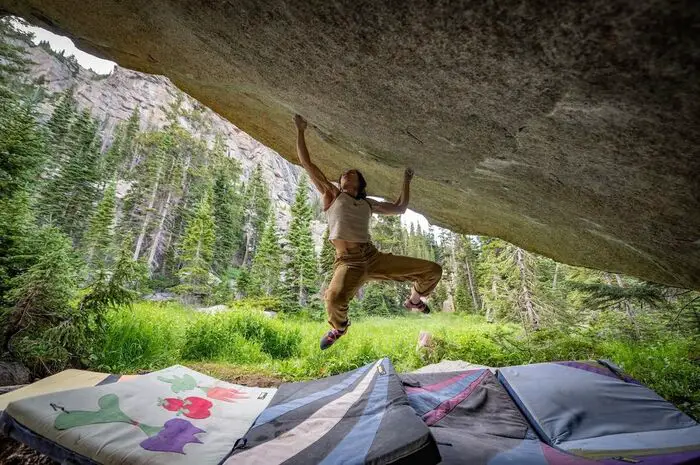 2023 UPDATE: Katie Lamb made history in September 2023 by becoming the first woman to climb a V16 boulder. She skipped the V15 grade and went straight to Daniel Wood's 'Box Therapy' located in the Rocky Mountains. What an incredible acheivement.
Growing up in the Boston Rock Gym, Katie Lamb has been crushing from a young age. However, in the past couple of years, she has been able to transition to a lifestyle of climbing outside full time, which has lent itself to an incredible tick list of hard boulders.
In the past couple of years, she's broken into an extremely high level of bouldering, having climbed six V14s. The most recent of these is the infamous test piece Spectre in Bishop, California which she referred to as her proudest ascent to date, as it contained the hardest single move she's ever done. This is on top of seven V13s and eleven V12s, just in the past two years.
Ashima Shiraishi
At such a young age, Ashima had already established herself as one of the best female boulderers in the world. At just 10 years old, Ashima climbed a V13. A few years later, aged 14 she became the first female and youngest person at the time to climb a V15 (Horizon). A few months later, she climbed her second V15 in Australia.
As well as her two V15s, she has climbed four V14s, eleven V13s and a number of V10-V12s. I'm excited to see what else Ashima will achieve in the bouldering world!
Mishka Ishi
Although you don't hear much about what Mishka is up to these days, she definitely deserves a spot on this list and you'll see why. If you thought Ashima sending a V15 at the age of 14 was impressive (which still is by the way!), Mishka did her first V15 at the age of 13. She sent Byaku-Dou in Japan in 2019 and is now the youngest person to climb a V15.
I swear the grades are getting harder and the crushers and getting even younger and younger!
Oriane Bertone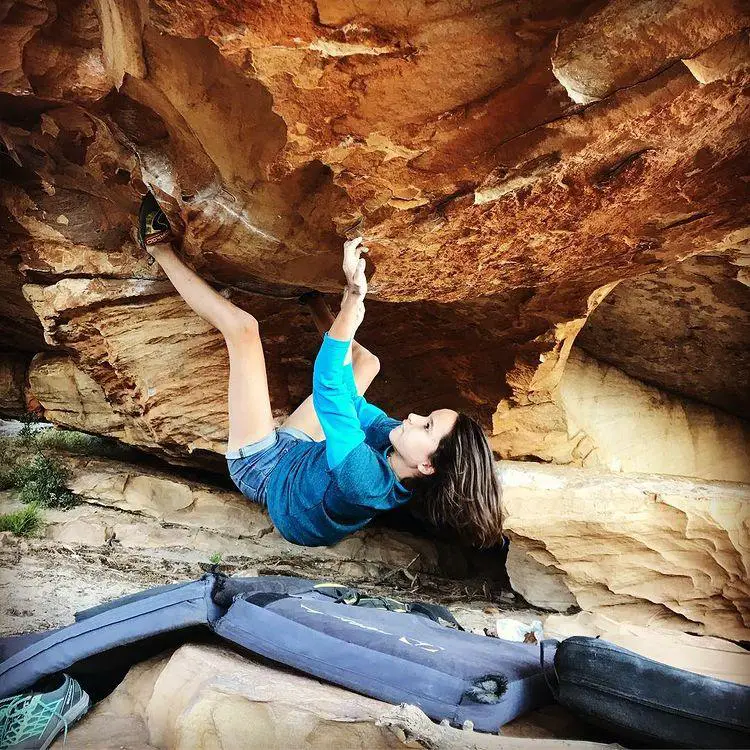 Emerging as a trailblazer in the competitive world of bouldering, French climber Oriane Bertone has made quite a mark at a remarkably young age. At just 15 years old, Bertone completed a first ascent of the bouldering problem 'Satán I Helvete low start', a V15 in France's Réunion Island, underscoring her extraordinary talent and tenacity.
Bertone's achievement not only places her amongst the ranks of some of the world's most exceptional climbers but also makes her one of the youngest individuals to ever ascend a V15 problem. Oriane Bertone is undoubtedly a rising star to watch in the bouldering landscape.
Kaddie Lehman
You might not know who Kaddie is, but you're about to find out. In 2018, she cemented her status in climbing history by becoming the first woman to successfully ascend the formidable 'Kryptos', a V15 boulder in Morchelstock, Switzerland.
Lehmann's became the second woman after Ashima to achieve such an incredible feat of climbing a V15 boulder.
Brooke Raboutou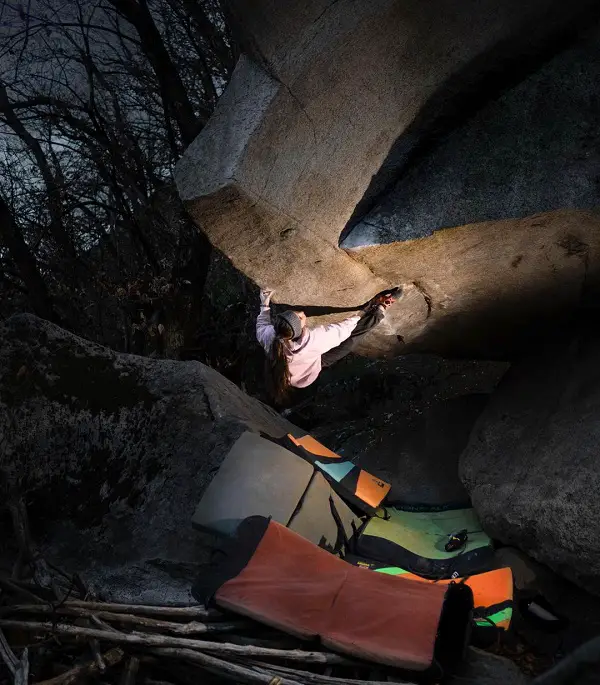 If you think Shawn Raboutou is a great boulderer, wait until you see his younger sister, Brooke. Not only is Brooke Raboutou an Olympic athlete, but she is also one of the strongest female climbers right now, on real and artificial walls.
Aside from ticking off some hard sport climbing routes, she has a pretty impressive bouldering repertoire. At the age of 9 she climbed a V10 and at the age of 10 she sent a V11. She is also a very strong comp climber, stepping up on over 20 podiums.
But that's not it. She has managed to bag four V14 with Muscle Car being the first in 2020. More recently, she sent Lur in Ticino, Switzerland.
Brooke is clearly hungry for more after attempting Box Therapy (V16), and according to Shawn, she nearly sent it in just one session.
Michaela Kiersch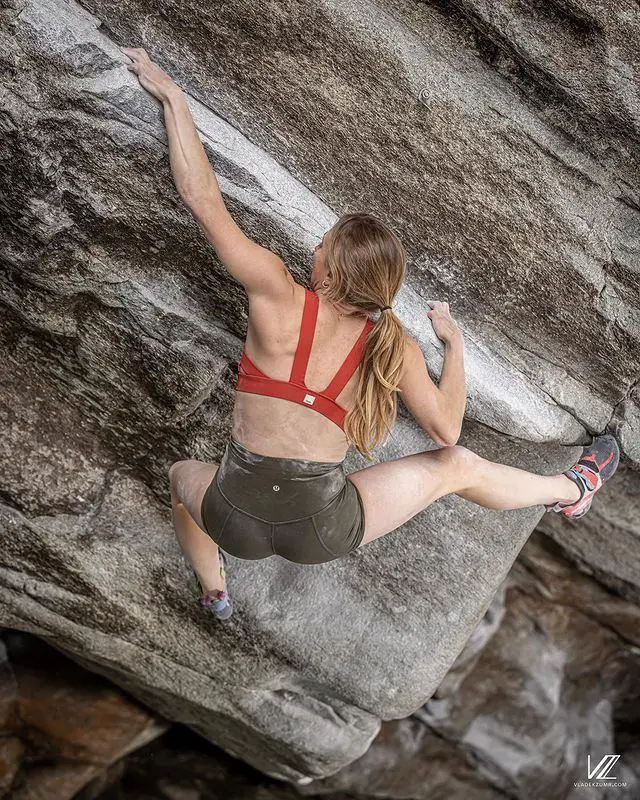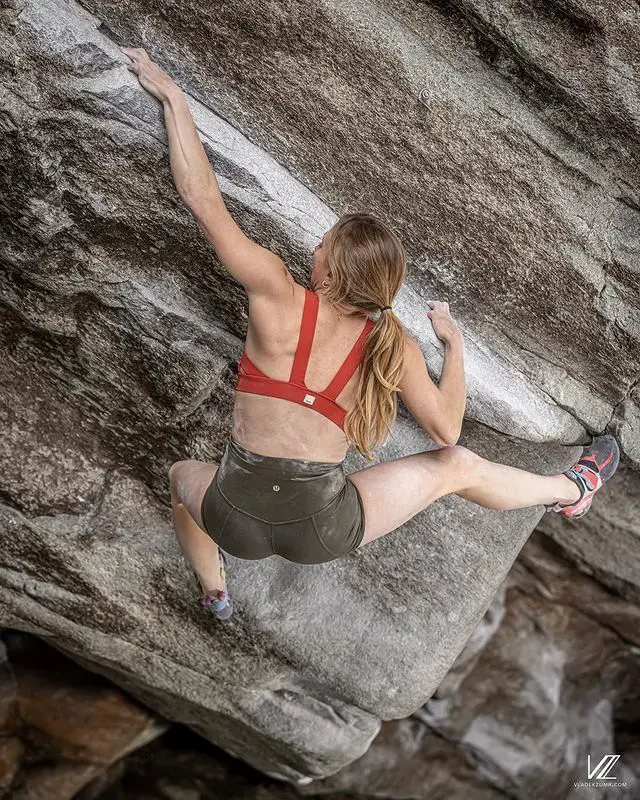 It seems as though every time Michaela Kiersch goes on a trip, it becomes a sending rampage. Most recently she made headlines for sending La Rambla 5.15a, but she has also had a jaw-dropping year of bouldering.
In a recent February trip to Switzerland, Kiersch sent two V12s, six V11s, and several easier boulders in just a couple of weeks. However, this wasn't even her most impressive bouldering trip from the past year.
She had another longer Switzerland trip to Magic Wood earlier in 2022 where she ticked off two V14s, three V13s, five V12s, four V11s, and two V10s. This was after sending her first V14, Hailstorm, in March of 2022. Oh, and she also got her doctorate if you didn't already feel lazy from reading this.
Alex Puccio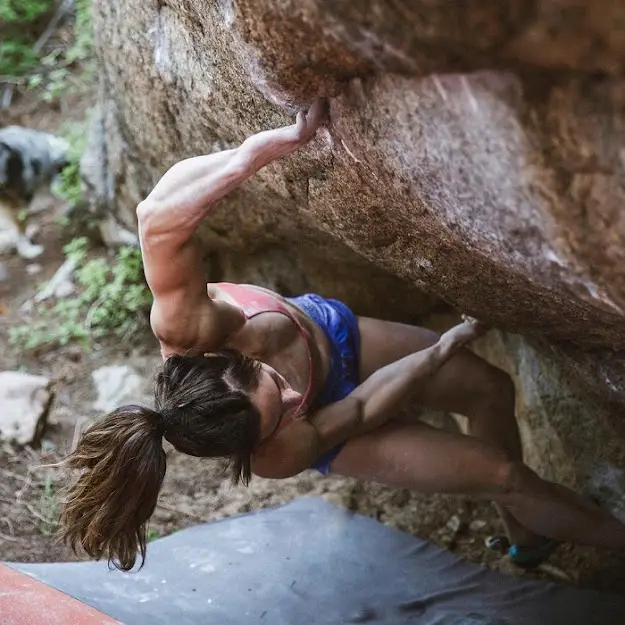 Alex Puccio is an absolute powerhouse in the world of bouldering. She won the National Championships eleven times and stepped on the World Cup podium six times, winning gold in 2009 and 2018.
Off the artificial wall, she has made some very notable ascents. She has bagged eight V14s (8B+) and was the first female to climb Jade. Alex also has 18 V13s (8B) under her belt as well as over 20 ascents of V12. She continues to climb hard and helps others climb harder with her fitness course. Alex is seriously one of the most accomplished female boulderers of all time.
Shauna Coxsey
Shauna Coxsey is Britain's most accomplished climber and although she is more of a gym aficionado; her outdoor climbing achievements are equally as impressive. She etched her name into climbing history in 2014, becoming only the third woman to conquer a V14 (8B+), New Baseline located in Switzerland.
Furthermore, she has a plethora of V13 boulders to her credit. Her passion extends beyond the climbing gym to the great outdoors. With frequent excursions across the UK, Shauna continuously seeks out challenging boulders to conquer. A familiar face in Fontainebleau, she's deeply committed to exploring the beauty and the challenges of nature's climbing arenas.
Allison Vest
While Canadian crusher Allison Vest is perhaps most renowned for her competitive climbing accomplishments, she is also a talented outdoor climber with some extraordinary ascents under her belt.
In 2022 she joined the upper echelon of female boulderers with her send of Show Your Scars V14. She climbed three V13s and four V12s this past year. This is especially impressive considering she's balancing outdoor bouldering with competitive boulder and lead climbing.
Will You Make The List Of The Best Boulderers?
Probably not, but we can dream, right?
The standard for bouldering athletes is getting higher and higher and a smaller group of people are keeping up. Those who are though, clearly shine as the best of the best. On top of these climbers, the next generation is slowly emerging and will surely push standards even further.
To pick the very best from each list is a difficult and somewhat subjective call. Each one of them have left their own mark and legacy. From Fred Nicole introducing us to the world or hard boulders, to Ashima being one of the youngest to climb a V15 and Nalle being the first person to ever climb a V17.
One thing's for sure, they have all inspired us to crush harder!
Best Boulderers in the World FAQs