Climbing History
Las Vegas local Joe Herbst found the climbing potential of Red Rocks relatively late in the Golden Age of American rock sports, around 1970, after honing his skills in the granite playgrounds of Yosemite. Inspired by his mentor, Doug Robinson, Herbst championed clean climbing, which refrains from causing permanent damage to rock formations.
Between 1970 and 1975, Herbst pioneered many first ascents, both aid and free. Notably, he and Larry Hamilton completed the first ascent of the Rainbow Wall, now known as The Original Route, and the Velvet Wall in Black Velvet Canyon. In 1975, they conquered the Aeolian Wall on Mt. Wilson. Despite these accomplishments, Red Rocks remained a hidden gem in the climbing world.
The turning point came when Hamilton detailed their Aeolian Wall climb in a 1975 article in Ascent. This spotlight attracted notable climbers like Geoff Conley, Fred Beckey, John Long, Lynn Hill, Richard Harrison, and most importantly, the Uriostes to explore the vast red canyons of Red Rocks.
Joanne and Jorge Urioste, a celebrated climbing couple, crafted countless classic routes, including Sour Mash, Dream of Wild Turkeys, and the infamous Epinephrine, named after Jorge's dramatic anaphylactic incident mid-climb. Despite their significant contributions, the Uriostes' approach to route development—emphasizing enjoyable, repeatable routes rather than perilous ascents—sparked controversy.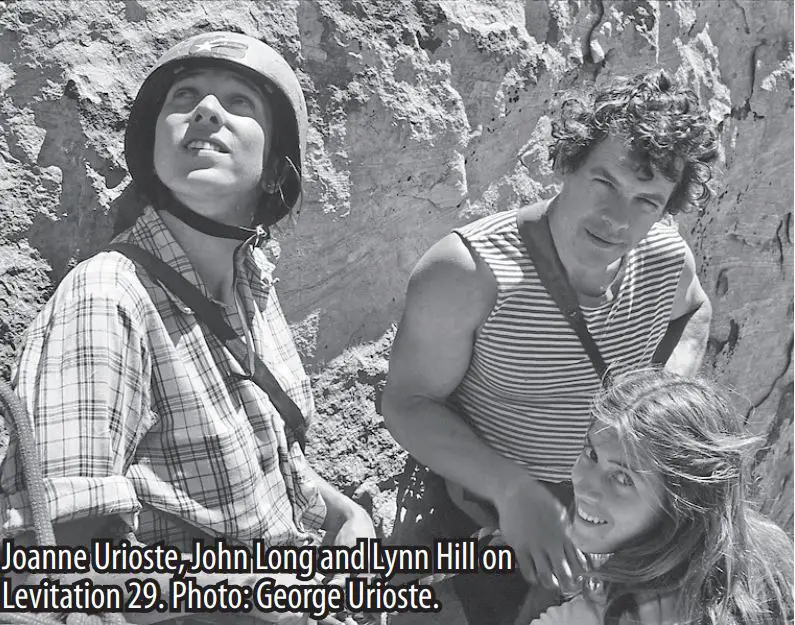 Richard Harrison, a member of the Stonemasters and a stickler for traditional climbing ethics, clashed with the Uriostes' flexible methods, which included fixed ropes and rap-bolting. This ethical dispute created deep tensions within the climbing community.
From 1975 to 1985, Red Rocks experienced a climbing boom. A pivotal moment came in the winter of 1981 when Joanne Urioste, along with John Long and Lynn Hill, achieved the first free ascent of Levitation 29, a feat that captivated ambitious climbers nationwide.
In the mid-1980s, Red Rocks expanded beyond the Spring Mountains, attracting new climbers like Mike Tupper, who favored difficult face climbing. Tupper, who embraced the European style of route development, opened unexplored territory and pushed the limits of climbing grades, sparking controversy similar to the Uriostes.
Despite the backlash, Tupper and his cohort persisted, paving the way for a new style of climbing and establishing some of the country's best sport routes at Calico Basin. Today, Red Rocks boasts thousands of trad, sport, and bouldering routes, continuing to capture the hearts of climbers everywhere. Long live Red Rocks!
Geological & Native American History
Red Rock Canyon National Conservation Area is a canvas where the brush strokes of time have painted a vivid tableau of history. This is a place where the very bones of the earth are on display, etched into the iconic red sandstone cliffs that dominate the landscape. Hundreds of millions of years have sculpted these formations, each layer telling a different chapter of the Earth's story. Unique geological features, like the Keystone Thrust Fault, whisper tales of the dynamic forces that have shaped our planet. This geological drama has set the stage for a vibrant ecosystem teeming with diverse plant and animal life.
But the story of Red Rock Canyon doesn't stop at the rocks. This land whispers tales of ancient cultures that once called it home. The Patayan, Anasazi, and Paiute people were more than mere inhabitants—they were part of the landscape, leaving their mark through intricate petroglyphs and pictographs. These ancient rock artworks are like echoes from the past, revealing stories of their lives, beliefs, and their deep bond with nature.
As we wander through this awe-inspiring landscape, we become part of its ongoing narrative. These ancient artworks and geological marvels aren't just relics of the past—they're living parts of our shared heritage. We're not just visitors in Red Rock Canyon, we're custodians of its history. Every rock, every petroglyph, every towering cliff is a chapter in the grand saga of this land, and it's our privilege and responsibility to ensure its preservation. As we explore this wonder, we are writing our own chapter in its rich history, ensuring that future generations can learn from, marvel at, and cherish this extraordinary place.
How To Get To Red Rocks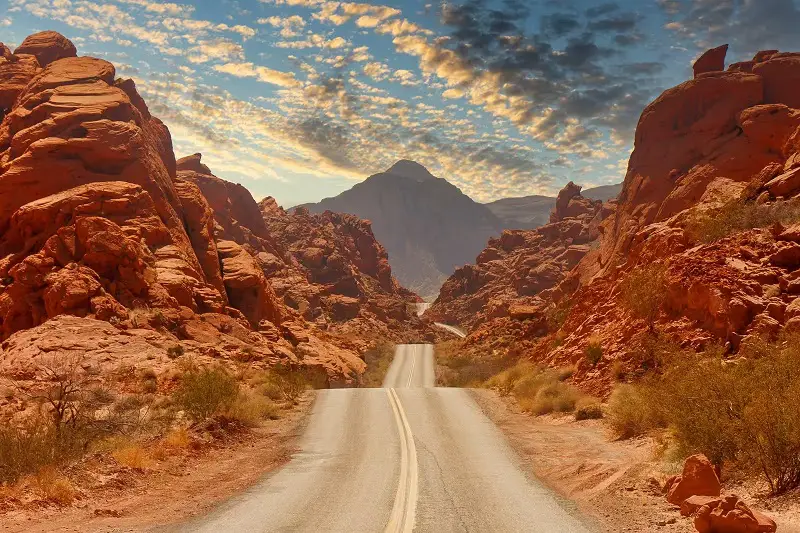 Are you ready for an adventure? Here's your compass pointing towards the Red Rocks Canyon National Park, a gem of the Mojave Desert, from various starting points. Each route is a journey in itself, promising scenic drives and an appetizer of natural beauty before the main course at Red Rocks!
From Las Vegas Strip
Driving from the neon dazzle of the Las Vegas Strip to the stunning natural wonder of Red Rocks Canyon is an unforgettable contrast. Simply head west on Charleston Boulevard (Highway 159) for about 17 miles, and you'll find yourself at the doorstep of the park. This route is a window into the heart of Nevada, shifting from cityscapes to enchanting desert in less than half an hour!
From Downtown Las Vegas
A slightly different route from downtown Las Vegas begins with a drive north on Main Street. Turn right onto Bonneville Avenue, then left onto Grand Central Parkway. Merge onto US-95 N via the ramp to Reno, then take exit 81A for Summerlin Parkway W. Continue onto Clark County 215 W, and take the exit towards Charleston Blvd/Red Rock Canyon. Turn right onto W Charleston Blvd, and voila! You're there.
From Los Angeles, California
If you're starting your journey from Los Angeles, be prepared for a scenic road trip across state lines! Follow I-10 E and I-15 N to NV-160 W/Blue Diamond Rd in Clark County. Exit from I-15 N and continue on NV-160 W. Take a right onto NV-159 W/Blue Diamond Rd towards Red Rock Canyon. This route is a feast for the eyes with its diverse landscapes, from the sandy shores of the Pacific to the arid beauty of the Mojave.
From Phoenix, Arizona
Traveling from the heart of the Sonoran Desert in Phoenix to the Mojave's Red Rocks Canyon is a journey through geological time. Head west on I-10, then north on US-93, before merging onto I-11. Continue onto US-95 N until you reach the Summerlin Parkway W exit in Las Vegas. Continue onto Clark County 215 W, and take the exit towards Charleston Blvd/Red Rock Canyon. Turn right onto W Charleston Blvd, and you've arrived!
From Salt Lake City, Utah
Embark on an adventure from the snowy peaks of Salt Lake City to the fiery rocks of the Mojave. Travel south on I-15, soaking in Utah's dramatic landscapes before crossing into the Silver State. Take exit 42 to merge onto US-95 S towards Las Vegas. Use the right two lanes to take exit 81A for Summerlin Parkway W. Continue onto Clark County 215 W, and take the exit towards Charleston Blvd/Red Rock Canyon. Turn right onto W Charleston Blvd, and you're at Red Rocks!
By Air
If you are coming cross-state or internationally, the nearest airport is the Harry Reid International Airport. From there, you can rent a car and drive to Red Rocks.
Public Transport
While there isn't a dedicated public transportation system from Las Vegas to Red Rock Canyon, there are alternative methods of reaching the park. For those without personal vehicles, taxi services or ride-sharing platforms like Uber or Lyft can be used. However, there are some factors to keep in mind. Given that there's no reliable cell service in the area, it's crucial to plan your transportation carefully. You may have to walk a mile just to reach the first trailhead and arranging a ride back could be challenging due to the lack of cell signal. You can also expect to pay a fee for entering the Scenic Drive, whether by taxi, rideshare, or walking in.
Climbers Beware: The scenic loop is a one-way road; if you miss your pull-out, you have to drive the loop all over again.
Camping At Red Rocks & Places To Stay
If you're planning a climbing trip to Red Rocks Canyon National Park, you're in for a treat! Not only will you be spending your days challenging yourself on world-class routes, but you can also spend your nights under the starry desert sky. Here's your guide to the best camping spots:
Red Rock Canyon Campground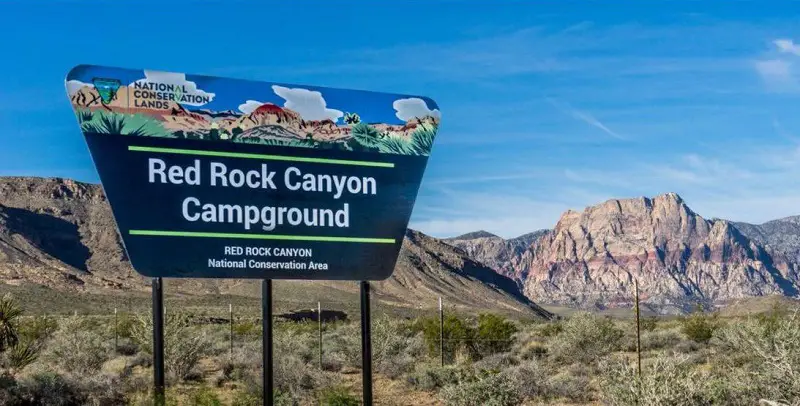 Tucked away amidst the mesmerizing landscapes of the park, Red Rock Canyon Campground is a haven for campers seeking a blend of comfort and wilderness. This extensive campground showcases 72 individual campsites, each thoughtfully outfitted with a picnic table, grill, and fire ring. This setup encourages communal eating and interaction, transforming a regular camping trip into a memorable social experience.
In this enchanting space, you have the opportunity to establish your cozy tent against the backdrop of the towering red cliffs. These natural wonders, striking in their color and grandeur, craft a breathtaking panorama that you can take in right from your camping spot. The awe-inspiring views extend beyond daylight hours, with the clear, starlit skies creating a celestial spectacle at night that is truly unforgettable.
After an invigorating day of climbing, there's nothing quite like the soothing aura of the Red Rock Canyon Campground. As you rest and recuperate, the rhythm of nature and the grandeur of your surroundings provide the perfect backdrop to unwind and relish the moment.
This camping haven adheres to a seasonal operation schedule. It opens its gates to campers from September through May. This timing coincides with the most pleasant weather conditions in the area, ensuring a comfortable and enjoyable camping experience. So, plan your climbing adventures and camping experience accordingly to make the most of what Red Rock Canyon Campground has to offer.
RV Camping
For those who cherish the conveniences of home while venturing into the wild, the Red Rock Canyon Campground has an accommodating solution. Alongside its traditional camping provisions, the campground houses 14 dedicated sites specifically tailored for recreational vehicles (RVs). These sites, while not equipped with utility hookups, offer a spacious setting for your mobile home away from home.
This unique setup allows you to revel in the luxury and comfort of your RV while simultaneously immersing yourself in the rustic charms of desert camping. Imagine waking up in the familiar comfort of your RV, sipping on your preferred morning beverage, only to look out your window and be greeted by the stunning vistas of the desert landscape and majestic red cliffs. It's a harmonious blend of comfort and wilderness that truly delivers the best of both worlds.
Lovell Canyon Dispersed Campground
Nestled amidst the tranquility of nature, Lovell Canyon stands as a much-favored destination for free dispersed camping. Its popularity stems from its relative proximity to Red Rocks Canyon, making it a compelling choice for outdoor enthusiasts. Embracing a first-come-first-serve policy, the camping sites in Lovell Canyon are perceived as 'primitive,' thereby providing an authentic back-to-nature experience.
In this sprawling, serene landscape, don't expect the usual trappings of modern campgrounds. There are no amenities, such as bathrooms or water facilities, offering a chance to truly disconnect from the everyday conveniences and immerse in the wilderness experience. It's essential to come prepared with all necessary supplies, including ample water, food, and sanitation products.
Despite its rustic charm, Lovell Canyon doesn't entirely cut you off from the world. The area surprisingly boasts reliable cell service, so you can stay connected if need be. This blend of remoteness and connectivity makes it an attractive choice for modern campers who appreciate the beauty of isolation but prefer to have a safety net of connectivity.
The beauty of Lovell Canyon is not just in its natural splendor but also in the serenity it offers. The silence is punctuated only by the sounds of the wilderness, creating a tranquil atmosphere that's perfect for rest and relaxation. Whether you're an adventurous camper, a nature lover, or a landscape photographer, Lovell Canyon promises an experience that is as rewarding as it is rejuvenating.
Other Places To Stay
Hotels: If camping isn't your thing, there are plenty of hotels within a short drive of Red Rocks. For a touch of luxury, you might consider the Red Rock Casino Resort & Spa, located only a few miles from the park. The hotel features upscale rooms, a variety of dining options, a pool, a spa, and even a casino, if you're feeling lucky.
If you're looking for something a bit more budget-friendly, the Best Western Plus Las Vegas West is another excellent option. It's close to the park, offers comfortable rooms, and includes a complimentary breakfast.
Vacation Rentals: For those who prefer a home-away-from-home vibe, there are numerous vacation rentals in the area, ranging from cozy one-bedroom apartments to spacious villas with private pools. Websites like Airbnb and Vrbo offer a variety of options to suit all tastes and budgets.
Whichever option you choose, remember to book early—Red Rocks Canyon is a popular destination, and accommodations can fill up quickly, especially during the peak climbing season!
So, whether you're falling asleep in a cozy hotel bed or a sleeping bag under the stars, you're sure to find the perfect place to rest your weary muscles and dream of the next day's climbing adventures in Red Rocks Canyon.
Amenities
Las Vegas is the biggest city in Nevada. It is also America's playground. Apart from all the necessary services like grocery stores, gear shops, gyms and gas stations, there are endless opportunities for good times. You can get down from a long day in the canyons and go into town for incredible food and entertainment! Every trip should have at least one splurge day – don't be afraid to treat yourself.
That being said, if your desire is to stay away from the traffic, neon lights and insanely priced casino resorts, there is a place for everything you need right on the very edge of town. The neighborhood on the western fringe of Las Vegas is called Summerlin. As you head toward the heart of Vegas (away from Red Rocks), SR 159 becomes Charleston Blvd. There is an Albertsons right off Charleston, as well as a burger joint and pizza place, all in the same plaza. A couple blocks down is a Costco (as well as Costco gas station), and a few cafes to suit your internet needs.
Desert Rock Sports, the local's gear shop, is right off of Charleston Blvd, exactly 5 miles from the western edge of the city. Right next door is the Red Rocks Climbing Center where they sell showers for $5.00 a pop. Almost directly across the street is an REI.
Where To Rent Gear
Renting climbing gear at Red Rocks can be a bit complex. You're able to rent some items, such as crash pads, chalk bags, chalk buckets, and climbing helmets, from local establishments like the University of Nevada, Las Vegas. The pricing for these items usually ranges from $5 to $17 on the first day, with slightly lower prices for additional days.
However, it's important to note that more specialized climbing gear, such as ropes and racks, aren't typically available for rent. These are critical items for climbing, so if you're planning a trip to Red Rocks and don't want to buy the gear, you'll need to arrive prepared with your own equipment.
If you don't own the necessary gear and buying isn't an option, consider looking into guide services that provide gear for their clients, or see if you can borrow gear from friends or fellow climbers. Always ensure that any gear you borrow or rent is thoroughly inspected for safety.
Best Time To Climb In Red Rocks
Red Rocks sits in a high-altitude desert landscape. Climbing here in the summer is unwise, to put it mildly. Temperatures can creep right up to 100 degrees Fahrenheit, and if you happen to be caught by the sun while on route, you will get roasted. Summertime visitors who have rock on the brain would do well to save their climbing activities until after the sun has set. Sadly, this limits the playing field somewhat to sport climbing and bouldering, but of that Red Rocks has plenty!
Conditions are best on either side of winter. From late February to mid-April in the spring and mid-October to mid-December in the fall. Winter conditions will often be kind enough for people to be climbing through December and January! Still, the winter is when this region gets the majority of its rain and snowfall. Plan accordingly.
Wet Rock – A Climber's Enemy
Red Rocks is comprised of Aztec sandstone and is extremely vulnerable to the elements. Sandstone is porous and absorbs water very easily. Additionally, it takes much longer to dry, especially on the shadier aspects. For this reason, climbers should observe a minimum 2-day no climbing period after it rains or snows; longer if your desired route is in the shade.
Following a precipitation event, the rock is easily damaged. Holds and features WILL break if climbers attempt to get on a route before it has dried off. The character of many climbs has been irreparably changed because they were attempted too soon after it had rained. Please exercise good judgement and stay away until the danger to the rock has passed.
Crags
Red Rocks is known the world over for its long multi-pitch routes, as well as for a high concentration of world-class sport climbing and bouldering. This place has it all, and just about anyone who travels here will find something to their liking.
However, R.R is also notorious for its long, sometimes brutal approaches and occasionally difficult descents. Even in the Calico Hills, a small but complicated labyrinth of stone, finding your way to the crag is easier said than done. Finding your way out of these canyons can be just as difficult.
Black Velvet Canyon
Drive 4.7 miles west of the 159/160 junction. On the right side of the road is a late-night trailhead. On the east end of the lot is a dirt road. Drive for 2 miles on this road to the Black Velvet Canyon Parking. Be careful with low clearance vehicles! It's easy to bottom out.
This is by far my favorite area in R.R. Some of the best multi-pitch climbs in R.R. are on Black Velvet Wall and the various buttresses of Whiskey Peak.
Most of the moderates in this area are on The Rad Cliff, Lazy Buttress and Frogland Buttress, to the left as you enter the canyon. These three walls feature dozens of 5.5-5.9 routes which seldom exceed 4 pitches. Make sure to get on Frogland (5.8) or Bourbon Street (5.8+).
Ixtlan Buttress, Wholesome Fullback Buttress and Black Velvet Wall are positively stacked with high quality, bang for your buck, super-mega-ultra-classic routes! Ixtlan (5.11c), Triassic Sands (5.10b), The Delicate Sound of Thunder (5.11b), Our Father (5.10d), Geriatrics (5.12c), Dream of Wild Turkeys (5.10c), Sour Mash (5.10a), Velveeta (5.11d), etc. Over on the right side of the wall is one of Red Rocks prize routes: Epinephrine, 5.9, 13 pitches.
Mount Wilson
Mount Wilson is the highest peak in the Springs range. Its eastern and northern aspects feature huge walls with routes than can sometimes be as long as 20 pitches! Definitely a location for any lover of Yosemite big walls. Many of these routes are long and difficult; only the extremely competent parties should attempt them.
Dogma (5.11c), Resolution Arete (5.11d or 5.10c, C1), and Inti Watana (5.10c) are a few of the classics Wilson has to offer.
Juniper Canyon
While Mt. Wilson may be the tallest peak in the Springs range, Rainbow Mountain is the pride and joy of R.R.
Ginger Buttress
This buttress has a mixture of some of the best multi-pitch trad and sport climbing in the area. Power Failure and Unimpeachable Groping (both 5.10b) are purely bolted multi-pitch routes on the left side of the buttress. Ginger Cracks (5.9), on the right side, is an amazing adventure route which tops out the buttress. It is possible to leave this route at the belay for pitch 6 and, instead, climb Blade Runner (5.10b), which ascends a striking arete; a fantastic and straightforward linkup, in my opinion.
Crimson Crysalis (5.8+) is just next to Ginger Buttress in The Wall of Cracks area. This is another popular route, so either get an alpine start or be prepared to wait in line.
Rainbow Wall
This is the beautiful, imposing wall on Rainbow Mountain. It features some of the longest, most difficult and sustained routes in R.R. If there is only room for one route on your Rainbow Wall checklist, hit The Original Route (5.12a). Again, approach all of these routes with caution and humility. They were originally climbed over multiple days.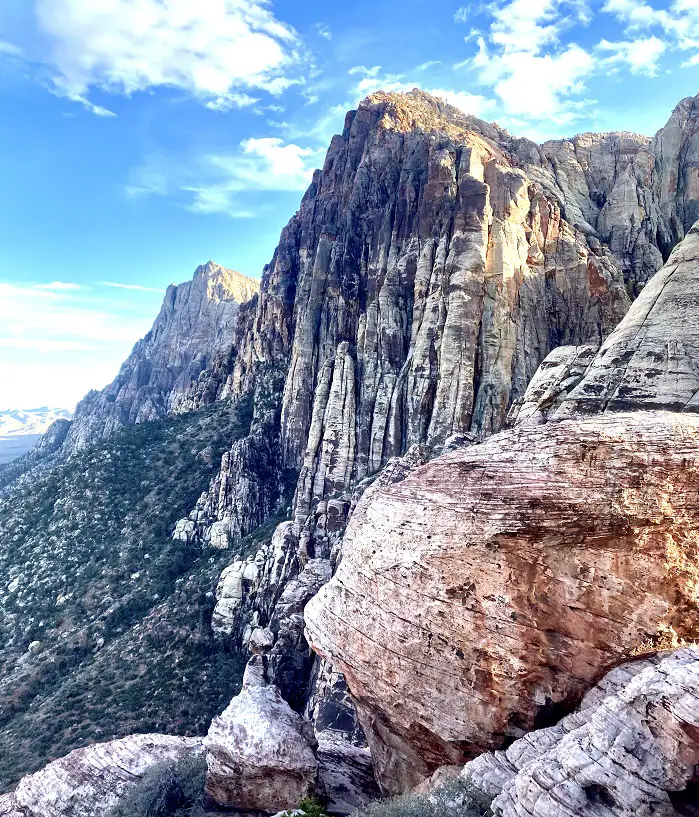 Brownstone Wall
This wall is at the very back of Juniper canyon, but it is well worth it, especially for Black Dagger (5.8+), which has been called one of the best and least crowded routes of its grade in R.R.
For more moderate and easy-to-access routes, check out Geronimo (5.6) on Jackrabbit Buttress and Olive Oil (5.7) on Rose Tower.
Pine Creek Canyon
This canyon likely has the highest concentration of climbing outside of the Calico Hills. The pride and joy of Pine Creek Canyon is a formation called Mescalito, a large tower that sits squarely at the mouth of the canyon. Dark Shadows wall has some of the highest quality routes, each on superb rock. Dark Shadows (5.8), Risky Business (5.10c) and Excellent Adventure (5.11a) are just a few!
Calico Hills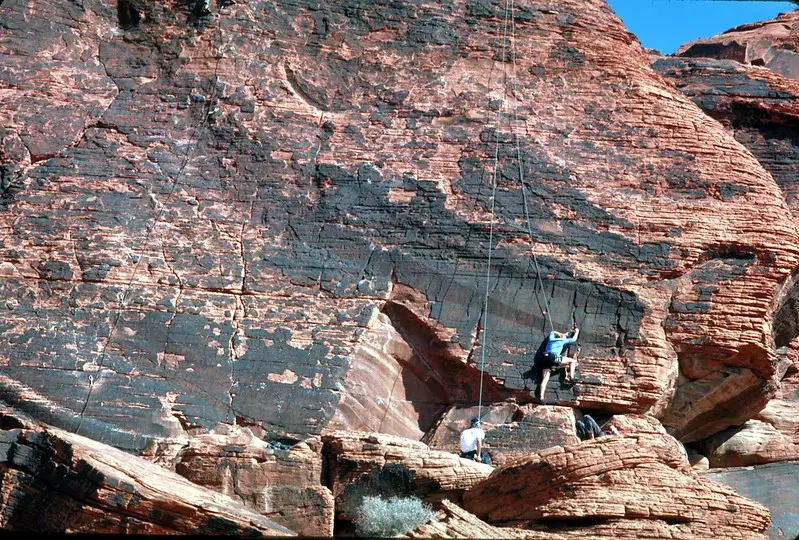 While it would be nice to cover even a fraction of what the Calico Hills have to offer, it simply is not feasible. There are three main pull-outs on the scenic loop road that are used to access this area. There is some trad climbing, but the vast majority is made up of bolted sport routes.
Honestly, there are few crags here that really stand out amidst its neighbors; each one usually has a good mixture of easy, moderate and hard routes. Carry a book (or mtn project) and you'll have no trouble filling your day with quality lines. That being said, check out Divine Comedy (5.10a) at the first pull-out, The Grind (5.11b) at the second pull-out and Agent Orange (5.12b).
Want some insider knowledge? Red Rocks is known for its soft grades, so don't be afraid to try batting above your average – the routes are safely bolted and little bravery goes a long way.
Kraft Mountain
Due to ease of access and straightforward approaches, Kraft mountain is a popular destination for boulderers. There are a million boulders on the south side of the formation, closest to the parking area. If nothing else, check out the Monkey Bar Boulder which is on the east end of the formation. There are literally almost 20 problems on this boulder, alone, covering everything from V1 to V10!
Climbing & Beyond
Red Rock is a climber's paradise, home to a vast array of routes that cater to all levels of expertise. The stunning natural beauty of the red sandstone cliffs, coupled with the peaceful desert surroundings, create an unforgettable climbing experience. Whether you're a seasoned climber or a beginner looking to conquer your first route, Red Rocks provides the backdrop for an adventure that is both challenging and awe-inspiring. So pack your gear, prepare for an adventure, and immerse yourself in the grandeur of Red Rocks. We promise that the desert skies, the camaraderie of fellow climbers, and the sheer exhilaration of the climb will keep you coming back for more.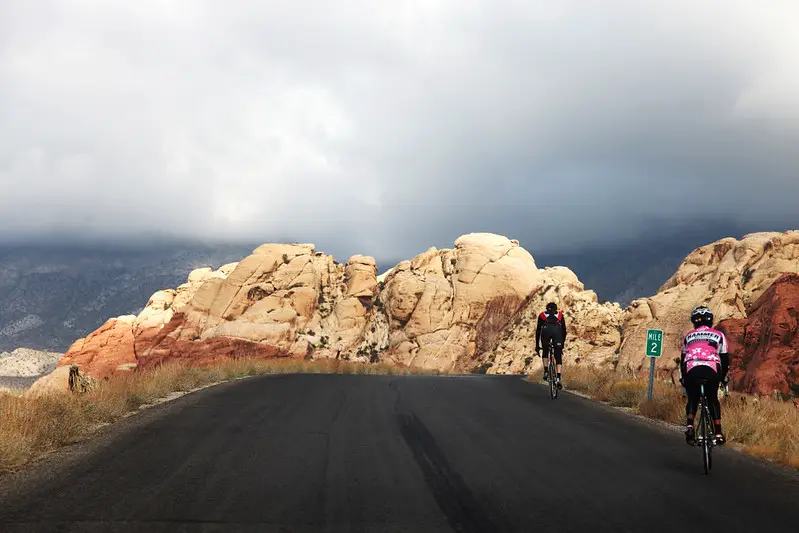 Beyond climbing, Red Rock Canyon offers a plethora of activities that appeal to nature enthusiasts and outdoor adventurers of all kinds. The park's 13-mile Scenic Drive is a must for those who want to soak in the breathtaking vistas from the comfort of their vehicle. Hiking enthusiasts can explore over 26 different trails, ranging from easy nature walks to challenging treks, each providing unique perspectives of the geologic marvels and diverse wildlife. Cyclists are also welcome to enjoy the scenic routes and challenging terrains.
For a more relaxed experience, you can enjoy bird-watching or a leisurely picnic amid the serene desert landscape. The park also hosts educational programs and ranger-guided activities, allowing visitors to learn about the area's rich history, geology, and unique desert ecosystem.
Red Rocks FAQs