Hold onto your chalk bags folks, we're about to dive head-first into the wild world of bouldering – where the only thing standing between you and a sketchy fall are your freakishly-strong fingertips.
For those who have been around the bouldering bloc for a while will know that the progression over the last few decades has been nothing short of jaw-dropping. Thanks to climbers who refuse to let a little thing like gravity hold them back, we've gone from saying "No way, that's impossible!" to "What's next?" in a matter of years.
But how do we keep track of it all? Enter the V-scale and Fontainebleau grading systems, the barometers of bravado that climbers use to measure their mettle. With boulder grading systems like these, we've been able to track the evolution of bouldering and set a global standard that unites climbers and climbing difficulty from all corners of the globe.
Keeping tabs on thousands of ascents is no easy task, which is why we have created the Hard 100: Bouldering Edition, an archive where you can explore the toughest, meanest, most finger-twisting boulder ascents up until June 2023.
Timeline of Bouldering Progression
Before we dive into the current hardest boulders in the world, I think it's only right that we take a moment to appreciate some of the big milestones in Bouldering history. After all, without these crushers of yesteryear throwing down some gnarly beta, the modern standard of V16 or V17 bouldering wouldn't have been possible.
Grading is an immensely subjective affair, which is why problems are up and downgraded as more climbers make ascents of established boulders. This makes keeping track of "firsts" and key milestones a little tricky. Nevertheless, here are a few of the biggest moments every climber can appreciate:
1977

: An ascent of Le Carnage in Fontainebleau by Jérôme Jean-Charles is considered the first-ever ascent of a 7B+ (V8).

1989

: Catherine Miquel makes the first female V8 (7B+) ascent of Le Carnage.

1996

: After three days of work, Fred Nicole makes an ascent of Radja, the first boulder to be awarded the grade of V14/8B+.

2000

: Dreamtime is suggested as V15 by Nicole, the first boulder at this grade. This was later downgraded to V14, but after a key hold breaking in 2009, Dreamtime is again considered V15.

2002

: Fred Nicole tops out Monkey Wedding in the Rocklands, which is the first consensus V15/8C in history.

2004

: Mauro Calibani climbed Tonino '78 (first proposed V16, downgraded to V15/V16).

2008

: Christian Core sends his long-term project Gioia, suggesting a grade of V15. After Ondra claimed the second ascent in 2010, he suggested an upgrade to V16, making it the first V16 ever.

2016

: Ashima Shiraishi claims the first female ascent of V15/8C after climbing an Ascent of Horizon in Japan.

2016

: Nalle Hukkataival claims the ascent of his long-term Lappnor project. The boulder, later named the Burden Of Dreams, is recognized as the first-ever V17 boulder, and the highest level of modern bouldering.
These awesome achievements are just a drop in the ocean in the narrative of climbing.
Right, enough chit-chat! Let's get started with the Hard 100 Boulders.
The 100 Hardest Boulders In The World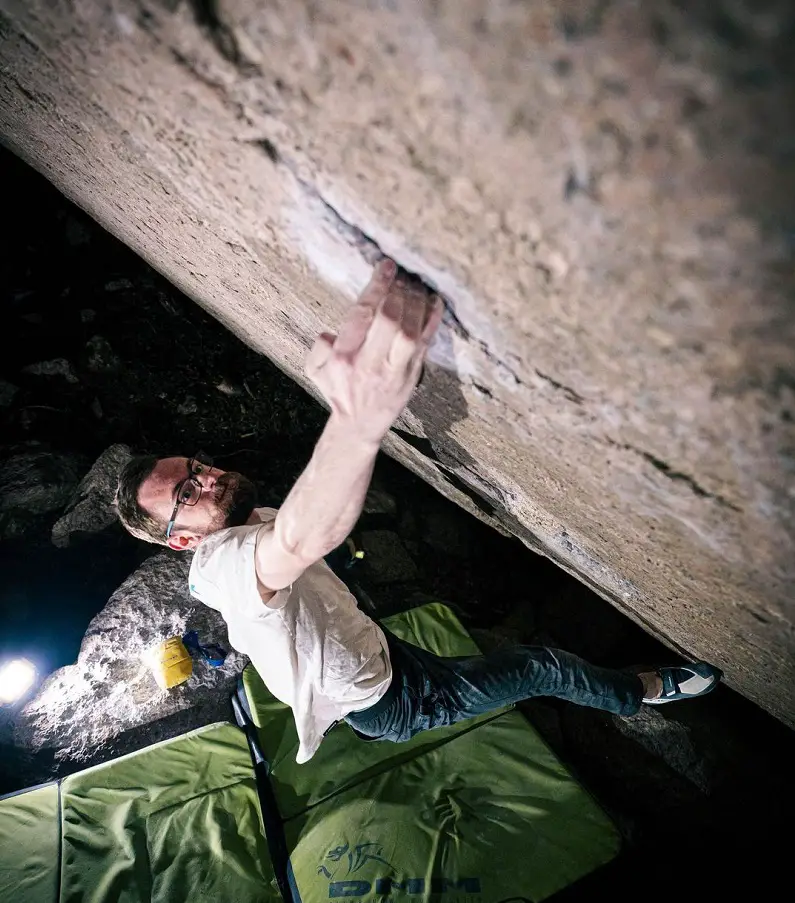 Below you will find the complete list of the hardest boulder problems in 2023. For the sake of my sanity, as well as yours, this list only covers boulder problems graded V15/V16 (8C/8C+) and above. If we were to extend this list to V15, the Hard 100 list would be infinitely more difficult to manage.
Boulder Problem
Grade
Date of FA
Country
Climbers
Burden of Dreams
V17 (9A)
October 2016
Finland
Nalle Hukkataival
Will Bosi
Return of the Sleepwalker
V17 (9A)
March 2021
USA
Daniel Woods
Alphane
V17 (9A)
April 2022
Switzerland
Shawn Raboutou
Aidan Roberts
Will Bosi
Simon Lorenzi
Megatron
V17 (9A)
Spring 2022
USA
Shawn Raboutou
Backflip SDS
V16/V17 (8C+/9A)
May 2023
Russia
Vadim Timonov
Soudain Seul
V16/V17 (8C+/9A)
February 2021
France
Simon Lorenzi
Nico Pelorson
Camille Coudert
Big Conviction
V16 (8C+)
January 2022
France
Simon Lorenzi
Big Z
V16 (8C+)
December 2020
USA
Shawn Raboutou
Bookkeeping
V16 (8C+)
December 2022
USA
Drew Ruana
Colin Duffy
Box Therapy
V16 (8C+)
October 2018
USA
Daniel Woods
Drew Ruana
Sean Bailey
Brutal Rider
V16 (8C+)
May 2020
Czech Republic
Adam Ondra
Celestite
V16 (8C+)
March 2023
Switzerland
Dave Graham
Creature from the Black Lagoon
V16 (8C+)
September 2016
USA
Daniel Woods
Dave Graham
Jimmy Webb
Daisuke Ichimiya
Griffin Whiteside
Shawn Raboutou
Carlo Traversi
Drew Ruana
Matt Fultz
Dylan Barks
Andy Lamb
Dylan Barks
Daños Con-Laterales
V16 (8C+)
June 2022
Spain
Ignacio Sánchez González
Distortion
V16 (8C+)
August 2022
USA
Drew Ruana
Drop a Line
V16 (8C+)
November 2016
Switzerland
Pirmin Bertle
Ephyra
V16 (8C+)
March 2019
Switzerland
Jimmy Webb
Niccolò Ceria
Giuliano Cameroni
Will Bosi
Yannick Flohé
Epitaph
V16 (8C+)
April 2022
Japan
Toru Nakajima
Euclase
V16 (8C+)
April 2022
Switzerland
Dave Graham
Floatin'
V16 (8C+)
December 2021
Japan
Ryuichi Murai
Fuck the System
V16 (8C+)
July 2021
Switzerland
Shawn Raboutou
Dave Graham
Clément Lechaptois
Ganesh
V16 (8C+)
February 2022
Italy
Elias Iagnemma
Gakidō
V16 (8C+)
March 2022
Japan
Shinichiro Nomura
Ryuichi Murai
Grand Illusion
V16 (8C+)
August 2020
USA
Nathaniel Coleman
Sean Bailey
Daniel Woods
Matt Fultz
Zach Galla
Hallucination (Post-Break)
V16 (8C+)
December 2021
Japan
Kazuma Ise
Honey Badger
V16 (8C+)
August 2022
England
Will Bosi
Howl at the Moon SDS
V16 (8C+)
May 2023
USA
Drew Ruana
Hydrangea
V16 (8C+)
November 2019
Japan
Akira Waku
Hypnotized Minds
V16 (8C+)
October 2010
USA
Daniel Woods
Rustam Gelmanov
Dave Graham
Matt Fultz
Hypothèse assis
V16 (8C+)
December 2018
France
Charles Albert
Into the Sun
V16 (8C+)
Bernd Zangerl
Insomniac
V16 (8C+)
July 2021
USA
Drew Ruana
Daniel Woods
Shawn Raboutou
Jimmy Webb
Isles of Wonder Sit
V16 (8C+)
July 2022
Wales
Aidan Roberts
Will Bosi
La Révolutionnaire Extension
V16 (8C+)
November 2017
France
Charles Albert
Ryohei Kameyama
Niccolò Ceria
Tim Reuser
Michiel Nieuwenhuijsen
Ledoborec
V16 (8C+)
May 2020
Czech Republic
Adam Ondra
Maxwell's Demon Low
V16 (8C+)
Februray 2023
USA
Drew Ruana
Moonlight Sonata
V16 (8C+)
October 2021
USA
Taylor McNeill
Matt Fultz
Nayuta
V16 (8C+)
April 2017
Japan
Dai Koyamada
Yuta Imaizumi
Nexus
V16 (8C+)
October 2021
Japan
Ryuichi Murai
No Kpote Only
V16 (8C+)
December 2018
France
Charles Albert
Ryohei Kameyama
Nico Pelorson
Off the Wagon Sit
V16 (8C+)
October 2018
Switzerland
Shawn Raboutou
Daniel Woods
Jimmy Webb
Giuliano Cameroni
Sergei Topishko
Yannick Flohé
Niccolò Ceria
Florian Wientjes
Francesco Berardino
Poison the Well
V16 (8C+)
February 2019
Switzerland
Giuliano Cameroni
Jimmy Webb
REM
V16 (8C+)
February 2019
Switzerland
Giuliano Cameroni
Paul Robinson
Return of the Dreamtime
V16 (8C+)
January 2023
Switzerland
Yannick Flohé
Sleepwalker
V16 (8C+)
December 2018
USA
Jimmy Webb
Daniel Woods
Nalle Hukkataival
Drew Ruana
Nathan Williams
Matt Fultz
Pablo Hammack
Ryuichi Murai
Terranova
V16 (8C+)
November 2011
Czech Republic
Adam Ondra
The Ice Knife Sit
V16 (8C+)
November 2013
USA
Daniel Woods
Drew Ruana
The Lion's Share
V16 (8C+)
Februray 2023
Switzerland
Adrian Robert
The Megg
V16 (8C+)
January 2023
USA
Gabe Lawson
The Process
V16 (8C+)
January 2015
USA
Daniel Woods
The Story of Three Worlds
V16 (8C+)
June 2022
Switzerland
Shawn Raboutou
Vecchio Leone Sit
V16 (8C+)
November 2022
Switzerland
Aidan Roberts
Matt Fultz
United
V16 (8C+)
November 2019
Japan
Ryuichi Murai
Bokassa's Fridge Sit
V15/V16 (8C/8C+)
March 2006
Germany
Florian Wientjes
Nils Favre
Crisis
V15/V16 (8C/8C+)
December 2014
Spain
Nacho Sánchez
Jonatan Flor
Alberto Rocasolano
El Indomable
V15/V16 (8C/8C+)
October 2017
Spain
Alberto Rocasolano
Nacho Sánchez
Pablo Zamora
Gioia
V15/V16 (8C/8C+)
March 2008
Italy
Christian Core
Adam Ondra
Nalle Hukkataival
Niccolò Ceria
Elias Iagnemma
Hazel Grace Sit
V15/V16 (8C/8C+)
June 2021
Switzerland
Giuliano Cameroni
Florian Wientjes
Low Priora
V15/V16 (8C/8C+)
October 2020
Russia
Vadim Timonov
Alexey Rubtsov
Minimalomania
V15/V16 (8C/8C+)
March 2013
Switzerland
Pirmin Bertle
Alexander Rohr
The Wheel of Life Direct
V15/V16 (8C/8C+)
November 2012
Australia
James Kassay
Jorg Verhoeven
Tonino '78
V15/V16 (8C/8C+)
January 2004
Italy
Mauro Calibani
Julien Nadiras
Antione Vandeputte
Vrtule
V15/V16 (8C/8C+)
October 2017
Czech Republic
Adam Ondra
Hard 100 Footnotes
All boulders are shown as their "suggested grade" factoring in the initial proposed grade and the consensus of repeats from other climbers. If two different degree of difficulty is still debated, then the boulder is shown as a split grade (V15/V16). If the general consensus has settled on a grade after multiple repeats, then that grade will be shown (Gioia at V16, for example).
No problem, below V15/V16 will make it onto the Hard 100 list. Based on the initial FA grade, there are boulders that would have a spot on the Hard 100, but after subsequent downgrading, they no longer meet the minimum V15/16 threshold.
This list is based on ascents up until 10th June 2023.
How many people have climbed V16?
Since Christian Core made the first V16 ascent of Gioia in 2008, the number of people who have climbed V16 has increased drastically. Even in the last year alone, the standard of hard bouldering has grown exponentially, with 15 new crushers claiming an ascent of V16 or harder in the last 12 months. As of June 2023, there are 48 people who have bagged a V16 boulder problem.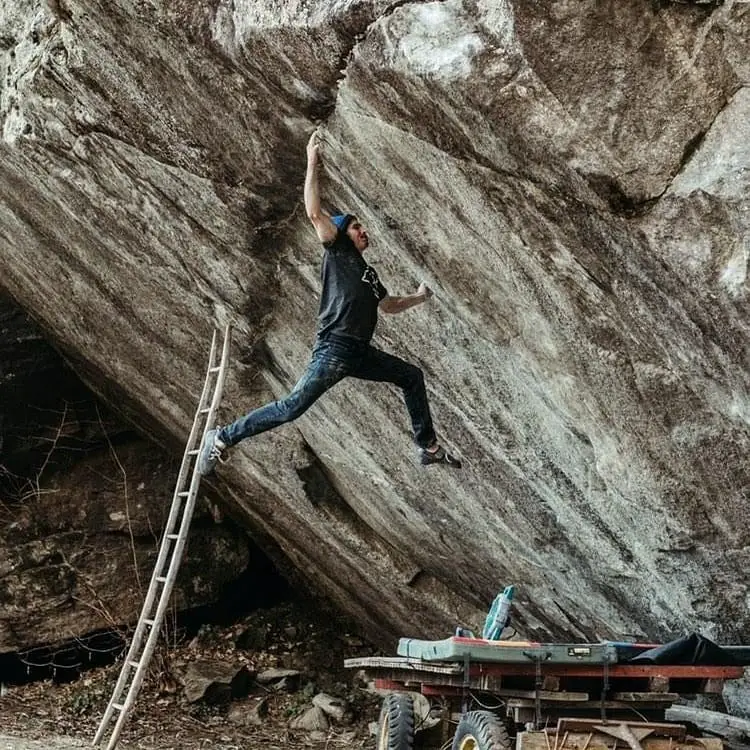 Perhaps you're curious as to why we've held our tongues on the tantalizing topic of V17 boulders. This captivating subject has been merited with its own dedicated spotlight. If you're eager to delve into the awe-inspiring world of V17 bouldering, then make sure to check out our guide dedicated to the hardest bouldering grade in the world.
| Grade | Number Of Climbers |
| --- | --- |
| V17 | 6 |
| V17/16 | 4 |
| V16 | 48 |
Who has climbed the hardest Boulders?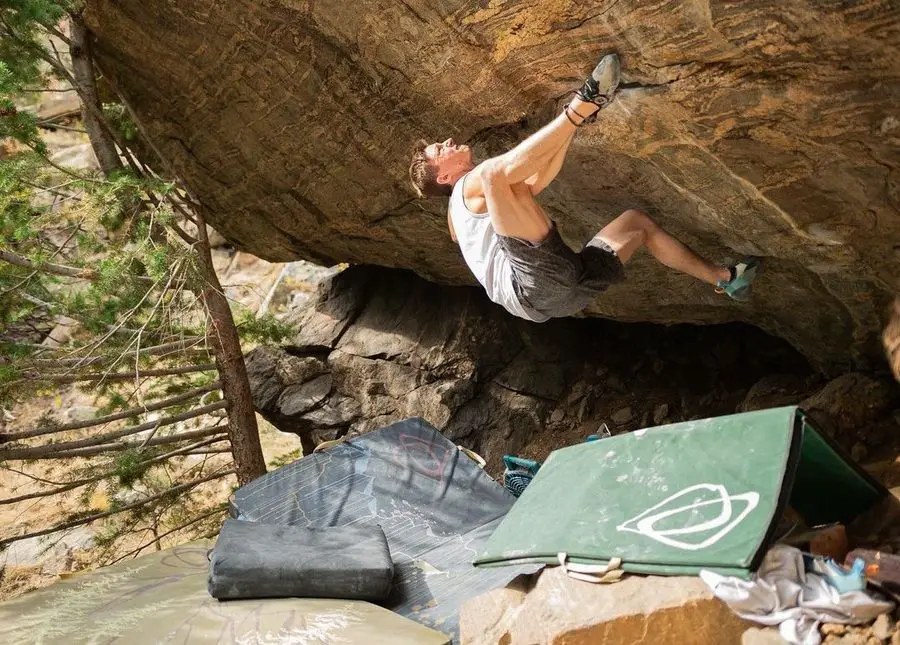 It's safe to say that there is no shortage of crushers out there. Some, like Dave Graham, Daniel Woods, Or Nalle Hukkataival have been the faces of gnarly bouldering for most of the 21st century. While these household names are undoubtedly some of the best boulderers out there, there are plenty of up-and-coming young guns that are carving out a legacy for themselves too.
Shawn Raboutou has blown the collective mind of the climbing community by putting down first ascents for two V17s. On the other side of the pond, Will Bosi and Aidan Roberts are arguably some of the strongest boulders in the world right now, both with a handful of V17 ascents to their name respectively.
Take a look at the table below for the leaderboard on who has climbed the most boulders graded V15/V16 and above.
| Climbers | Number of Hard Boulders Topped |
| --- | --- |
| Daniel Woods | 11 |
| Shawn Raboutou | 10 |
| Drew Ruana | 10 |
| Jimmy Webb | 8 |
| Will Bosi | 6 |
| Matt Fultz | 6 |
| Giuliano Cameroni | 6 |
| Nalle Hukkataival | 5 |
| Adam Ondra | 5 |
| Dave Graham | 5 |
| Ryuichi Murai | 5 |
| Aidan Roberts | 4 |
| Niccolò Ceria | 4 |
| Simon Lorenzi | 3 |
| Vadim Timonov | 3 |
| Yannick Flohé | 3 |
| Charles Albert | 3 |
| Florian Wientjes | 3 |
| Nico Pelorson | 2 |
| Sean Bailey | 2 |
| Daisuke Ichimiya | 2 |
| Pirmin Bertle | 2 |
| Elias Iagnemma | 2 |
| Ryohei Kameyama | 2 |
| Nacho Sánchez | 2 |
| Alberto Rocasolano | 2 |
| Camille Coudert | 1 |
| Colin Duffy | 1 |
| Griffin Whiteside | 1 |
| Carlo Traversi | 1 |
| Dylan Barks | 1 |
| Andy Lamb | 1 |
| Ignacio Sánchez González | 1 |
| Toru Nakajima | 1 |
| Clément Lechaptois | 1 |
| Shinichiro Nomura | 1 |
| Nathaniel Coleman | 1 |
| Zach Galla | 1 |
| Kazuma Ise | 1 |
| Akira Waku | 1 |
| Rustam Gelmanov | 1 |
| Tim Reuser | 1 |
| Michiel Nieuwenhuijsen | 1 |
| Taylor McNeill | 1 |
| Dai Koyamada | 1 |
| Yuta Imaizumi | 1 |
| Sergei Topishko | 1 |
| Francesco Berardino | 1 |
| Nathan Williams | 1 |
| Pablo Hammack | 1 |
| Gabe Lawson | 1 |
| Nils Favre | 1 |
| Jonatan Flor | 1 |
| Christian Core | 1 |
| Alexey Rubtsov | 1 |
| Alex Megos | 1 |
| Toby Saxton | 1 |
| Antoine Girard | 1 |
| James Kassay | 1 |
| Jorg Verhoeven | 1 |
| Mauro Calibani | 1 |
| Julien Nadiras | 1 |
| Antione Vandeputte | 1 |
Which Country Has the Hardest Boulders?
With climbing becoming an international phenomenon, it's hardly surprising how diverse the range of hard boulder problems there are across the globe.
That said, if we dig a little deeper into the data, there are some interesting points here. Of the 64 boulders graded V15/V16 and over, all but three are in the Southern Hemisphere (One in Australia and two in South Africa respectively). Currently, there are no boulders in Central or South America. Considering there are over 9 million climbers in the United States It's hardly surprising that 26% of the hard boulders are found in the USA.
What is more surprising, however, is how many hard problems can be found in Switzerland. With 23% of the boulders on our list being found in Switzerland, this small European country undoubtedly has the highest concentration of hard bouldering over any other country.
| Country | Number Of Hard Boulders |
| --- | --- |
| Australia | 1 |
| Czech Republic | 4 |
| England | 1 |
| Finland | 1 |
| France | 6 |
| Germany | 1 |
| Italy | 3 |
| Japan | 8 |
| Russia | 1 |
| South Africa | 2 |
| Spain | 3 |
| Switzerland | 15 |
| USA | 17 |
| Wales | 1 |
Bouldering Grade Deflation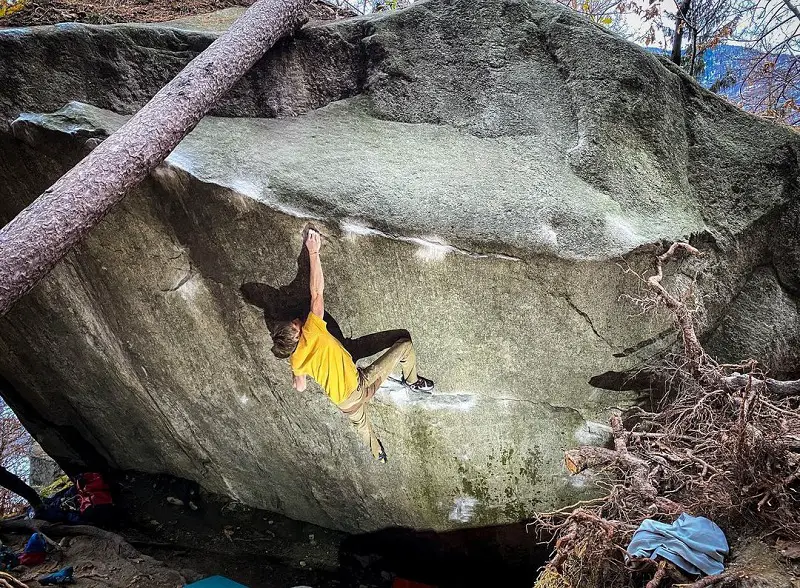 Legendary climber Nalle Hukkataival delves into the complex world of bouldering grades, putting a fresh spin on the understanding of progression in his blog post. He challenges the perception that the sport has stagnated over the last decade, suggesting it's not a lack of progression, but a deflation in grading that's at play.
Hukkataival believes the issue started with the first ascent of Dreamtime by Fred Nicole in 2000, which set a new high-water mark for difficulty, the 8C (V15) grade. But as the decade rolled on, it seemed like every new hard problem was also 8C, leading to a seemingly static state of progress. The twist? These new 8C problems were actually harder but were still graded relative to Dreamtime, which was later found to be easier than initially thought, leading to a wave of downgrades​.
Hukkataival laments the media pressure on climbers to strive for new grades, leading to overgraded problems, and the resulting confusion as many high-grade problems ended up being downgraded. He also underlines the need for a solid foundation for grading, despite the risk of being left behind in the professional climbing world​.
In his riveting conclusion, Hukkataival urges us to see grades as estimates or personal opinions of a climb's difficulty, rather than absolute truth. He underscores the responsibility that comes with grading, especially for upper-scale problems, as it has a ripple effect on the grading of many other climbs. A poignant reminder that while grades are a small part of climbing, they still hold significant value in helping climbers understand and compare difficulties​.
Some interesting thoughts by Nalle, and a topic that certainly deserves more attention and open discussion within the climbing community, particularly as the sport continues to evolve and more climbers push the boundaries of what's deemed possible.
Hardest Boulders FAQs