Free soloing is not for the faint-hearted. Clipping into the first quickdraw of a route is as far as my free soloing will take me.
For most of us, the mere thought of hanging by our fingertips on a sheer rock face with nothing but gravity waiting to greet us is enough to induce a full-blown panic attack. But for a select few, climbing without ropes is an adrenaline-pumped activity which is just another day at the office. These daredevil climbers, known as free soloists, have nerves of steel, unparalleled skill, and a level of confidence that most of us can only dream of.
From the granite walls of Yosemite to the rugged peaks of the Alps, free soloists have left their mark (and probably a few sweaty palm prints) on some of the world's most iconic climbing routes. In this article, we'll dive into the thrilling world of free soloing and shine a spotlight on the most famous free soloists of our time, both past and present. We'll explore their jaw-dropping achievements and the legendary climbs that have earned them a place in rock climbing history.
So, strap in (or not if you're feeling brave) and get ready for a rollercoaster ride of vertigo-inducing tales and awe-inspiring feats. You never know, these people might inspire you to climb without ropes, although I don't recommend it!
Best Free Solo Men Climbers
Alex Honnold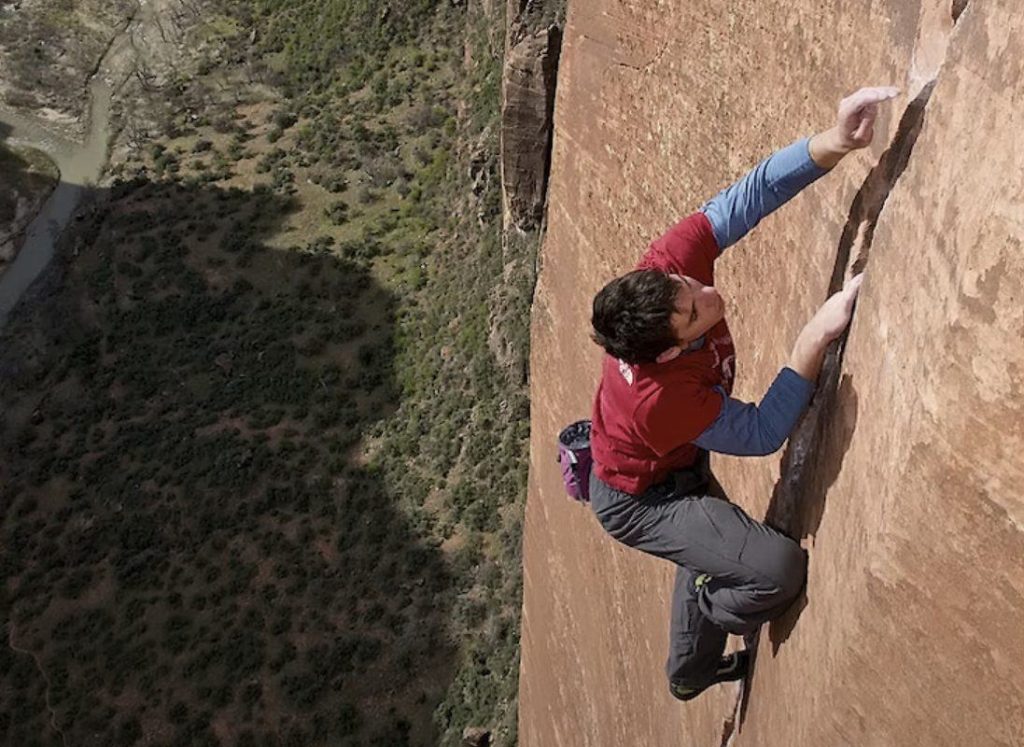 Alex Honnold needs no introduction. Climbers know who he is, non-climbers know who he is. His name is synonymous with daring free solo ascents and has become one of the most famous rock climbers in history.
With his calm demeanor and laser-focused concentration, Honnold has pushed the boundaries of what's possible in free solo climbing. Climbing without ropes is like a walk in the park for Alex. Raised in Sacramento, California, he began climbing in indoor gyms at a young age and quickly transitioned to the great outdoors, where he found his true passion.
Notable Free Solos
El Capitan's "Freerider" Route, Yosemite National Park: In 2017, Honnold achieved what many considered the pinnacle of free soloing by climbing the 3,000-foot granite monolith in under 4 hours. This feat was documented in the Academy Award-winning film "Free Solo."
Half Dome, Yosemite National Park: Another iconic ascent, Honnold free soloed this 2,000-foot route in 2008, setting the stage for his future endeavors.
Moonlight Buttress, Zion National Park: A 1,200-foot sandstone route that Honnold tackled in 2008, showcasing his versatility and skill on different rock types.
John Bachar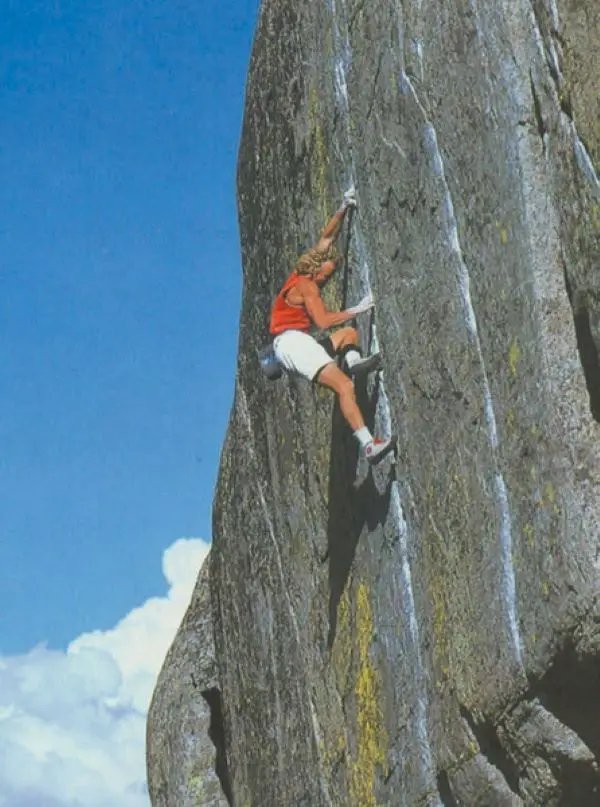 John Bachar, known as the father of free soloing, was a true pioneer in the world of free solo climbing. Long before the likes of Alex Honnold graced magazine covers, Bachar was setting standards and pushing the limits of what was deemed possible in free soloing, many of his ascents done around Yosemite.
He often spoke about the purity of free soloing and the deep connection between the climber, the rock, and the moment. Tragically, the climbing world lost this legend in 2009 when he fell to his death free-soloing a moderate route on the Dike Wall above Lake George.
Notable Free Solos
The Nabisco Wall, Yosemite National Park: One of his most audacious feats, Bachar free soloed several routes on this wall, including "Wheat Thin" and "Butterfingers."
Enterprise (5.12b) in the Owens River Gorge
The Gift (5.12c) at Red Rocks
Dean Potter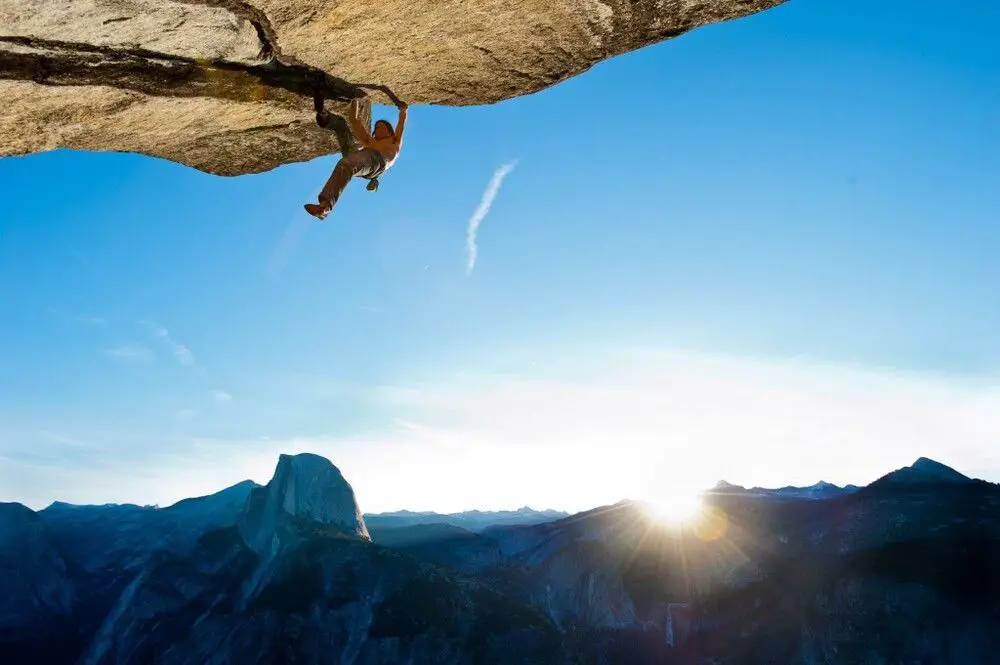 Rock climber, free soloist, base jumper, and highliner; Dean Potter was a man who thrived, and sadly died, on the edge. His approach to climbing and life was deeply spiritual, viewing his adventures as a form of moving meditation and self-expression. He set foot at Yosemite Valley from a very young age and never stopped living a life full of adventure and adrenaline. He set speed records, made daring free solos with a parachute on his back and jumped off the highest peaks of Yosemite Valley.
Notable Free Solos
Delicate Arch, Arches National Park: Potter's free solo of this iconic sandstone arch in 2006 stirred controversy due to the location's cultural and natural significance. Nevertheless, it's up there with one of his most daring free solos.
Deep Blue Sea (5.12+/7b), North Face of the Eiger: In 2008, Dean Potter free soloed the Eiger, but with a twist. He wanted to put to the test his new invention, freebase. Freebase is free soloing with a parachute, eliminating (slightly) the repercussions of instant death.
The Rostrum, 5.11 Yosemite: Having returned from the Swiss mountains, he decided to put his new skill, Freebasing, to the test. Not only did he free solo The Rostrum, he also soloed The Alien Roof finish, a 5.12 route.
Aside from the above, he's also free-soloed Separate Reality and Easy Rider. To find out more about Dean Potter's exciting life, take a look at the dedicated article we have on him here.
Marc-Andre Leclerc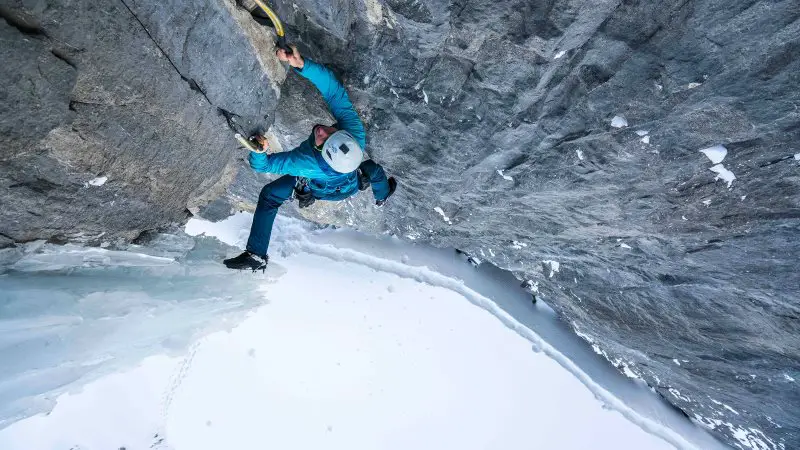 If you thought Alex Honnold's free solos were impressive, wait 'till you hear about Marc-Andre Leclerc. If you've seen the movie 'The Alpinist', you'll know exactly who I'm talking about. If you haven't seen it, add it to your watch list, 'cause this guy did some of the craziest free solo ascents, not just on solid rock, but also on alpine terrain.
He lived the dirtbag lifestyle and climbed for the pure joy of it, rather than for accolades or recognition. His deep respect for the mountains and his intuitive understanding of the alpine environment set him apart from everyone else.
Notable Free Solos
The Emperor Face, Mount Robson: In 2013, Leclerc completed a solo ascent of this daunting face. The route is considered one of the most challenging in the Canadian Rockies.
Torre Egger Patagonia: In 2015, Leclerc became the first person to complete a winter solo ascent of Torre Egger. He free soloed parts of the route.
Aguja Standhardt, Patagonia: Marc spent a lot of time in Patagonia and in 2015 he completed the Tomahawk/Exocet Link Up free solo.
Corkscrew Route, Cerro Torre, Patagonia: In 2015, Leclerc free soloed this highly technical and committing route, further solidifying his reputation as one of the boldest climbers of his generation.
Triple Link Up of Mount Slesse, Cascade Range: In 2014, Leclerc free soloed the East Pillar Direct (5.10+), Navigator Wall (5.10+) and the Northeast Buttress (5.9+) in 12 hours, 4 minutes.
Tragically, in 2018, Marc-André Leclerc and his climbing partner, Ryan Johnson, went missing during an expedition in Alaska.
Alain Robert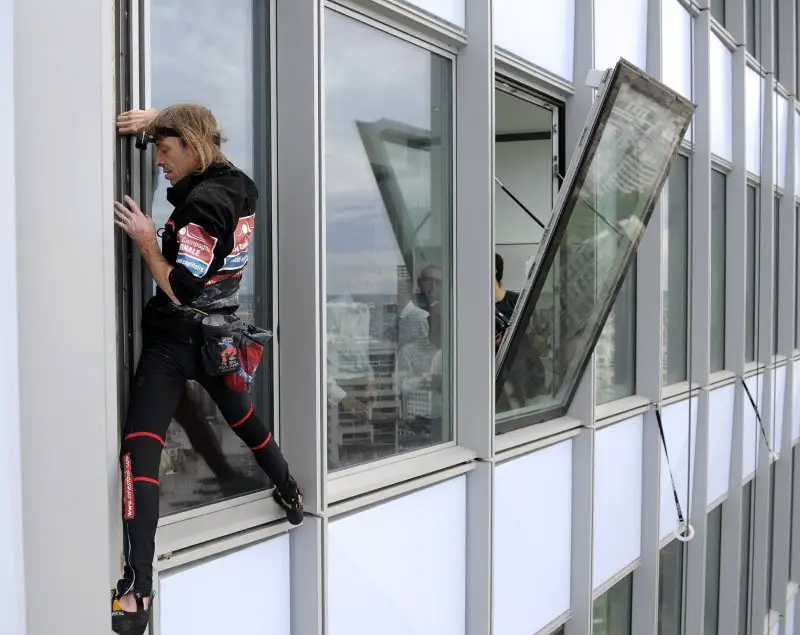 Often dubbed the "French Spider-Man," Alain Robert is a name synonymous with urban free soloing. Robert has carved a niche for himself by scaling some of the world's tallest skyscrapers and structures without the use of ropes or safety equipment. With a mix of audacity, agility, and sheer determination, he has turned cityscapes into his personal playgrounds.
Notable Free Solos
Petronas Twin Towers, Kuala Lumpur: Despite being arrested multiple times during previous attempts, Robert successfully scaled the tallest twin towers in the world in 2009.
Eiffel Tower, Paris: One of his most recognized climbs, Robert ascended this historic monument in 1996, drawing global attention.
Burj Khalifa, Dubai: The world's tallest building wasn't off-limits for Robert. In 2011, with permission and some safety measures in place, he conquered this modern marvel.
Taipei 101, Taiwan: In 2004, Robert climbed this towering structure, once the world's tallest building, further cementing his reputation.
Dan Osman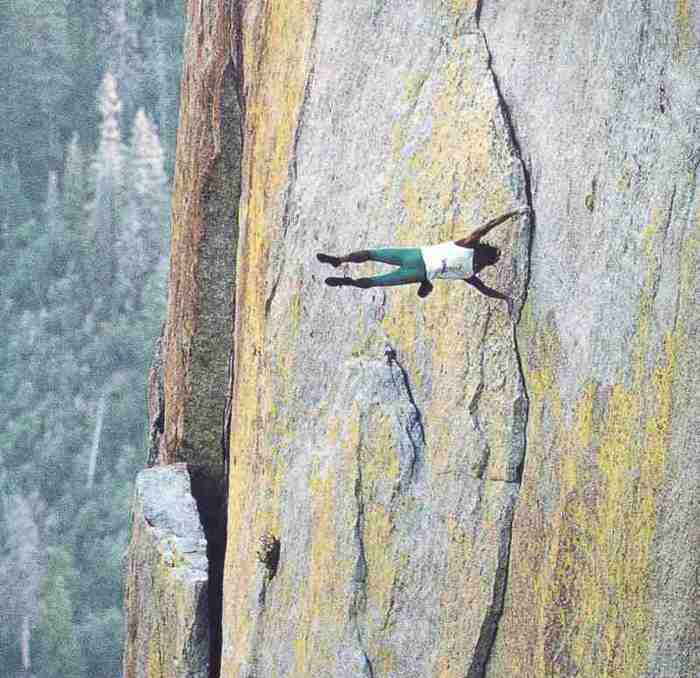 Osman's name became synonymous with extreme climbing and daredevil antics. As the Alex Honnold of his era, he made some crazy free solo ascents. Dano was also a pioneer in the high-risk sport of rope jumping. He broke the record by plummeting 1000ft off Yosemite's Leaning Tower. For 12 gut-wrenching seconds, he was free-falling until the rope caught him, bagging himself a Guinness World Record.
His free solo ascents were just as ridiculously crazy.
Notable Free Solos
Atlantis (5.11+/7a) in Needles, California: This is by far Dan Osman's most iconic free solo ascents. Not only did he perform a human while free soloing, he did it with multiple broken ribs (he fell off his BMX bike on the approach to Atlantis). What a guy!
Bear's Reach, Lover's Leap, California: Osman speed soloed this classic 5.7 route in under 4 minutes and 25 seconds. This epic ascent was shown in Masters of Stone 4.
Dan Osman sadly died attempting a 1300ft rope fall from the Leaning Tower on the 23rd November 1998.
Peter Croft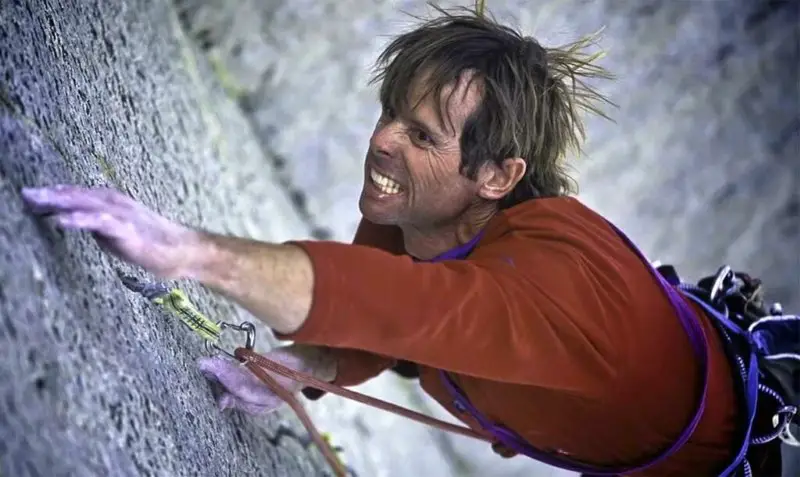 Peter Croft is a legendary figure in the world of rock climbing, particularly known for his bold free solo ascents and Yosemite climbing. He spent most of his life around Yosemite, putting up new routes. He also participated in the Nose Speed Record where he broke the record a few times. Although, at the time, Peter just wanted to climb, he didn't know there was a speed competition, nor did he care that much. When it comes to free soloing, he's done some of the most iconic Yosemite routes.
Notable Free Solos
Astroman/Rostrum, Yosemite: Astroman is one of Peter Croft's most impressive free solos. Not only was this the first free solo of Astroman, Croft went on to link up Astroman and Rostrum in the same day!
Wolfgang Güllich
Wolfgang Güllich stands as one of the most influential figures in the history of rock climbing. Born in 1960 in Germany, Güllich's contributions to the sport, particularly in the realm of sport climbing, have left an indelible mark. He took sport climbing to the next level with his first ascent of Action Directe 9a, which was the hardest sport route at the time.
His free solo ascents are also nothing short of spectacular.
Notable Free Solos
Separate Reality 7a (5.11d), Yosemite: This is Wolfgang's most iconic free solo ascent and one that will go down in the history books. Photographed by Heinz Zak, you can see Gullich hanging from the roof with such ease. This route has become a test piece for Yosemite-free soloists.
Weed Killer 7c (5.12d) Raven Tor, Peak District: in 1986 Güllich made the world's first-ever free solo of that grade.
Sautanz 7b+(5.12c) Frankenjura: In the same year as Weed Killer, Wolfgang also made the first free solo ascent of this route in Germany.
Beyond his notable ascents, Wolfgang Güllich was also an innovator in training techniques. He is credited with inventing the campus board, a training tool that has since become standard equipment in climbing gyms worldwide. Tragically, Güllich's life was cut short in a car accident in 1992, but his legacy will live on for as long as people are climbing.
Alfredo Webber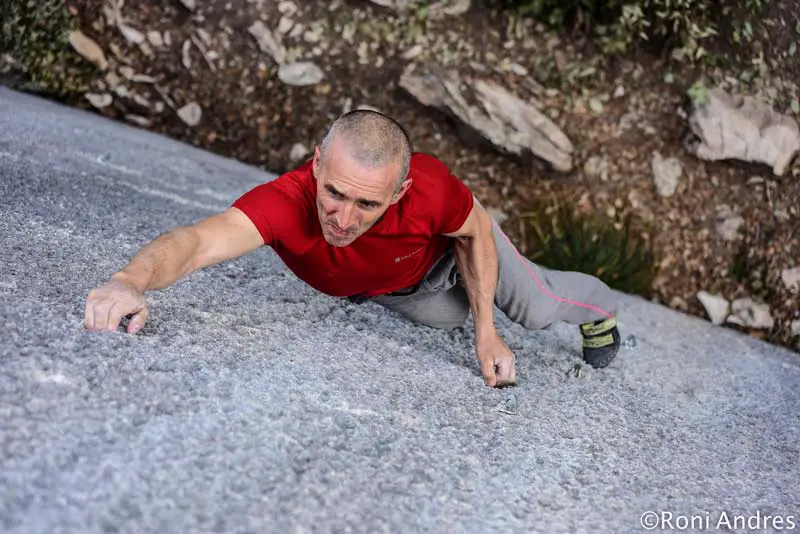 Not exactly a name you'll recognize, and nor do I expect you to, since this guy is not a professional rock climber, but a regular dude who works in a quarry. Despite working a full-time job, Alfredo Webber dedicated his free time to climbing, and it surely paid off. This Italian climber has made significant waves in the climbing community, particularly for his achievements later in life. At the age of 48, he made an ascent of Thunder Ribes (9a/5.14d) at Massone in Arco, Italy. Pretty incredible right? But, we are here for free solos!
Notable Free Solos
Panem et Circenses, Arco, Italy: Not only did Alfredo free solo this route at the age of 52, this route is graded an 8c/5.14b, making it the hardest free solo ascent done by anyone to date. Panem et Circenses is a 50ft, slightly overhung wall, making this a pretty tricky free solo.
If that's not impressive then I don't know what is.
Dave MacLeod
Dave MacLeod is a Scottish legend and one of the best-underrated climbers of our time. He is more of a trad climber than a free soloist, having done some of the hardest trad routes in the world, including the first E11 (Rapsody).
Dave uses free solo as a means to train for hard trad routes. He also spends a lot of time free-soloing easy routes around the Scottish Highlands.
Notable Free Solos
Darwin Dixit 8b+, Margalef: As Dave was preparing for Echo Wall, he knew he had to train not just physically but also mentally. Free soloing a route he already knew all the moves to seemed like the right type of mental training he needed. At the time, this was the hardest free solo done by anyone before it was downgraded from an 8c to an 8b+.
Dani Arnold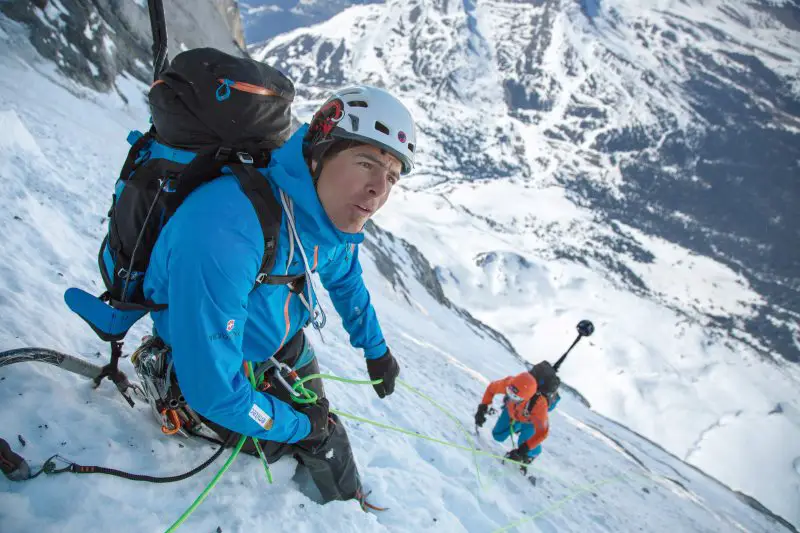 Dani Arnold is a renowned Swiss alpinist and speed climber known for his impressive ascents in the Alps and beyond. He has gained international recognition for setting multiple speed records on some of the world's most iconic and challenging mountain routes.
Notable Free Solos
Cima Grande di Lavaredo, Dolomites: Not only did Dani free solo one of the most famous routes in the Dolomites, he broke the speed record, making the ascent in just 46 minutes 30 seconds.
Best Free Solo Women Climbers
Steph Davis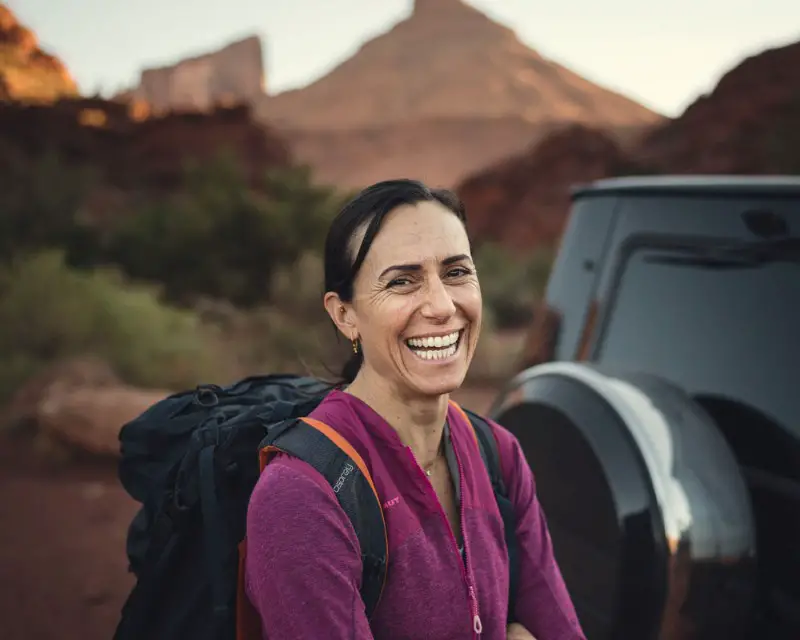 Steph Davis is one of the most experienced free soloist with a career spanning over two decades. Not only is she a rock climber, Steph is also a base jumper and wingsuit flyer. Her ascents, particularly in the desert towers of Utah and the alpine routes of Colorado, are a testament to her skill, determination, and fearless spirit.
In 1994, she met Dean Potter and together they put up the first ascents of many iconic routes. Together, they made the first one-day ascent of Torre Egger and Steph became the first female to summit the Fitz Roy Massif. They also put up a first ascent of The Tombstone 5.13 and The Epitaph 5.13b, both in Utah.
Her free solo ascents are also nothing short of spectacular. Steph was putting up hard free solos at a time when not many women were daring to try.
Notable Free Solos
Coyne Crack 5.11+, Indian Creek, Moab, Utah
Scarface 5.11, Indian Creek, Moab, Utah
Casual Route 5.10 The Diamond, Long's Peak, Colorado
Pervertical Sanctuary 5.10+/5.11a The Diamond, Long's Peak, Colorado
North Face, Castleton Tower 5.11, Moab, Utah: Free soloed the route and descended by base jumping.
Catherine Destivelle
Catherine Destivelle's early exploits in the cliffs near Paris quickly caught the attention of the climbing community. She carved a niche in alpine climbing when she became the first woman to ascend the Bonatti Pillar on the Petit Dru's southwest face, a feat she accomplished in four hours. Beyond her alpine achievements, Catherine Destivelle was one of the few women at the time who free-soloed.
Notable Free Solos
El Matador 5.10d on Devils Tower in Wyoming
Supercrack 5.10b in Indian Creek, Utah
Old Man of Hoy, Scotland: Catherine free-soloed this route while 4 months pregnant.
Brette Harrington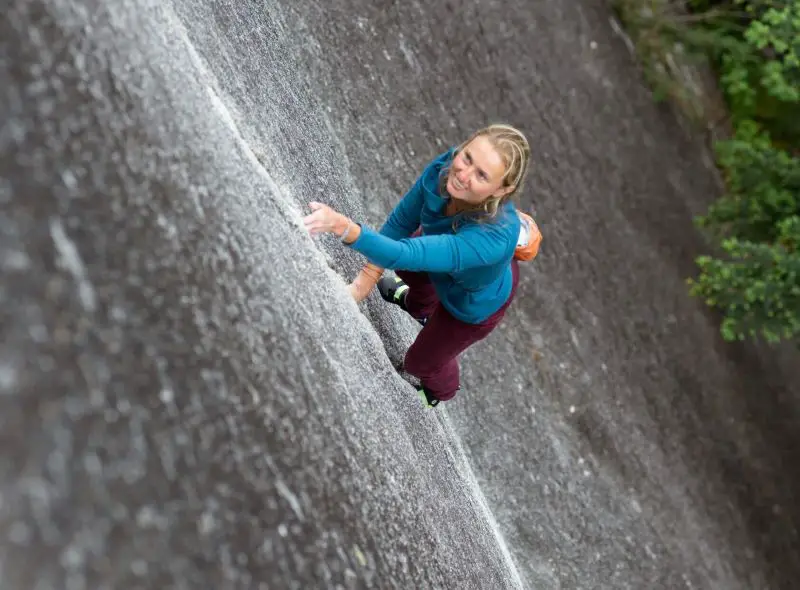 Brette Harrington has skied some of the gnarliest slopes in Alaska, has put up first ascents in the Mountains of Canada with Marc-Andre Lecrelc, sent some big walls in Yosemite and has free soloed some of the coolest lines.
Notable Free Solos
Chiaro di Luna 5.11a, Aguja Saint Exupery Patagonia: A classic Alexander Huber line, Brette became the first climber to free solo a tower in the Fitz Roy Massif.