Ascent Log
| Climber | Suggested Grade | Date of Ascent | Notes |
| --- | --- | --- | --- |
| Tommy Caldwell | 5.15a/9a+ | 2003 | First ascent and one of Tommy's earlier accomplishments two years after he sawed his finger off. |
| Matty Hong | 5.15b/9b | 12th Oct 2021 | Second ascent after almost 20 years! Matty upgraded to a 9b, making this route the first 9b in history. Instagram Post and Video |
| Carlo Traversi | 5.15b/9b | 10th Nov 2021 | Carlo was working the route with Matty. His ascent came a month after Matty's. Instagram Post |
| Jonathan Siegrist | 5.15a/9a+ | 31st Oct 2022 | The fourth and so far last ascent of Flex Luthor. Video |

Climb Profile
The Route
In 2003, years before starting in on The Dawn Wall project, Tommy Caldwell was still defining himself as a climber. He was already well known as one of the great new talents of his generation, but very few of the world's strongest climbers are content to let their accomplishments stand still. Tommy was no exception.
In the late 1990's, a strong climber from Colorado, Nick Sagar, hiked up to a chossy looking crag outside of New Castle, a small town just east of Rifle. He recognized the crag's potential immediately, but knew that the long approach, alone, would keep most parties away.
Moreover, it was just up the road from Rifle, a well-established sport climbing mecca. Without too much hope of it ever becoming much more than a crag among friends, he started quietly bolting the overhanging limestone. It is unlikely he was even remotely aware of what this crag – soon to become The Fortress of Solitude – would eventually sit at the center of coveted hard sport climbs in North America.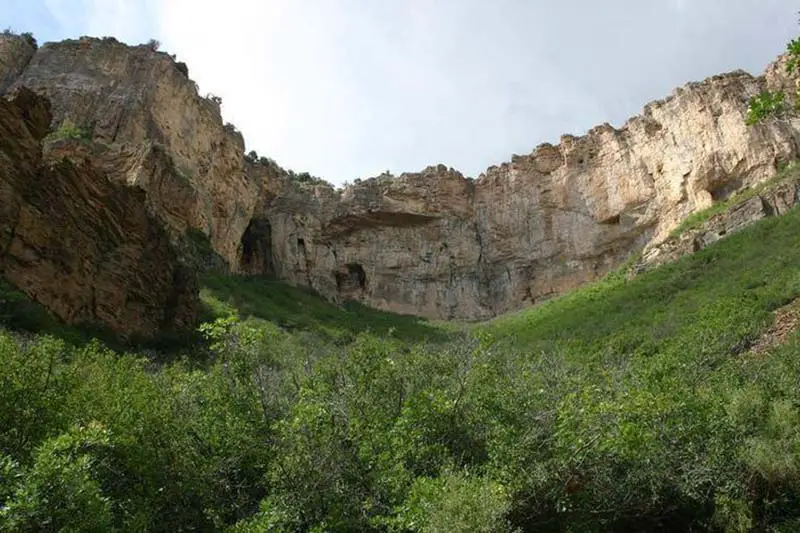 Sagar's friend, Tommy Caldwell, eventually joined him in developing the crag. Tommy's father, Mike Caldwell, and Herman Gollner, were also part of the original team. Leading the charge, Tommy started putting up one hard route after another, working with the kind of ferocity that has crystalized into our modern view of this climbing behemoth: tireless, relentless, but still somehow pure and uncontrived, like he was looking, without ego, for something beyond that next milestone.
The route is made up of a series of hard and intricate sequences, moves which have changed as the face of the rock falls away. The first four or five bolts sit in mid 5.13's on questionable rock. Following this section is a powerful boulder problem (approximately 7-8 moves) – the obvious crux of the route. From there, strenuous and sustained 5.13 climbing leads to a rest at a jug. 5.14 climbing leads to the top.
First Ascent
2003: Tommy Caldwell
After a few short months, during which Caldwell practically lived at the crag, he sent two of his projects, almost back to back – Kryptonite (5.14c/d), and the prize, Flex Luthor (5.15a), both without his left index finger, which he had lost to a table saw two years earlier. He felt vindicated by these triumphs, claiming that – even minus a digit – he had proved to himself that he still had a future in professional climbing. At the time, both of these routes were the first of their grade in the U.S., and Tommy's redpoint ascents pushed him even further into the circle of climbing champions.
For nearly 20 years, the route went unrepeated. There was no shortage of climbers who tried, but ultimately failed in their quest. In the intervening years, conversation was stirred up around the route and crag, writ large. Many of who visited the fortress complained of chossy, unstable rock, especially on Flex Luthor.
Tommy, himself, attests to the occasionally brittle nature of the stone, but he was brought up in a generation with ethics different from those of modern climbing. "We were kind of rebelling against the blatant chipping in places like Buoux and Fontainebleau, the older school areas in Europe… We believed that everything that came off the route had to come off with just your fingers, and that's how we developed The Fortress."
When developing a new route, it is common practice (these days) to clean up the climb and the surrounding rock. This creates for safer and more enjoyable climbing, as holds aren't breaking off every few moves. Tommy's was a more "hands off" approach; he only parsed through the holds that he would personally be using, leaving the rest undisturbed. Thus, when others approached the route, any deviation in the first ascensionist's beta was liable to create a rock shower for the belayer. Moments thereafter, there would be a climber dangling in space.
Second Ascent
12th Oct 2021: Matty Hong
As the years went by and the route saw more traffic, it started to clean up a little. Then, in 2021 after three years of projecting, Matty Hong succeeded in redpointing Flex Luthor, achieving a second ascent for the now mythic route. He stunned the climbing world by offering a grade of 5.15b, an upgrade from what Tommy had given it in 2003. He cited the sustained difficulty as part of what led him to the determination of grade.
This upgrade caused a lot of hoopla, as a difficulty rating of 5.15b had first been given to Jumbo Love, a Chris Sharma route in the Mojave Desert, which he redpointed in 2007. If Matty Hong was correct in his rating for Flex Luthor, that would in effect have made Tommy Caldwell the first to climb 5.15b in the U.S.
Third Ascent
10th Nov 2021: Carlo Traversi
The third ascent of the notorious Flex Luthor was achieved by Carlo Traversi on November 10th, 2021. This ascent came a month after Matty Hong's second ascent and nearly two decades after Tommy Caldwell's pioneering first ascent. Carlo Traversi's relationship with Flex Luthor began in 2015 when he first tried the route with Jon Cardwell.
At that time, he found the climb to be "heinous," describing it as many levels harder than other routes he had completed. The climbing style required was slow and deliberate, likened to a wrestling match that spans the entire 100+ feet of the route.
The climb itself is a labyrinth of intricate sections, starting with a 5.13+ introduction, followed by a V12 boulder problem, a demanding knee scum shake, and a technical V9 sequence. Traversi pinpointed the lower V12 boulder as the most difficult part, but the concluding moves posed a significant challenge for him as well.
Traversi's journey to conquer Flex Luthor was fraught with obstacles, including weather delays and a shortage of climbing partners. After a summer of minimal training, he ramped up his efforts in September, focusing on intensive circuits and challenging boulders in his local gym.
Working the route with Matty Hong, Flex Luthor became Traversi's hardest send to date.

Other Ascents & Legacy
The fourth ascent came from Jonathan Siegrist in October 2022 and a 5.15a downgrade cooled everyone's jets a bit. Nevertheless, this quibbling back and forth opens up the question of who really established the first 5.15b in the world – Caldwell or Sharma? With only four ascents on this route, only time will tell if we'll ever have a solid answer.
One thing is clear: Flex Luthor was the first route of its grade in the U.S. and Tommy Caldwell's first ascent was groundbreaking territory, then as it is now; just another landmark in climbing history, decorating Tommy's report card.

Video Library